Recent Highlights: Sep – Dec 2022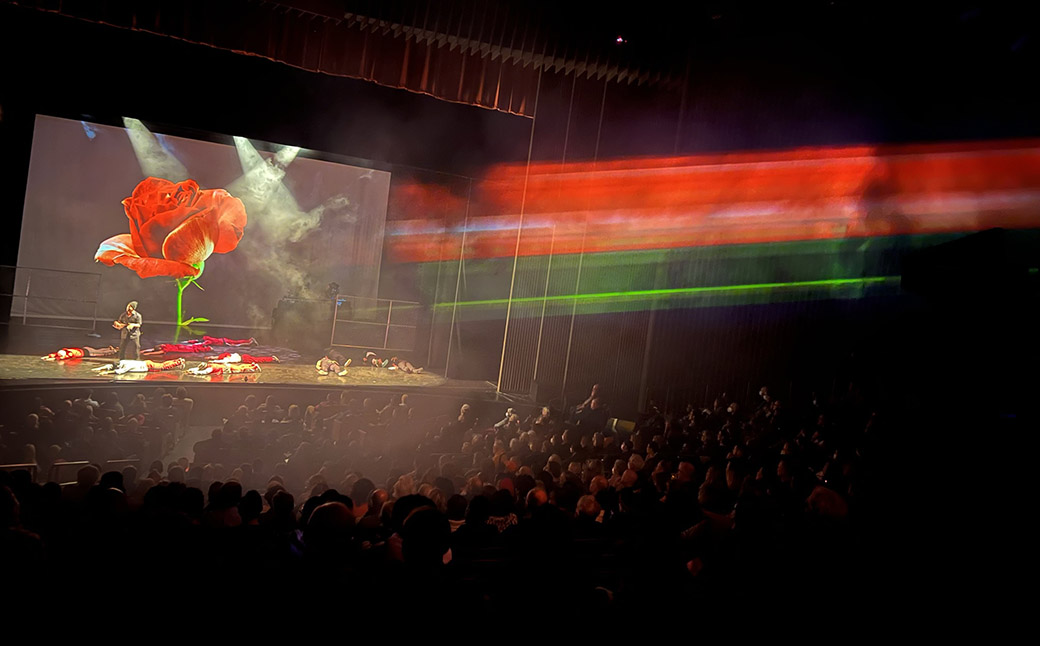 Our 50th celebration season kicked off with a look back at our rich history in a
Penn Today
story and a look forward to the future expansion of the Annenberg Center with the announcement of the new Weitzman Theatre, named for noted designer and philanthropist Stuart Weitzman.
The Philadelphia Inquirer
,
Philadelphia Business Journal
and
Musical America
all reported on the exciting plans for the new theatre.
On this high note, we launched into the 22/23 season, rich with dance, theatre and music and filled with new artistic endeavors and relationships as well as longtime artist friends and audience favorites.
One of the highlights was Rennie Harris Puremovement's restaging of the award-winning Rome & Jewels. A 22/23 season artist-in-residence and benefactor of our Accelerator Program, Rennie Harris was featured on the cover of Dance Magazine prior to his arrival in Philadelphia. Advance features in The Philadelphia Inquirer, The Philadelphia Tribune and Broad Street Review whetted appetites for this classic that had not been presented in Philadelphia for 15 years. Prior to the public performances, dancers from Puremovement greeted a packed auditorium of enthusiastic schoolchildren, demonstrating some of the basic principles of hip hop and street dance. Harris and two cast members participated in a pre-performance chat with Executive & Artistic Director Christopher Gruits, sharing his philosophy on the commonalities between hip hop and Shakespeare, mentioning how they both changed the English language.
We also welcomed back Pilobolus, celebrating their own 50th anniversary. These longtime friends and audience favorites first appeared at the Annenberg Center in the 1983/84 season and have appeared more than 15 times overall. Our blog details their history. Ballet Hispanico, another favorite, made a rare Philadelphia appearance. In addition to their three public performances, they delighted an audience of schoolchildren at a Student Discovery show, our first since the onset of the COVID-19 pandemic and led a master class for university students. Fans shared their delight on Instagram commenting "Absolutely loved the performance!" and "It was fantastic!" Read more on our blog about their history.
October brought two of our major season projects to Annenberg Center stages. With the Negro Ensemble Company (NEC), our Brownstein artist-in-residence and Accelerator Program benefactor, we co-presented Our Voices, Our Time: A One-Act Play Festival. The Philadelphia Inquirer and The Philadelphia Tribune previewed the three plays selected from nearly 50 submissions, sharing the perspectives of some of the playwrights. The performances were electric and audiences showed their appreciation with cheers and standing ovations. NEC returns in February with Mecca is Burning, a world premiere play juxtaposing 1960s protest poetry with the current social climate.
The Philadelphia Inquirer noted that Alice Coltrane was finally getting the notice she was due. Our Festival Artistic Advisor, Lakecia Benjamin, spoke about the goals of the Festival and her deep admiration for both Coltranes in a Philadelphia Inquirer Live at Lunch interview, as well as with The Philadelphia Tribune and WXPN, while Brandee Younger was featured in our blog's 5 Questions feature. Jazz Times and WRTI both gave advance nods while a Dance Journal review noted the thought-provoking Pam Tanowitz works given their world premieres in the Festival.

We welcomed many notable musical artists this fall, among them Terence Blanchard, who alongside Andrew F. Scott, gave the Philadelphia premiere of Gordon Parks: An Empathetic Lens, one of the 15 Best Concerts for the Week noted by The Philadelphia Inquirer. The Broad Street Review said the performance reflected "eclectic urgency and emotion." The legendary Blind Boys of Alabama ushered in the start of the season and were profiled in a Philadelphia Tribune piece and an interview on WURD. The Crossing, another of our Accelerator Program artists, will usher us into the holidays with The Crossing @ Christmas. Conductor Donald Nally noted on our blog, "Holiday music is available to us at every turn... The world doesn't need us to sing that. Instead, we sing about our relationships, trying to explore themes - not of birth and rebirth - but of you and me: family to family, nation to nation, human to Earth. Christmas."
Autumn was also abundant in activities off the stage. During Homecoming Weekend, Christopher Gruits participated in a multi-disciplinary panel discussion on the role of the arts in health and human flourishing. "…works of art or experiences are markers on the way to understanding our existence and what it means to be human; they serve as thresholds for self-understanding and play an important role in our life," said Gruits. The discussion was covered by Penn Today. Homecoming Weekend also included the dedication ceremony for a new student recording studio in the Annenberg Center named in honor of musician Gabe Donnay, class of 2012. Read more about the event and the studio on our blog. And in early December, we were excited and honored to welcome Penn President Liz Magill for her first visit to the Annenberg Center. Gruits took her on a tour of the building, and she met staff from PLA, the Sachs Hub and Theatre Arts.
As we close out 2022, we are already looking forward to the great programming in store in 2023. We hope you'll join us!
related events