» View our health and safety policies
Donate
Looking Back, Leading Forward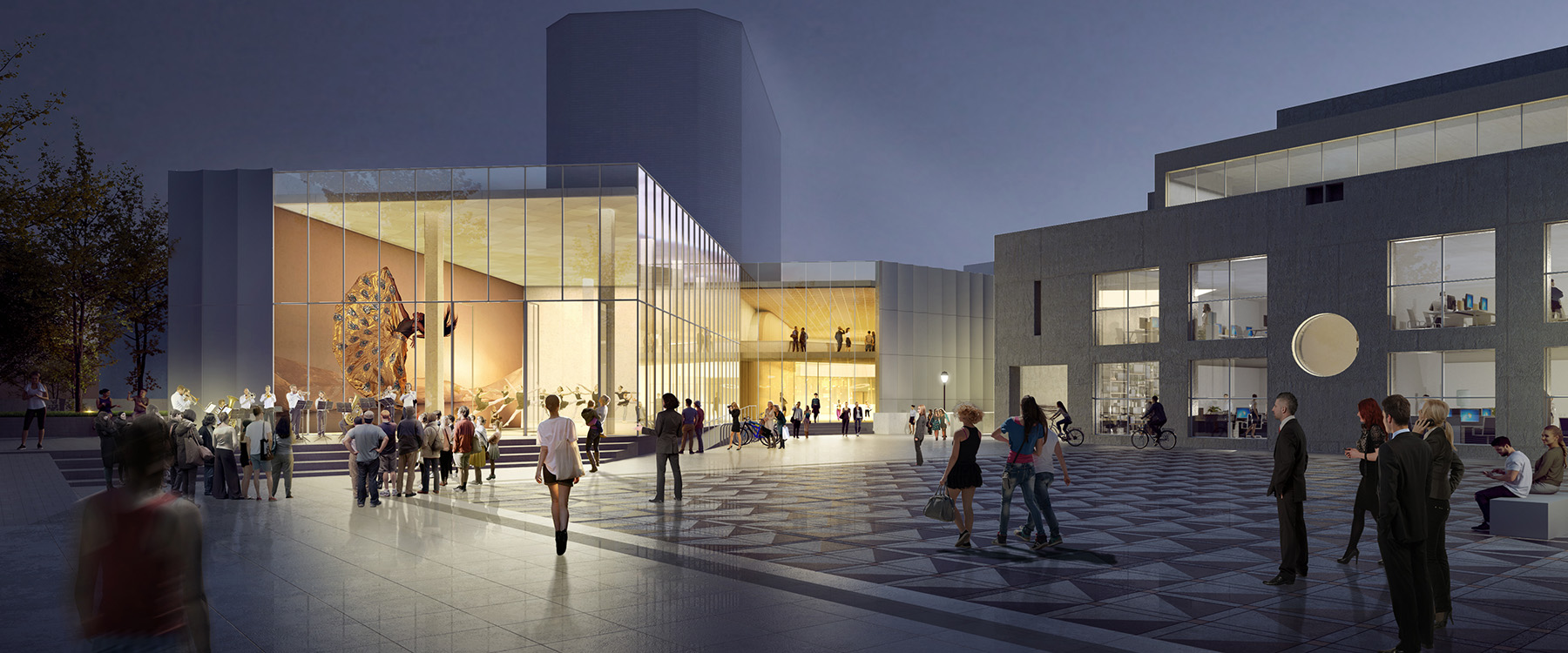 *Representative architectural rendering, subject to change.
"Whatever human beings are, we are storytellers. It is our stories that give light to the future."
– Nikki Giovanni
Every artist has a story to tell. For over 50 years, performers from all walks of life have shared their stories from the Annenberg Center stages: professional dancers, musicians and theatremakers, Penn student groups from across genres, and local arts and culture partner organizations. This diverse creative community fuels transformative performing arts experiences for our audiences, who see their own personal narratives reflected in resonant stories that explore the human experience.
Now, Penn Live Arts is leading the artistic celebration of our shared stories into the future with the first ever major renovation and expansion of the Annenberg Center. Commemorating 50 years of presenting visionary performing artists and storytellers in West Philadelphia, the project will reflect on five decades of history-making performances while reimagining the future of Penn Live Arts as:
Innovative
New and revitalized spaces in the Annenberg Center will provide flexible venues for creative interpretation and artistic presentation, ranging from table readings of world premiere theatre pieces, to cabaret and a cappella performances, to film screenings and talkbacks.


Integrative
The project will activate the Annenberg Center to meet the needs of our artists, Penn students and faculty, and partners from across Philadelphia, including a deeper integration of the academic resources at Penn with professional programming for artist residencies, workshops and masterclasses.


Inclusive
From celebrating student groups like Onda Latina and Penn Jazz Combos to global and local professional world premieres in theatre, dance and music, the renovations will reflect the mission of Penn Live Arts by nurturing and showcasing a broad range of artists and welcoming diverse audiences.
Look Behind the Scenes
STUART WEITZMAN THEATRE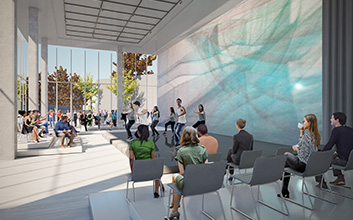 At the heart of Penn's campus, the Weitzman Theatre will be a distinctly visible, modern, flexible performance space extending onto the Annenberg Center Plaza.
The cornerstone project in a planned multi-phase renovation and expansion of the Annenberg Center Complex, the theatre is named through a transformative gift from Penn alumnus Stuart Weitzman and will embrace a variety of events and performances across artistic genres.
CENTER FOR FILM
A complete transformation of the 115-seat Montgomery Theatre will bring a state-of-the-art film center to Penn's campus.
In addition to housing PLA's public film series, the space will be a campus hub for film, academic and co-curricular programs, and performing arts groups at Penn.
CAMPUS GATEWAY TO THE ARTS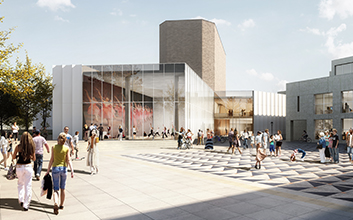 The entrance to the Annenberg Center building will be re-imagined to deepen connections between Locust Walk and the spaces housed in the Annenberg Center, including the Weitzman Theatre and the Sachs Program for Arts Innovation.
The new Campus Gateway will invite students, faculty, staff, and patrons to experience world-class performing arts in a transformed and modernized complex of venues.
A SEAT FOR EVERYONE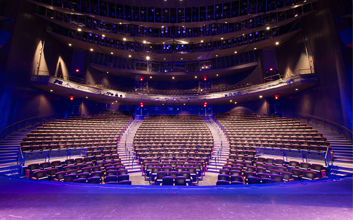 We saved you a seat in the spotlight! Seize your moment and name a seat in one of the Annenberg Center's theatres.
Whether in honor of your graduating senior or a friend who loves our dance series, or to demonstrate your own passion for and commitment to the arts, naming a seat preserves a legacy and ensures the future of performing arts at Penn.