» View our health and safety policies
Mission & History
Mission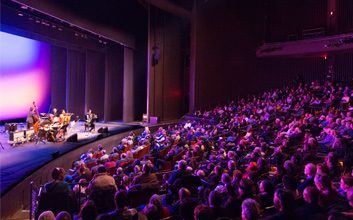 As the University of Pennsylvania's home for the performing arts, Penn Live Arts connects diverse audiences with visionary artists and innovative ideas, engaging both the University and the greater Philadelphia community in transformative artistic experiences.

History
For over 50 years, the Annenberg Center for the Performing Arts has been a leading presenter of innovative and transformative performing arts experiences in the Philadelphia region and a vital resource for the performing arts at the University of Pennsylvania. In June 2021, the Annenberg Center launched a new brand identity, Penn Live Arts, to reflect a deeper integration with the University and an expanded canvas for presenting performances. Penn Live Arts, headquartered at the Annenberg Center, is an artistic crossroads joining Penn and the greater Philadelphia region through world-class music, dance, theatre and film on campus and at venues throughout the city.
In fulfillment of its mission, Penn Live Arts engages world-renowned and emerging artists who express adventuresome perspectives on contemporary issues and who further Penn Live Arts' commitment to artistic and intellectual excellence, diversity and arts education for adult, student and family audiences. Penn Live Arts' extensive history of commissioning and championing artists has fostered important creative work by theatre legend Hal Prince, new music composers Philip Glass and Steve Reich, boundary-pushing choreographers Paul Taylor, David Parsons and Moses Pendleton, jazz greats Hugh Masekela, Terrence Blanchard and Branford Marsalis, and so many more. Annual programming features numerous world, national and local premieres and debuts by dance, jazz, world music, theatre, new music, film and family artists. Originally a 32-year-long partnership with NextMove Dance, Penn Live Arts presents one of the premier contemporary dance series in the country.
Penn Live Arts serves as a key asset for the University's students and faculty by enhancing curriculum through artist residencies and masterclasses, supporting student performing arts and providing career development opportunities. For younger audiences, Penn Live Arts' Student Discovery series offers weekday matinees and the annual Philadelphia Children's Festival, established in 1985 as the first event of its kind in the nation, serves children and families in the region with a range of interactive arts experiences.
Land Acknowledgement
We recognize and acknowledge that the Annenberg Center, as part of the University of Pennsylvania, stands on the Indigenous territory known as Lenapehoking, the traditional homelands of the Lenape, also called Lenni-Lenape or Delaware Indians. These are the people who, during the 1680s, negotiated with William Penn to facilitate the founding of the colony of Pennsylvania. Their descendants today include the Delaware Tribe and Delaware Nation of Oklahoma; the Nanticoke Lenni-Lenape, Ramapough Lenape, and Powhatan Renape of New Jersey; and the Munsee Delaware of Ontario.
Past Season Schedules
See PDF schedules from past seasons.
2021-2022 2020-2021 2019-2020 2018-2019 2017-2018 2016-2017 2015-2016 2014-2015 2013-2014 2012-2013 2011-2012 2010-2011 2009-2010 2008-2009 2007-2008 2006-2007 2005-2006 2004-2005 2003-2004 2002-2003 2001-2002