Rental Services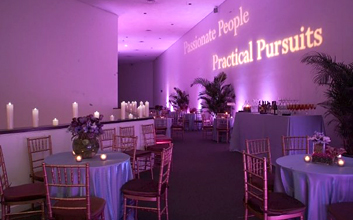 Host your event at the Annenberg Center! From performances and lectures to parties and receptions, the Annenberg Center has just the space for you. Rent our space for your private or public event or hold your event in conjunction with one of our many performances. Either way, you'll discover that we are committed to providing affordable, well-equipped performance, meeting and reception space to fulfill the needs of the Philadelphia community and beyond. For more information or to make a reservation, please fill out our Rental Event Questionnaire.
Reasons To Host Your Event At The Annenberg Center
Competitive Rental Fee
Tailored to the needs of your event
Full access to a full service professional theatre
Full complement of lighting, audio and visual equipment
Fantastic acoustics
Professional and friendly staff
40+ year old organization carries automatic name recognition
Located in the heart of the University of Pennsylvania and West Philadelphia
The Inn at Penn (Hilton) is located directly across the street, and the Sheraton University City is a short walk away
Close to public transportation
Walking distance to many restaurants, cafes and bars
Rental Services
For more information or to make a reservation, please fill out our Rental Event Questionnaire.
Front of House Services
The Front of House team of ushers, ticket takers and house managers are trained to deliver first-class customer service, ensuring both the success of your event as well as the safety of your patrons.
Box Office Services
Let us handle your ticketing needs! Our Box Office is full-service with a friendly customer service staff and state-of-the-art ticketing system.
Rehearsal Rooms and Theatrical Dressing Rooms
Multiple Rehearsal Rooms and Theatrical Dressing Rooms are available. These rooms accommodate anywhere from 50 to 125 people and can be rented on their own for stand-alone rehearsals or small events that are not in conjunction with an event taking place in one of the theatres or open spaces.
Wardrobe Services
Access to professional equipment and services including repair, cleaning and laundry washing, steaming, ironing, and dressing.
Technical Services
Access to the Annenberg Center's highly skilled professional event coordinators and stagehands prior to the event for assistance with all aspects of the production. The knowledgeable and courteous staff will work with you through all stages of production from load-in until load-out, ensuring a successful production.
Merchandising Services
Access to trained merchandisers and an attractive display booth so that you can make the most out of your sales.