Ballet Hispánico Makes A Glorious Return To Philadelphia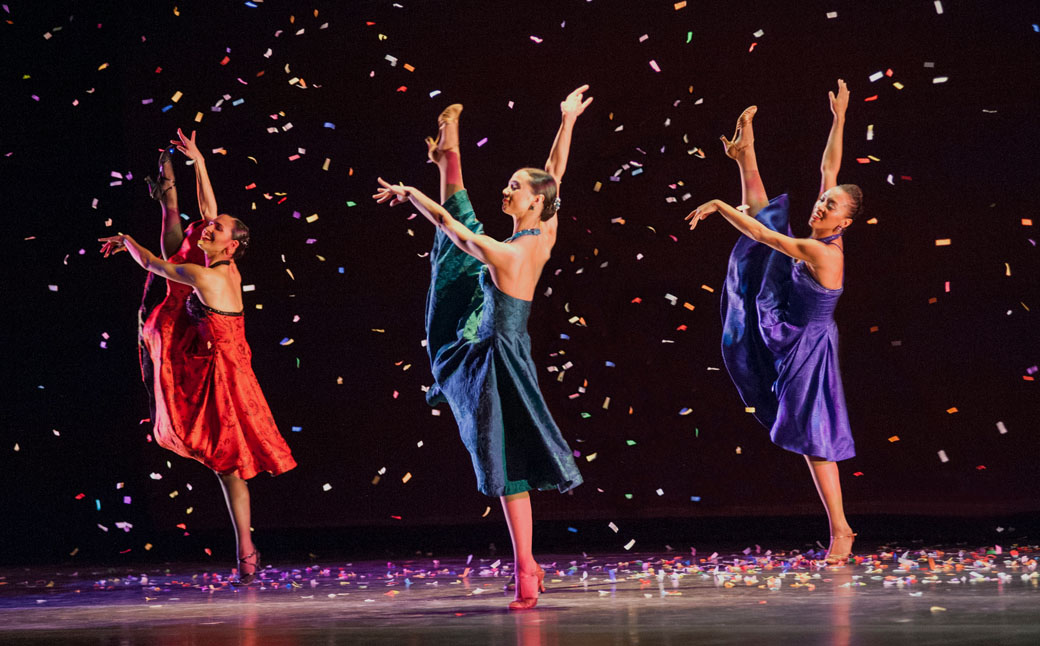 Known for its sophisticated elegance, pulsating rhythms, superb dancers and captivating works created by some of the world's most sought-after choreographers, Ballet Hispánico makes a rare Philadelphia appearance in conjunction with its 52nd anniversary season.
An American Cultural Treasure, Ballet Hispánico is the nation's leading ambassador for Latinx culture with a repertory of more than 80 commissioned works that explore the Hispanic world in all its complexity and beauty. The troupe has thrilled audiences in 46 states, Puerto Rico, the Virgin Islands, South America and Europe with illuminating dances fusing ballet, jazz, modern, ethnic and other dance forms.
Born in Venezuela, National Medal of Arts recipient and company founder Tina Ramirez was the daughter of a Mexican bullfighter and grandniece of a Puerto Rican educator. Her early experiences set her on a path to address the inequities of the arts and provide a safe haven and platform for Latinx artists to flourish. As Ballet Hispánico's Artistic Director from 1970 to 2009, she contracted 45 choreographers ranging from international greats to award-winning Broadway theatre artists to emerging dance makers. The repertory features dances by Talley Beatty, Ramón Oller, George Faison, Vicente Nebrada, Ann Reinking, Graciela Daniele, Alberto Alonso, Anna Sokolow, Paco Fernandez, Annabelle Lopez Ochoa, Susan Marshall and Pedro Ruiz (a former Ballet Hispánico principal dancer), to name a few.
Ramirez' successor, Eduardo Vilaro, came to America from Cuba at the age of six. Ramirez invited him to join Ballet Hispánico. He left after 10 years to create Chicago's Luna Negra Dance Theater, for which he choreographed 20 ballets. In 2009, he returned to Ballet Hispánico as the second artistic director in the company's history following in Ramirez's footsteps and expanding on her legacy to reflect the ever-changing American landscape.
Audiences are in for a treat when Ballet Hispánico returns to our stage November 4-5 with three Philadelphia premieres – Club Havana, Con Brazos Abiertos and Línea Recta.
Opening the program is Pedro Ruiz's joyful Club Havana, a celebration of life and the migration of Cuban music to the United States. Hailed as a "masterpiece" by the Chicago Sun-Times, this imaginative work dives into Havana nightlife with intoxicating rhythms of the conga, rhumba, mambo and cha-cha. Ruiz aspires for the audience to dance along while the company performs intricate partnering, effortless lifts and eye-catching dips, all flawlessly executed by women in vibrant dresses and heels and men in dark suits. It is no wonder Club Havana has been the company's signature work for 20 years!
Michelle Manzanales has deep ties to Ballet Hispánico as a dancer, rehearsal director, choreographer and director of the company's school. Her Con Brazos Abiertos (With Open Arms) is a fun and frank view of growing up between cultures as a Mexican American. Featuring striking sections with dancers in sombreros, lush ensemble work and impassioned solos, the piece reflects the internal struggle of being caught between two worlds. Set to an eclectic sound score by Julio Iglesias, Carla Morrison and more as well as Cheech & Chong's humorous spiel on Mexican Americans, The New York Times hails it as a "savvy but deeply sincere meditation on her Mexican American background." Manzanales' other recent commissions include the June 2022 premiere of Hope is the Thing With Feathers for the Paul Taylor Dance Company and a new work for Ballet Hispánico for its 2023 New York season.
Award-winning choreographer Annabelle Lopez Ochoa is no stranger to Philadelphia dance audiences. Perhaps you have seen her work for BalletX (The Little Prince, Bonzi, Midnight Circus, Bare, Castrati), Philadelphia Ballet (Requiem for a Rose), Les Ballets Jazz de Montréal (Zip Zap Zoom) or Dance Theatre of Harlem (Balamouk). For Ballet Hispánico, she has created numerous concert works and dance films, including Doña Perón, a full-length ballet that premiered in April 2022, Sombrerísimo (2013) and Línea Recta (2016), which will close Ballet Hispánico's program.
"A powerful tribute to Flamenco," (The Berkshire Edge) Línea Recta is set to soulful guitar music by Eric Vaarzon Morel. Dancers wear eye-popping bright red costumes while the lead dancer has an extra-long ruffled train flowing off her waist, reminiscent of a Flamenco skirt. The color red pairs with the music and choreography to suggest themes of bravery, passion, strength and vitality. The work celebrates the relentless spirit of an art form begun by gypsies that became the national dance of Spain yet struggles to survive today.
Ballet Hispánico's November engagement marks its fourth appearance on our stage. The company first appeared on the Monday Night Series in the 1990-91 season, performing Faison's Café America, Nebrada's Bernarda and Daniele's Cada Noche...Tango and in the 1998 season featuring Ann Reinking's Ritmo y Ruido, Faison's Obsession and Oller's Bury Me Standing. In 2016, the company performed Lopez Ochoa's Sombrerísimo, Gustavo Ramírez Sansano's Flabbergast and Oller's Bury Me Standing.
In addition to the performances, the company will perform a Student Discovery program for schools on November 4 and conduct a master class for university students.
I hope you join us for a thrilling performance by the glorious Ballet Hispánico!
Anne-Marie Mulgrew, MFA is the Artistic Director of Anne-Marie Mulgrew and Dancers Company and Education Consultant for Penn Live Arts.
related event