5 Questions with Rennie Harris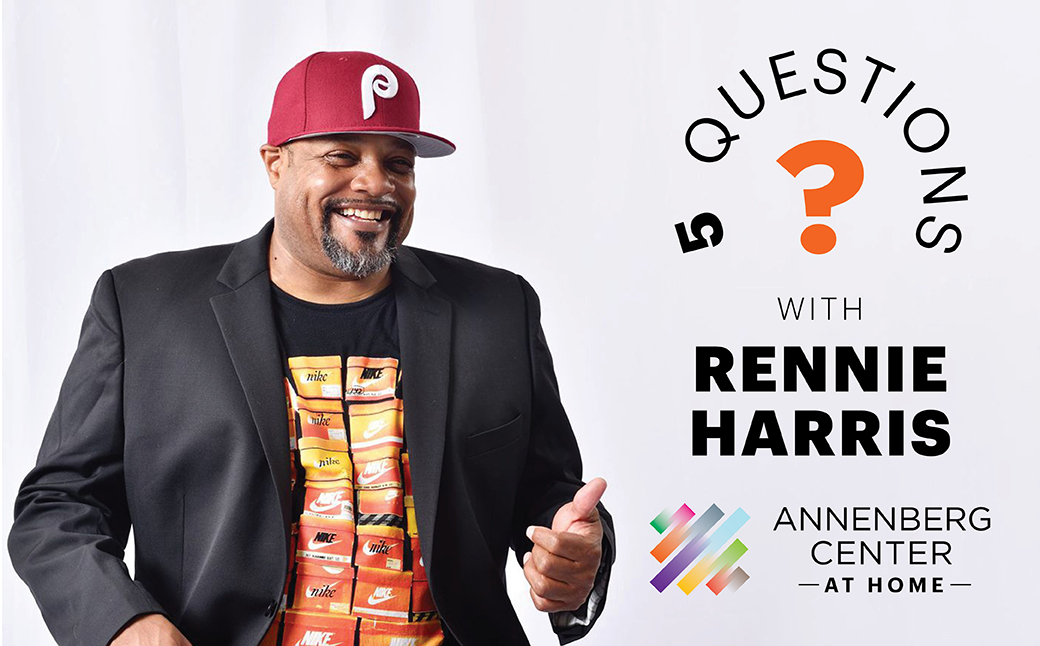 He's called "the most brilliant hip-hop choreographer in America," (
The New Yorker
) and we know his upcoming performance will live up to such lofty acclaim.
Rennie Harris Puremovement returns April 1
with a program of works including some that directly reflect on the current tragedies facing our nation. So, we were very eager to learn more about this beloved Philadelphian and discover all he's working on right now in just 5 Questions.
1. What role does the dancer have in today's world?
Dancers are what I call physical historians. Dancers hold the information of choreographers past and the present. It is their job to tell the story of the choreographer and to do so by manifesting the choreographer's ideas and thoughts into a physical reality (on stage) for all to see. Without the dancer, the ideas of a choreographer will remain an idea or theory.
2. What projects are you working on?
Currently, I'm working on the remounting of Rome & Jewels based on West Side Story and Romeo and Juliet but with a hip-hop twist. My first evening-length work, Rome & Jewels has been hailed as an Elizabethan masterpiece by critics and is considered an American hip-hop classic. In addition, I will premiere a new work entitled Losing My Religion. Seen through an abstract lens, Losing My Religion outlines a history of racism, love, pain and struggle while simultaneously acknowledging where we are emotionally and spiritually. Lastly, this work will mark my return to stage as I reimagine my tour-de-force solo, Endangered Species (1992).
3. Talk about your background?
I was born in North Philadelphia in 1964 to Doris Teresa Harris and Timothy Long. I am the oldest of five brothers and one sister. There are two sets of twins, Patrick and Tracy and William and Burton. The younger siblings are my sister Takada Harris and my youngest brother, James Harris. I went to Roman Catholic High School for boys as well as West Philadelphia Catholic School for Boys. Since middle school, I had my sights on becoming a Jesuit priest. Throughout high school, I studied at Divine Word Seminary in Bordentown, New Jersey on the weekends and for a few weeks in the summer. However, one summer I auditioned for a rap tour in New York City and was chosen to go on the first national rap tour in American history. It was called the Fresh Festival and it featured Run-D.M.C. & Jam Master Jay, Kurtis Blow, Newcleus, LL Cool J and more. As you can imagine, this changed the trajectory of my life.
4. What inspires you?
Music is my biggest inspiration. It speaks to me, it moves me to creation. I love everything from classical to jazz. I often like to say music/sound is the voice of God.
5. Are there any future collaborations or partnerships for which you are excited?
I'm excited about a work I'm creating called American Street Dancer. Specifically, I'm excited about working with the hip-hop orchestra in this work. It will consist of two DJ's, three beatboxers and four bucket players. There's a lot of research and planning to do with this work. I'm excited about it because I get to add a little more context to this story and I get to work with great musicians.
Bonus Question: Do you sing in the shower?
I don't sing in the shower, however when people expect me to know what I'm doing when I'm choreographing or teaching, I randomly sing out loud to ease the tension or expectations in the room. It's sort of a reset button for me. As a child I was extremely shy. So much so, that I used to stand in the corner for hours and family members had to coax me out of the corner.
related event