The ever-evolving Pilobolus celebrates the Big Five-OH!
Posted September 22, 2022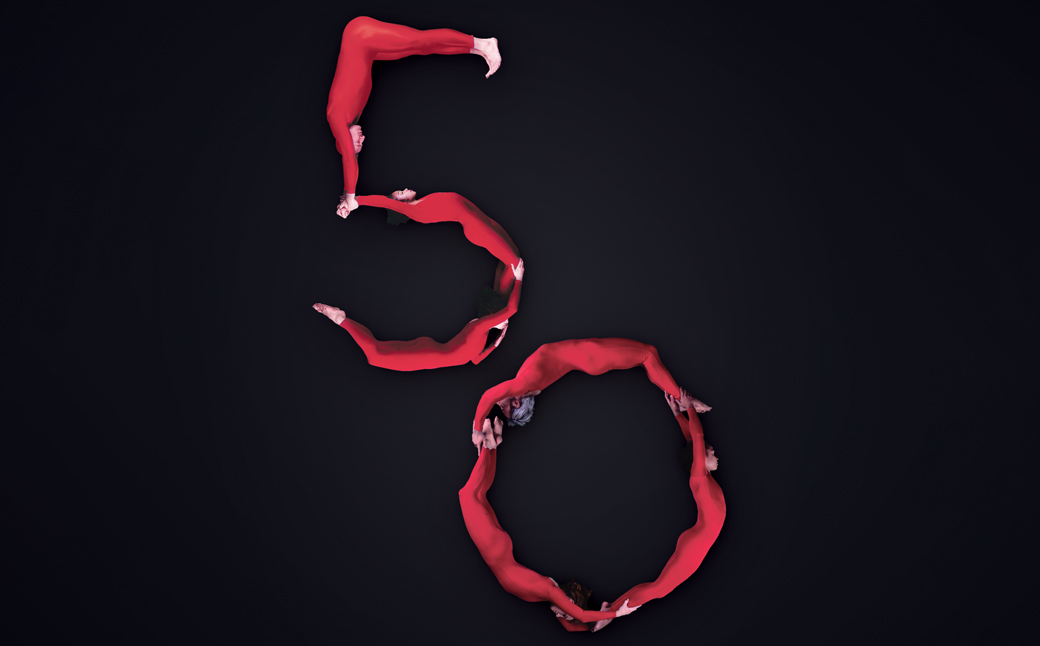 Do you remember your big 30th, 40th or 50th milestone birthday? Just back from Saudi Arabia, Pilobolus, a fun-loving over-the-top imaginative troupe, continues to wow, amaze and entertain audiences worldwide after five decades. Known as an "irreplaceable treasure," Pilobolus returns to Penn Live Arts with its Big Five-OH! tour in conjunction with our 50th anniversary season. The company's repertory of 120 collaborative, groundbreaking and physically stunning productions has toured to 65 countries, reaching millions of fans in performances for television, film, corporate events, educational settings and world stages.

It started in 1971 at Dartmouth College, a men's college, with Steve Johnson, Moses Pendleton and Jonathan Wolken, three students working on a project for Alison Chase's dance composition class. Scared to dance alone, they created a new movement vocabulary featuring interconnecting bodies combining their diverse backgrounds in physics, medicine and philosophy with their gymnastic and athletic skills to create unfathomable shapes based on weight-sharing techniques, collaboration and trust. The dance was titled "Pilobolus" after a spore-shooting, photo-tropic fungus that lives in cow dung. The group continued to experiment with ideas and expanded with additional early founders Robby Barnett, Lee Harris, Michael Tracy, Alison Chase and Martha Clarke. Since then, Pilobolus exploded onto the world stage, making its Broadway debut in 1977 and with appearances at the Olympics, Oscars and TED Talks. The group even boasts a Grammy® Award nomination for its unconventional and collaborative approaches.
Current artistic directors Renee Jaworski and Matt Kent are both veteran Pilobolus dancers and the first non-founding members to serve as co-directors. Jaworski and Kent believe the company's strength lies in staying true to its rebellious, risk-taking roots while continuing to evolve by creating innovative, collaboratively driven works performed by an Olympian team of dancers/athletes, designers, thinkers and artists.
The Big Five-OH! program features five dances, spanning forty years of ingenuity and artistry and three are Philadelphia premieres – Branches, The Ballad and Behind the Shadows. Collectively, the program explores the natural world, stories, ideas and technology, each piece meant to transport the viewer to a unique world with infinite possibilities. Set to Vivaldi, On the Nature of Things (2014) opens with three dancers on a pedestal as if living statues in a museum. Built on the Leonardo da Vinci concept that "Art lives from constraints and dies from freedom" and with a nod to the antiquities of the Renaissance, the work was created by longtime co-artistic director Robby Barnett (his last creation for the company), along with Renee Jaworski, Matt Kent, Itamar Kubovy and nine dancers.
Ideas for The Ballad began in 2019 while the company was developing a relationship with the Institute for American Indian Studies. Premiered in 2022 at the American Dance Festival, it includes storytelling by Darlene Kascak about the history of the Schaghticoke Tribal Nation and its relationship to the earth. Timely and tragic yet still uplifting, the Cultural Voice of North Carolina noted, "The Ballad should be awarded for its storytelling, beautiful movement, and ecological message," encouraging us all to take care of the land so that the land can take care of us.
Created as a site-specific work for Jacob's Pillow's Inside/Out series and originally set against the backdrop of the gorgeous Berkshire mountains, Branches (2017) is inspired by the natural world and its sounds, smells, colors, shapes and movements as well as the interrelationship of animals, humans and the environment. Kent and Jaworski's striking choreography consists of signature effortless lifts, breathtaking partnering, swaying, squatting, crawling and flying, all bringing about moods varying from whimsical to the serene and from playful to just plain silly.
Pilobolus' program also includes Behind the Shadows (2021), with excerpts and behind-the-scenes views inspired by the company's full-length tour de force, Shadowland. You may have seen elements of this captivating piece on the 79th Academy Awards or on the Annenberg Center stage back in 2017. Kent notes that the work "redefined what dance can be, is refreshing and fun-filled with magic tricks."
And, the performance concludes with Day Two (1981) directed by Moses Pendleton, a Pilobolus alum and MOMIX founder/director who returned to Pilobolus' Connecticut studio to remount the work. This iconoclastic opus examines the story of creation with all its drama, trauma and mayhem. Set to rousing music by Brian Eno and David Byrne, this full-company work is the epitome of Pilobolus, showcasing its ultra-physicality, uncanny ingenuity, mind-blowing feats and crowd-pleasing surprises. A favorite of Jaworski and Kent, who performed it numerous times, Day Two has appeared on our stage in both the 1987/1988 and 2003/2004 seasons. Barnett noted Day Two has "one of the great curtain calls in modern dance history."
A Philly audience favorite, Pilobolus has appeared on the Annenberg Center stage more than 15 times, conducted numerous masterclasses, workshops and special programs on campus, bringing the wonder and endless possibilities of what dance is and can do to audiences of all ages.
As a die-hard fan for decades, in reflecting on its 50th birthday celebration, Pilobolus' first group work, Monkshood's Farewell (1974), remains an unforgettable memory for me. It was featured in the Great Performances: Dance in America series as part of a documentary with the six original director/founders talking about themselves, their background, the creative process and their early works. Monkshood's represents Pilobolus' origins in all its physicality, metaphysicality and Medieval madness. The connections between the dancers and content are spectacular and it started a historic movement, breaking the ground for groups like Cirque du Soleil and countless others.
First appearing on our stage as part of Dance Celebration's first season in 1983/1984, we are thrilled to share in this joint 50th celebration. We look forward to 50 more years of the phenomenon that is Pilobolus.


Anne-Marie Mulgrew, MFA is the Artistic Director of Anne-Marie Mulgrew and Dancers Company and Education Consultant for Penn Live Arts.
related event