Recent Highlights: Apr – Jun 2023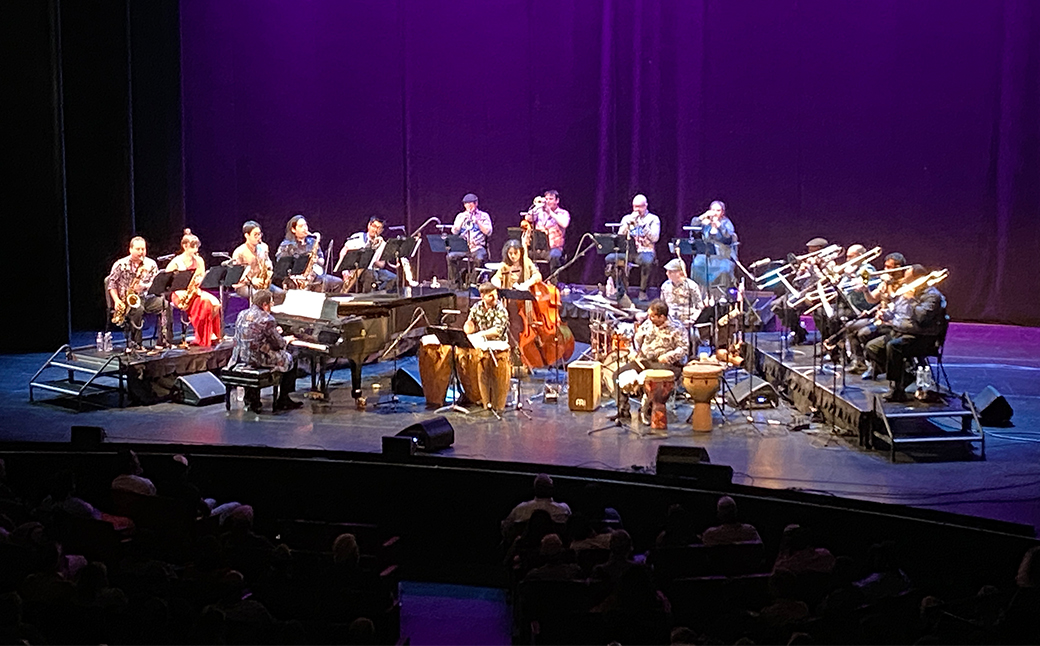 Spring came in like a lion for Penn Live Arts, blowing us all away with the incredible virtuosity of six-time Grammy® Award-winner Arturo O'Farrill and his Afro Latin Jazz Orchestra, dubbed "one of the best jazz orchestras in existence," by
The New Yorker
. It was a treat to learn about this Latin jazz visionary beforehand in the
5 Questions with Arturo O'Farrill
feature on our blog.
In June, we were equally enthralled by jazz pianist Craig Taborn, who made his Philadelphia headline debut in a solo performance. Noted jazz writer Shaun Brady delved into Taborn's process and interpretations in a post-performance Q&A session. While
The New York Times
says Taborn is "one of the best jazz pianists alive," we were particularly delighted when one Facebook fan raved "An extraordinary performance! Thanks for bringing this phenomenal artist to Philly."
Other musical styles also shone brightly, with the wonderfully inventive George Hinchcliffe's Ukulele Orchestra of Great Britain and electronic music artist Julianna Barwick. Three of the ukulele superstars shared their backgrounds in
5 Questions
on our blog, while Barwick, a co-presentation with World Cafe Live, was picked as one of
10 Concerts to See This Week
by WXPN.
Our Philadelphia Children's Festival, one of the major events of our season, returned in May, and what a joy it was to have our theatres and outdoor plaza filled with families and schoolchildren.
The Philadelphia Inquirer
did a deep dive into everything you needed to know about the Festival and KYW Newsradio featured it in their weekly web feature
This Weekend in Philly
. In a first for the Festival, a sensory-friendly performance of BKBX
Kids!
kicked off the weekend. Earlier this year, the Annenberg Center became a
Sensory Inclusive Certified Venue
, the first exclusively arts venue in Philadelphia to attain this certification. The sensory-friendly performance of BKBX
Kids!
was designed to create a welcoming and comfortable arts experience for everyone, including people with autism, sensory sensitivities and/or other social, learning or cognitive disabilities.
In April, we were excited to announce our 23/24 season, with programming that emphasizes the profound role that the arts must play in activating positive social change, locally and globally. This includes a
special focus on the culture of Ukraine
, and
artist residencies with Rennie Harris Puremovement and the Negro Ensemble Company
to explore the gun violence epidemic affecting our city and the country as a whole. We'll also showcase a powerhouse line-up of dance favorites, including
Ballets Jazz Montréal
,
MOMIX
and
Mark Morris Dance Group
, as well as the biggest names in jazz, pioneering new music, cutting-edge theatre and so much more. WRTI's Nate Chinen wrote a terrific
overview
of many of the artists and programs. See the
full season
and subscribe now to get the lowest prices and best seats.
The Annenberg Center also had an active schedule of partner and guest events. We were honored to host the gala of the 125th birthday celebration of Paul Robeson that concluded the Paul Robeson House's week of commemorative events. Read more in
The Philadelphia Inquirer
about West Philly's legendary resident. We were also thrilled to host TEDxPenn for a day of inspirational and thought-provoking speakers produced entirely by students. This year, the stellar line-up included Oscar Award-winning filmmaker and producer Anthony Russo and Dr. Ala Stanford, founder of the Black Doctors COVID-19 Consortium, among numerous other speakers.
Penn Today
wrote about the organizers and the speakers. And, we welcomed Legacy on Broad, a celebration of South Asian culture and dance performed by 10 elite college dance teams from across the country. The
Broad Street Review
previewed the excitement and passion that audiences have come to expect from this premier East Coast Bollywood-fusion dance competition.
Spring is never complete without the appearance of some remarkable dance companies. Three ensembles graced the Zellerbach stage, kicking off with Paul Taylor Dance Company (PTDC) in April. The program was stunning, with
Le Sacre du Printemps (The Rehearsal)
, the Taylor classic
Brandenburgs
, and the world premiere of
If You Could Swallow the Sun
by Omar Román De Jesús.
The Philadelphia Inquirer
interviewed PTDC Artistic Director Michael Novak for an
advance feature article
and the
Broad Street Review
interviewed Román De Jesús for a
preview article
.
Nrityagram Dance Ensemble and Chitrasena Dance Company performed the Philadelphia premiere of
Āhuti
. Featuring live music, this vibrant work explored the interconnection of rhythm, music and physical expression between the companies' Odissi and Kandyan dance styles. There was no better endorsement of Nrityagram than that of dance great Mikhail Baryshnikov, who claimed "Nrityagram's mastery of movement and spiritual depth are profound. Excuse my insistence, but if you love dance, you must see this company in action."
We concluded our 50th anniversary celebration season with three performances of the effervescent
SW!ING OUT
, created by tap wunderkind Caleb Teicher. Merging social dance, vernacular dance and Lindy Hop with live music by Eyal Vilner Big Band, the program was, quite simply, exhilarating. Read more about Caleb, dubbed the "king of old-school cool!" by
Dance Magazine
, in this
feature on our blog
. We couldn't have asked for a better review than this from an audience member on social media: "So MUCH joy last night. Thank you! Perfect ending of the season."
And with that, the curtain closes on our 22/23 season. Our thanks to all the incredible artists and our dedicated patrons and supporters. It was a truly spectacular year celebrating our legacy while looking to the next 50 years and beyond. We can't wait to see you next season!
related events
related events