Tap wunderkind Caleb Teicher brings SW!NG OUT, a Lindy Hop big band sensation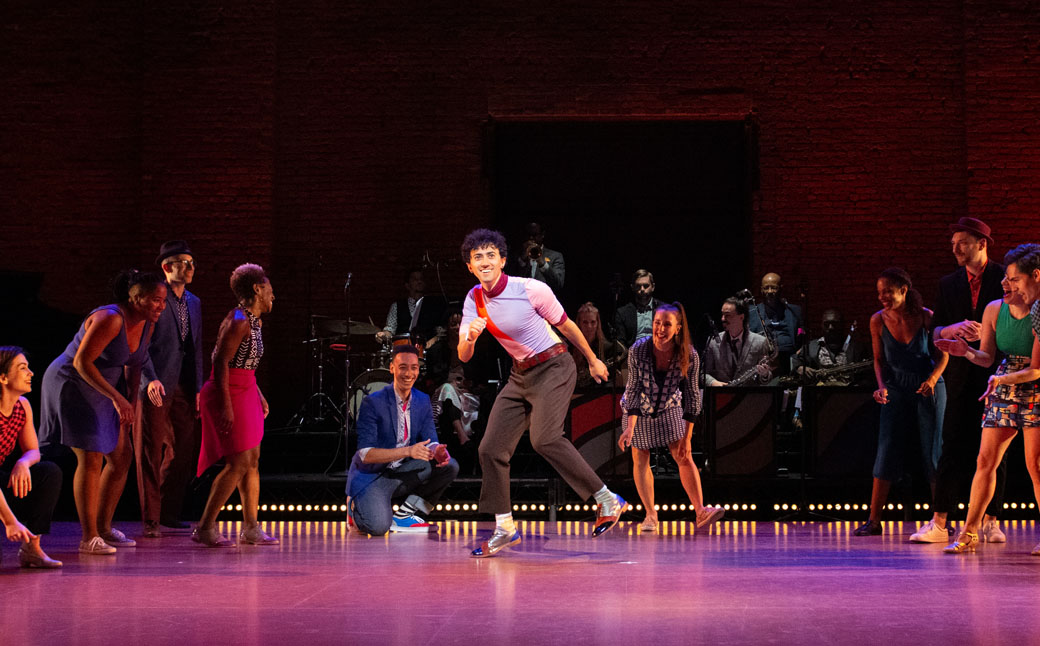 Barely out of high school, Caleb Teicher burst onto the world stage thrilling audiences with their charismatic personality, youthful vitality and switchblade feet. In lieu of college, Teicher, who uses the gender-neutral pronouns they and them, followed their dream to "make it" as a jazz, tap and swing dancer in New York City. In 2011, as a teenager, Teicher performed in works by tap masters Michelle Dorrance (was a founding member of her company) and Dormeshia Sumbry-Edwards at their shared concert. This performance won Teicher their first Bessie Award for outstanding individual performance.
Since then, Teicher has been honored with numerous engagements in the U.S. and abroad as well as prestigious commissions from the Joyce Theater, New York City Center, La Mama, The Yard, Jacob's Pillow and the Guggenheim Museum. Philly audiences may recall when we welcomed Caleb Teicher & Company for its Philadelphia debut in 2018 in groundbreaking works set to Bach and Ella Fitzgerald. In 2020, we presented a livestream of Teicher and beatboxer world-champion Chris Celiz, which was off-the-charts and oozing with ingenuity, humor and captivating rhythms. A fearless collaborator/performer, Teicher's projects include performances with jazz pianist/composer Conrad Tao and singer/songwriter Regina Spektor as part of her Broadway show and for appearances on
The Late Show with Stephen Colbert
.
Music was an integral part of Teicher's childhood. Their father was a professional studio singer and their mother a magazine editor and guitar teacher. Teicher started playing the drums at age eight and then saw a TV show with guys dancing and got hooked. He took tap classes at age 10 and then at age 13 with David Rider, whom Teicher calls "the most remarkable teacher." Rider introduced Teicher to tap's rich history – Jimmy Slyde, Ann Miller, Gene Kelly, Fred Astaire and others. Motivated by Rider, Teicher sought out the great modern tappers including Dorrance, Sumbry-Edwards, Jason Samuel Smith, Ayodele Casel and Diane Walker, who shared the importance of preserving and honoring tap legacies even when exploring new territory.
Teicher honed their skills as a dancer with Dorrance Dance, the Big Bang Group, The Chase Brock Experience, Syncopated City Dance Company, and a year-long European tour of
West Side Story
. Along the way, they fell in love with the Lindy Hop, dancing for pure joy. It is no wonder
Dance Magazine
refers to Teicher as the "king of old-school cool!"
The Caleb Teicher & Company performs a mix of tap and vernacular jazz (e.g. the cakewalk, the Charleston, the Black Bottom and the Lindy Hop) created in the African-American communities from the late 1880's through mid-1900's. Like a jazz band, each company member is encouraged to express their unique self while being sonically unified. In 2020, the ensemble embarked on its most ambitious project, Swing 2020, for twelve dancers, (including several championship Lindy Hoppers) and an all-star nine-piece big band featuring sultry vocalist Imani Rousselle. Later renamed to
SW!NG OUT
, the title is a nod to a highly energetic dance of African-American origin that is characterized by an eight-count circular basic pattern, a "swing out," with an emphasis on improvisation and adapting to other steps within the eight-count and six-count rhythm.
Joining Teicher, the brilliant creative team of
SW!NG OUT
includes dancers Evita Arce, LaTasha Barnes and Nathan Bugh and composer Eyal Vilner.
SW!NG OUT
brings social dance, vernacular dance and Lindy Hop to the concert stage in a dazzling and entertaining display. It is a gender-fluid program with varied partnering, eye-catching aerials, swing outs, lifts and improvisation, so each performance is truly unique. Dance sections feature ensemble work, solos, duets and even a tap solo. Reimagined and performed live by the Eyal Vilner Big Band, the music takes the audience on a nostalgic journey from new songs to old standards such as "Ain't Got Nobody," "My Baby Just Cares for Me" and "Saint Louis Blues."
The New York Times
critic Brian Seibert noted that
SW!NG OUT
gave him "the most joy of any dance production in 2021."
SW!NG OUT
celebrates the joy of life and closes our impressive 50th anniversary season. At the end of the performance, audiences are invited to join in the festivities during the Jam, honoring the tradition of dance halls like Harlem's Savoy Ballroom where it all began. This improvised social dancing is an essential part of the experience, with audience members joining the live band and dancers on the Annenberg Center stage in a unified culminating moment. See you there!
Anne-Marie Mulgrew, MFA is the Artistic Director of Anne-Marie Mulgrew and Dancers Company and Education Consultant for Penn Live Arts.


related event