Celebrating Alice and John Coltrane
Alice & John: A Coltrane Festival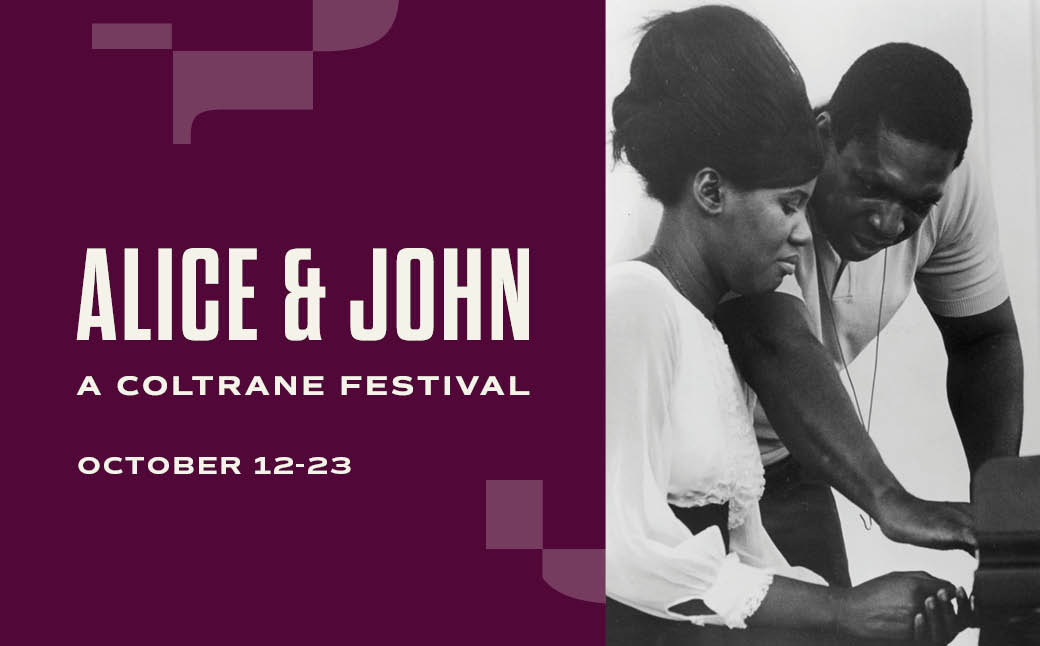 Alice and John Coltrane are jazz royalty, and our
Coltrane Festival
(October 14-23) honors the tremendous impact this iconic duo had on American music, with an exciting emphasis on Alice's significant and often underrepresented contributions. With rising star saxophonist
Lakecia Benjamin
serving as Artistic Advisor, the Festival showcases John's bebop, free jazz and spiritual enlightenments alongside the more abstract sounds and Eastern influences of Alice's compositions. An impressive line-up of artists brings new interpretations of the Coltranes' music into the present day through world premieres and Penn Live Arts commissioned works, while films and discussions with Coltrane scholars round out the Festival's thematic journey with these jazz icons.
A prolific star of the dance world, choreographer Pam Tanowitz choreographs to jazz music for the first time, with her company Pam Tanowitz Dance performing the world premiere of Walk With Me, a commissioned work set to Alice Coltrane's music and played live by Lakecia Benjamin and her band, Pursuance. (October 14-15) Benjamin remains in the spotlight in an all-Coltrane inspired program featuring very special guests Dee Dee Bridgewater and Gary Bartz. (October 16) Ravi Coltrane brings a personal connection in a grand exploration of his parents' musical legacy (October 22), and jazz harpist Brandee Younger continues her years-long dedication to Alice's music, highlighting her earlier works. (October 23) Two films, Chasing Trane: The John Coltrane Documentary (October 12) and Blue Note Records: Beyond the Notes (October 13) provide an in-depth look at John Coltrane's life and the recording industry he and other jazz luminaries helped fuel.
"I wanted to honor both Alice and John Coltrane in my album, Pursuance: The Coltranes," says Benjamin. "Even though I am a saxophonist, I was familiar with Alice Coltrane's music before I became familiar with John Coltrane and his music. I was drawn to Alice Coltrane's spirituality and how she reflected that in her music. After I became familiar with John Coltrane, I devoured his music, both as a musician and composer but also because of the obvious spirituality in his music. I think of them as a real power couple and I could not imagine honoring one without the other."
Get tickets now to join us for this exciting musical exploration!
related events