Recent Highlights: Jan – Mar 2022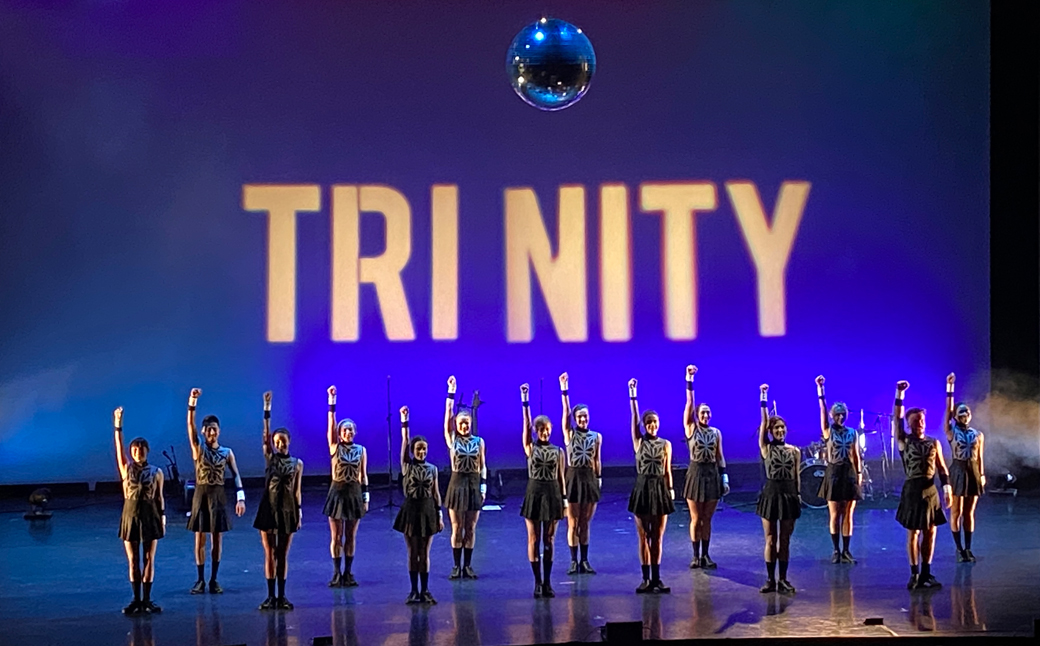 We kicked off the second half of the season, especially rich and robust in programs, with Les Ballets Trockadero de Monte Carlo. This impressive ensemble of all-male dancers wowed with their technical expertise and en pointe work, but also allowed us an opportunity to share collective laughs as they poked fun at some of ballet's traditions. Both
The Philadelphia Inquirer
and
Philadelphia Gay News
ran profiles of Trocks dancers with Philadelphia ties, and NBC10 picked up footage of the first performance for their 11 PM newscast. It was also great to peek behind the scenes with dancer Kevin Garcia, who took over our
Instagram
for the day. It was a true, feel-good show.
The Dance Journal
noted "This audience, young and old, black, brown & white, GLBTQI+ was on their collective feet with lusty applause as the curtain came down."
Trinity Irish Dance Company was next on the dance series, nearly two years since they were originally scheduled to perform their innovative, progressive Irish dance.
The Delaware County Daily Times
and
6ABC
profiled world-champion dancer Ali Doughty, who grew up in Havertown, and company member Kait Sardin took us along through her day as she took over our
Instagram
.
March brought the Philadelphia premiere of celebrated local choreographer Rennie Harris's
LIFTED
. This contemporary telling of the story of the prodigal son, blending dance, theatre, hip hop and a live gospel choir, brought standing ovations as well as positive reviews from
Broad Street Review
and
The Dance Journal
. Audience members on social media declared, "Absolutely AMAZING…absolutely incredible," and "My 9-year-old was intrigued by the themes used in the performance so much that she's still asking me questions about it."
Hot jazz warmed up our cold Philly winter with a range of intriguing artists, including the stellar Jazz Gallery All-Stars and amazing Regina Carter. Ravi Coltrane, son of jazz royalty John and Alice Coltrane, brought his unique sound to the Zellerbach Theatre, with one excited fan emphatically sharing on social media that "He is sooooo good!"
Our livestreams continued but with a twist, now becoming hybrid performances, for both in-person and remote audiences as detailed in
Penn Today
. The Campbell Brothers brought their mastery of sacred steel, a blend of gospel and steel guitar, to a performance of John Coltrane's seminal work,
A Love Supreme
. This positively electric Philadelphia premiere sparked both in-person and at-home standing ovations. Award-winning banjo prodigy Nora Brown also performed for a hybrid audience, making her Philadelphia debut. She brought fresh energy to traditional, roots music, quietly captivating her listeners and sparking an at-home listener to pronounce the show "Awesome, awesome, awesome!"
We welcomed our family audiences back with Cirque Mechanics, whose breathtaking and zany antics in the Philadelphia premiere of
Birdhouse Factory
were declared "…colorful and entertaining, absolutely wonderful!" by one social media follower.
The following month Circa returned to our stage with their new love letter to humanity,
Humans 2.0
. Performer Jarrod Takle shared some insider thoughts about the troupe and his personal rituals in a
5 Questions feature on our blog
, while performer Luke Thomas talked to
Phindie
about what audiences could expect in the show.
A performance by our terrific choral partner, The Crossing, wrapped up the jam-packed first three months of performances in 2022. It was a pleasure to present The Crossing performance at St. Mark's Church in Center City. Conductor Donald Nally shared thoughts on the program,
In a House Besieged
, on our
blog
, and the
Broad Street Review
wrote, "This chamber chorus always sings like a perfectly tuned orchestra, not merely pitch perfect, but delicately balanced, resulting in gossamer textures. Combining this vocal sensuality with Nally's keen social and intellectual vision nearly always make for performances that haunt the mind's ear for some time. This concert was no exception."
We're also excited that our
recently renovated lobby
has become a gallery for visual art, hosting an ongoing series of rotating exhibits. Currently on view,
Mark Stockton: 100 People
spans the main wall of the Feintuch Family Lobby and extends into the upper and lower ambulatories, with 100 compelling portraits highlighting a wide range of iconic figures such as Abraham Lincoln, Harriet Tubman and climate activist Greta Thunberg. It is on view through the current Penn Live Arts spring season and was recently featured in a
Penn Today
story and on
6ABC news
. Visitors to the Annenberg Center will also see Isaac Tin Wei Lin's recently completed mural commission,
Primary Prism
, the first new permanent art installation in the Annenberg Center since the building opened in the 1970s. The mural fills the main stairwell, extending from the fifth-floor mezzanine down to the Class of 1994 Studio Lobby, bringing a burst of lively energy to the spaces.
April is well underway with more inspiring and fun performances as we look forward to a wonderful spring. Plus, stay tuned for the announcement of our 22/23 season, celebrating our 50th anniversary, on May 5!