Event Archives
Mark Stockton: 100 People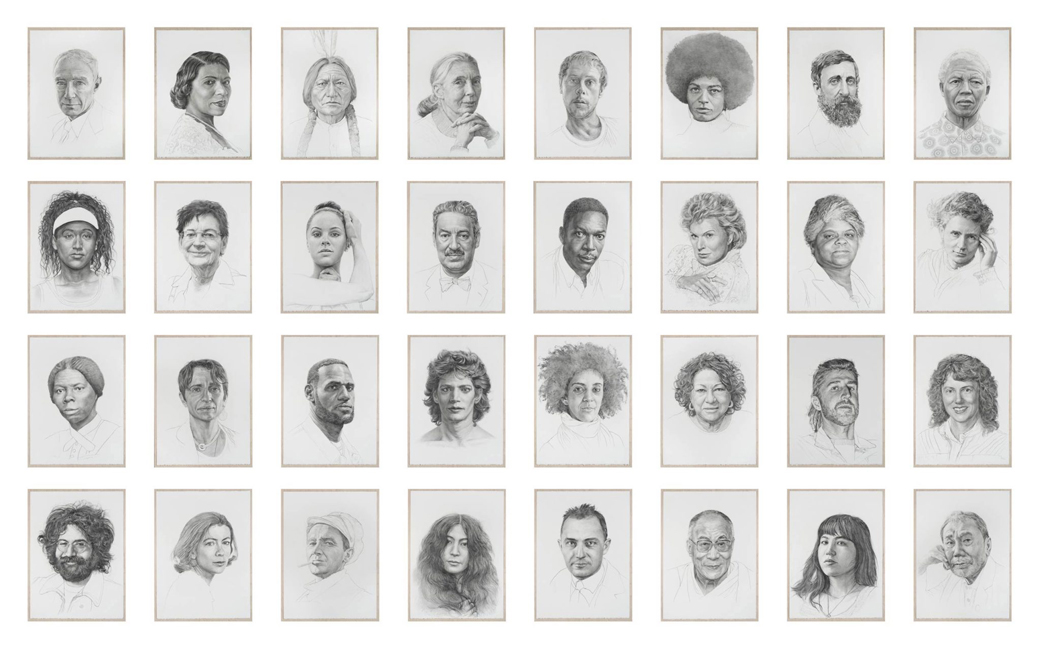 February 15 – May 27, 2022
Annenberg Center Feintuch Family Lobby
Guest Events
Mark Stockton: 100 People is an exhibition of new works featuring a group of 100 hand drawn portraits, photo-referent, made with graphite on paper, and intended to be received as a single work in form and experience.
Each subject connects via eye-contact to the viewer, addressing the objectifying nature of portraiture head-on. Portraits have a complex history—they have the potential to venerate, to emotionally connect, to resonate into lived experience—they are also tools of commodification, objectification, and colonialization. Mark Stockton: 100 People examines who and how we venerate and connect. What is representation in a larger sense? Using demographics to structure an equitable range of representation, and selecting subjects from a range of time periods—from the beginnings of portrait photography (1839) to the present—the on-going series seeks to create an evolving canon of portraits, reflecting an expanded narrative of history and identity while centering ideas of inclusivity and subjectivity. Often sourced from recommendations and further reading, the selection process is opened-up beyond the limitations of the artist's pre-existing-knowledge base; the time-intensive drawings invite further reflection. Each portrait, connecting through an active gaze, looks back on the viewer, collapsing time and space divides, offering varying points of connections to different people.
95 of the 100 drawings were complete by the time the exhibition opened; Stockton will complete the remaining five over the course of the exhibition during scheduled drawing hours. The full list of complete and in-progress portraits can be found here.

Exhibition runs Feb 15 - May 2022
Opening Reception
Tuesday, February 15, 5 PM - 6:30 PM
The Sachs Program for Arts Innovation and Penn Live Arts invite you to celebrate the opening of Mark Stockton: 100 People. Remarks will be at 5:30 PM. Please register in advance for the opening reception.
Performances
Tuesday, February 15 @ 11 AM
Friday, May 27 @ 8 PM


This exhibition is presented by The Sachs Program for Arts Innovation and Penn Live Arts and was supported by The Sachs Program for Arts Innovation.