Our fall education and engagement activities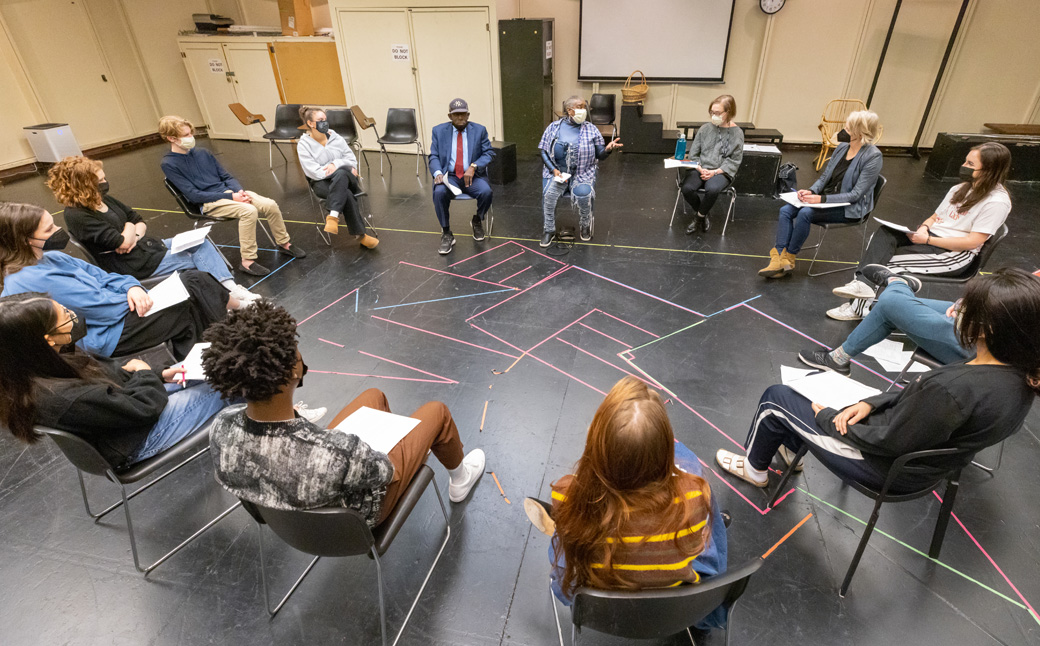 "It's like watching people paint with their life, with their bodies," longtime Negro Ensemble Company actor Kene Holliday told a roomful of Penn students about the art of acting this past November. Holliday would know; the historic company's
Brownstein Residency for Artistic Innovation
with Penn Live Arts this year marks more than 50 years of the stage, film and TV actor's career. He and NEC Artistic Director Karen Brown made Penn Professor McKenna Kerrigan's Intro to Directing class one stop in a busy series of outreach engagements to students and the West Philadelphia community, kicking off our education and engagement activities for the season.
Brown and Holliday also visited the long-running August Wilson and Beyond English course, led by Dr. Herman Beavers and Suzana Berger, to offer feedback as Penn students processed their conversations with West Philadelphia community members into the seeds of dramatic monologues. Earlier in the fall, NEC performer Aaron Lloyd also visited West Philadelphia High School, achieving instant rapport with students. NEC's activities on and off campus continue to generate anticipation ahead of the world premiere of our commissioned work, Mecca is Burning, in February.
Artist engagements like those with NEC don't just inspire students; they give the Penn and Philly communities a range of ways to interact with new work beyond the theatre. Composer and Penn alumnus Osvaldo Golijov, (GR '91) whose Falling Out of Time had its Philadelphia premiere on November 6, offered an intimate window into how an artist's life is made after graduation. With Penn Professor Anna Weesner's composition students, he talked about the impact of early collaboration with the Kronos Quartet on the development of his work, and how much control a composer has over how a piece is ultimately played.
This fall, with students ranging from three to 16, we celebrated a pandemic milestone: the return of our Student Discovery Series, featuring Ballet Hispánico. To a full and expressive house, the company moved through its own history, from the Latin American folkloric dance of its beginnings to the often more experimental, contemporary style of today, punctuated by just enough lighthearted, educational annotation from artistic director Eduardo Vilaro. The COVID-19 years spent away from the theatre hadn't dimmed this observant audience one bit, when the lights lowered for the first number and the music began, they roared their excited approval.
Ballet Hispánico's Artistic Associate and Rehearsal Director Johan Rivera led our free Powell-Vandever masterclass between performances for a dozen university and high school dancers, including students from Philadelphia nonprofit International Ballet Exchange and the dance program at Franklin Learning Center. Before launching into a few phrases from the company's repertory, dancers learned the fundamentals of merengue and salsa, and spent the class exploring some of the ways the company blends those essential social dance steps with ballet and modern technique. This fall marks our return to inviting dancers outside of university programs to participate in professional masterclasses. We're eager to welcome participants from a range of phases in their training and careers. The next masterclass, led by Dance Theatre of Harlem, takes place January 21.
As we continue our 22/23 season, we look forward to many more opportunities to engage with students and our local community.
related events