Toll the Bell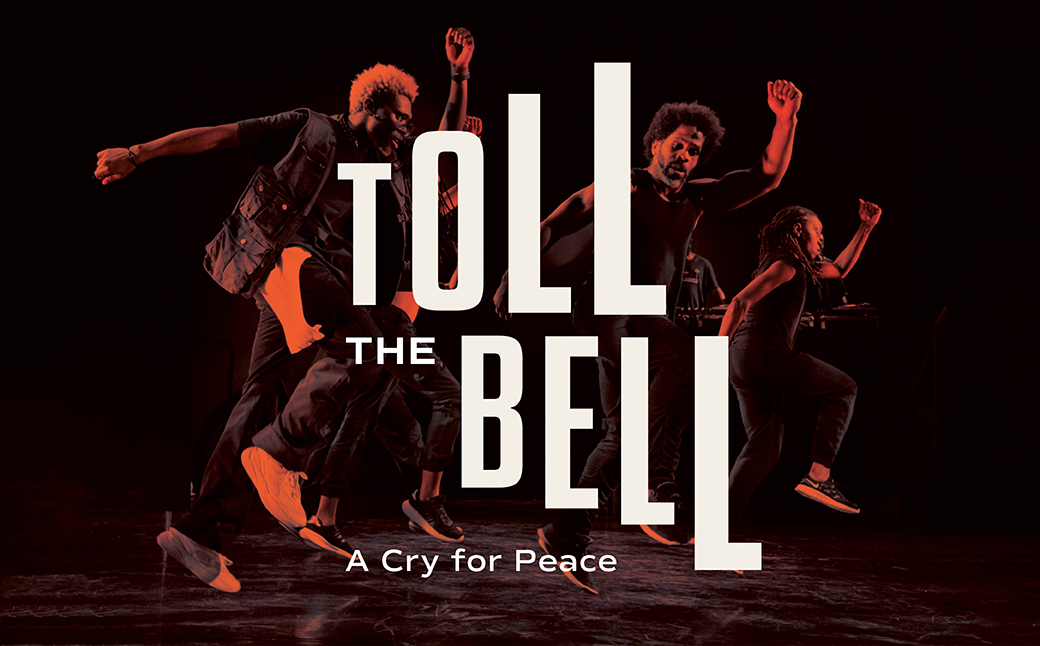 When we curate each annual season, we balance a range of ideas, objectives, and program goals, including our ongoing commitment to artists that address topical issues of our time. Programs at the
Annenberg Center
have always dealt with pressing issues of the day, whether it be through August Wilson's plays, campus-wide artist residencies, or commissions of new work such as the 2017 world premiere of
A Period of Animate Existence
. Our aim each year is to provide audiences with a range of performances that delight, entertain, challenge, and inspire, and we know that so many of our artists are telling important stories that help us, as the audience, reflect and consider our world differently.
In planning for this year, we considered how we could support artists who were grappling with the American tragedy of gun violence. Anyone in the Philly metro area would be hard pressed to ignore the daily reports of incessant gun-related injury and death in our city, while also seeing a regular stream of news about
random shooting events
and other tragedies throughout our country. It's become so common place as to be a regular fixture on many daily news reports and personally, I find the
statistics
overwhelming. When I reflected on this issue, I realized that despite living in Philadelphia, I had a very limited understanding of the
impact
on certain communities and what
work was being done
to help mitigate this epidemic. How could PLA give voice to those who have been deeply affected and at the same time, how could we uplift organizations and community efforts that are working to improve conditions, prevent violence, and heal neighborhoods? How could we do this through the performing arts?
Working with two important companies – one theatre ensemble and one dance group – PLA will present a range of programs that bring awareness to the issue of gun violence, while honoring the victims of this tragedy. A primary driver for us is supporting and uplifting local organizations that have been doing work to help our communities mitigate this tragedy. This season's theme is timely, and these artists are addressing it head-on with their own interpretation, perspective, and lived experience. The project culminates with a major city-wide sound installation called Toll the Bell on June 7, 2024, National Gun Violence Awareness Day.
The Negro Ensemble Company (NEC)

Many of you joined us last year for programs that were part of our
Brownstein Residency for Artistic Innovation
with the dynamic
Negro Ensemble Company
. NEC created a one-act play festival in the fall of 2022 and performed the world premiere of our commissioned work,
Mecca is Burning
, inviting audiences to experience a dramatization of the love, anger, and sorrow surrounding the gentrification of Harlem, a community in change. With the company's return this year, we asked Karen Brown, NEC's Artistic Director, to consider creating work that centered the community's perspective on gun violence and we'll see the the result of this in late October with the world premiere of two
one-act plays
by Cynthia Grace Robinson and Mona Washington. In February, the company will return with a new production of
Zooman and the Sign
by Philadelphia's own
Charles Fuller
, the Pulitzer® Prize-winning author of
A Soldier's Play
. NEC actually premiered
Zooman
off-Broadway back in 1980. PLA will be partnering with facilitators to offer audience members a chance to engage more deeply in this work and its themes.
Rennie Harris Puremovement

Last spring, we announced a major residency with the outstanding artist
Rennie Harris
, funded by the
Pew Center for Arts & Heritage
, the first multi-year residency at Penn Live Arts and the first artistic home base for this internationally renowned Philadelphia artist. Rennie grew up in North Philadelphia, developed a unique interpretation of hip-hop dance, and has addressed many pressing issues such as urban gun violence, gang violence, and other themes through his work for many years. In the first season of his residency, his program will include a retrospective of works that helped catapult his company to the world stage, including
Students of the Asphalt Jungle
,
March of the Antman
and
P-Funk
.
In conjunction with Rennie's main stage work, we'll be partnering with schools in both West and North Philadelphia to make connections with students around their perspective on gun violence in their own communities and how they can react to and process their experiences through the medium of dance.
Toll the Bell

These programs are dynamic and provide audiences with diverse perspectives on this pressing issue. However, we also wanted to create a two-part opportunity, one that would allow all Philadelphians to reflect on how gun violence impacts our city while also amplifying the vital work of many anti-violence organizations.
On
June 7, 2024
, PLA will present a city-wide sound installation, partnering with Penn's
Office of the Chaplain
,
Interfaith Philadelphia
, and many churches, synagogues, mosques, and other community partners to ring bells and make other sounds for 10.6 minutes, sequentially, by neighborhood. These ten minutes and six seconds represent the
106 Americans killed daily
through gun violence and serve as a call to action, a warning, and a sonic device to disrupt the environment for Philadelphians, inviting them to stop, reflect, and learn more about this tragic issue. Sound has always been used to alert communities to danger, warn of an impending disaster, or to call neighbors together to share in moments of reflection, worship, or celebration. Truly, no city in America is more connected to the imagery, history, and symbolism of the bell than Philadelphia; through this sonic mechanism, we hope to uplift those individuals and organizations in our city that are working to change conditions and circumstances for the better.
Toll the Bell is not a profile of tragedy, but rather a call to action – a literal ringing of the bell – to honor our fellow citizens who have lost their lives and raise awareness for those working to have a positive impact in our city. A project of this type requires a tremendous amount of coordination and persistence. We have been working diligently with partners to create a moment for our city that inspires, challenges, and leverages the unique and important work that communities of faith and other neighborhood organizations have been doing to mitigate this tragedy.
As we move through the year, we'll be sharing more information on how you can participate and engage with this issue through the performing arts. I encourage you to join us for one of these amazing programs in our theatres and on June 7, my great hope is that you'll be with me outside, listening and reflecting to the sound of warning, the call to action, and the intrinsic wish for change.
related events
related event