Learn more about the Sachs Program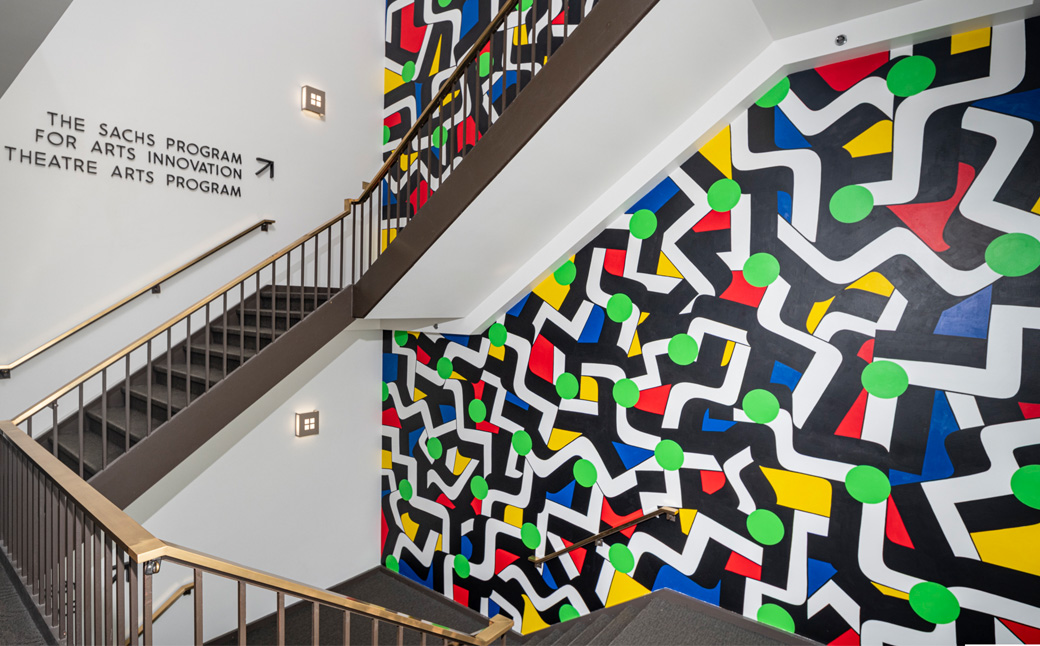 Hello Penn Live Arts patrons and blog followers! My name is John McInerney and I am the Executive Director of The Sachs Program for Arts Innovation. Our thanks to the team at Penn Live Arts for inviting us to contribute to the PLA Blog.
If you are a Penn Live Arts subscriber, you may not have heard of us before. The Sachs Program is a relatively new initiative at Penn, founded in 2017 with a gift by Penn alumni Keith and Kathy Sachs. Our mission is to support and inspire creative practice and practitioners across the University. We do that primarily through grantmaking and supporting faculty, staff, students, departments and cultural centers, and other arts advocates at Penn.
A good example of our grantmaking is Penn Live Arts' east coast premiere of
Vessels
, a seven-woman harmonic meditation on the transcendental possibilities of song during the Middle Passage of slavery. Presented as part of Penn Live Art's two-year programming arc entitled The Philadelphians: Migrations that Made Our City, it was a highlight of the 2018-2019 cultural season at Penn.
More recently, we have expanded our grant opportunities. In 2020, we launched our first
responsive grants series
, supporting projects led by or primarily serving Black artists. Featured grantees included artist Ricardo Bracho, who presented
The Sis Uprising
by Arien Wilkerson, a conceptual Black performance piece addressing COVID-19 and the 2020 protests. The following year, in response to unprecedented violence and discrimination against the Asian community, we
awarded 14 grants
to support Asian, Asian American, and Pacific Islander artists and their communities.
One of our most popular grant categories is for students, an opportunity we have expanded in recent years. In February, we announced
14 new student grant awards
, including several filmmaking projects, two community storytelling and community archive projects, an animation project and an exhibit on the Philadelphia Orchestra's trip to China in the 1970s. The talent and ambition of Penn students is truly inspiring. One project,
Generation Pandemic
, an ambitious online blog documenting pandemic interviews with young adults aged 18-25 coping with COVID-19 across the country, was featured in
a recent article
in
The Philadelphia Inquirer
.
In addition to our support for the incredible range of artistic talent at Penn, we have also partnered with Penn Live Arts to renovate the Annenberg Center (
profiled recently on the PLA blog
by Adam W. Riggar). One of the most visible elements of the renovations was an infusion of visual arts exhibitions and commissions throughout the Annenberg Center's public spaces. Philadelphia artist Isaac Tin Wei Lin recently completed a mural commission that fills the main stairwell of the Annenberg Center, extending from the fifth-floor mezzanine (home of the Theatre Arts Program and the Sachs Program offices) down to the Class of 1994 Studio Lobby near the Prince and Montgomery Theatres. As the first new permanent art installation since the center's founding in the 1970s,
Primary Prism
brings a joyful and playful energy to the public spaces.
The renovations have also allowed the launch of an ongoing series of rotating exhibits. Currently on view is
Mark Stockton: 100 People
, which spans the main wall of the Feintuch Family Lobby and extends into the upper and lower ambulatories, with 100 compelling portraits highlighting a wide range of iconic figures. From Abraham Lincoln and Harriet Tubman to musician Sun Ra and climate activist Greta Thunberg, the exhibition seeks to reflect an expanded narrative of history and identity while centering on ideas of inclusivity and subjectivity. It is on view through the current Penn Live Arts spring season.
We are also programming a series of events and programs at the Annenberg Center, including an upcoming
artist talk with Mark Stockton and sociologist Mary F.E. Ebeling
on March 22 and a
special online conversation
on March 23 moderated by Penn Live Arts Executive & Artistic Director Christopher Gruits entitled "Performing Art Centers in Academia." Chris will be in conversation with Brown University Arts Institute Artistic Director Avery Willis Hoffman and Marion Friedman Young, Executive Director of the Lewis Center for the Arts at Princeton.
The arts at Penn are defining elements of the Penn experience and campus life. We are honored to be able to support so many exciting creative projects by members of the community and to work closely with Penn Live Arts. If you would like to learn more about The Sachs Program, please visit our website, sachsarts.org. You can also sign up for our newsletter, where we keep you up to date on arts happenings across campus and throughout the city.
related event