Spotlight on Terence Nance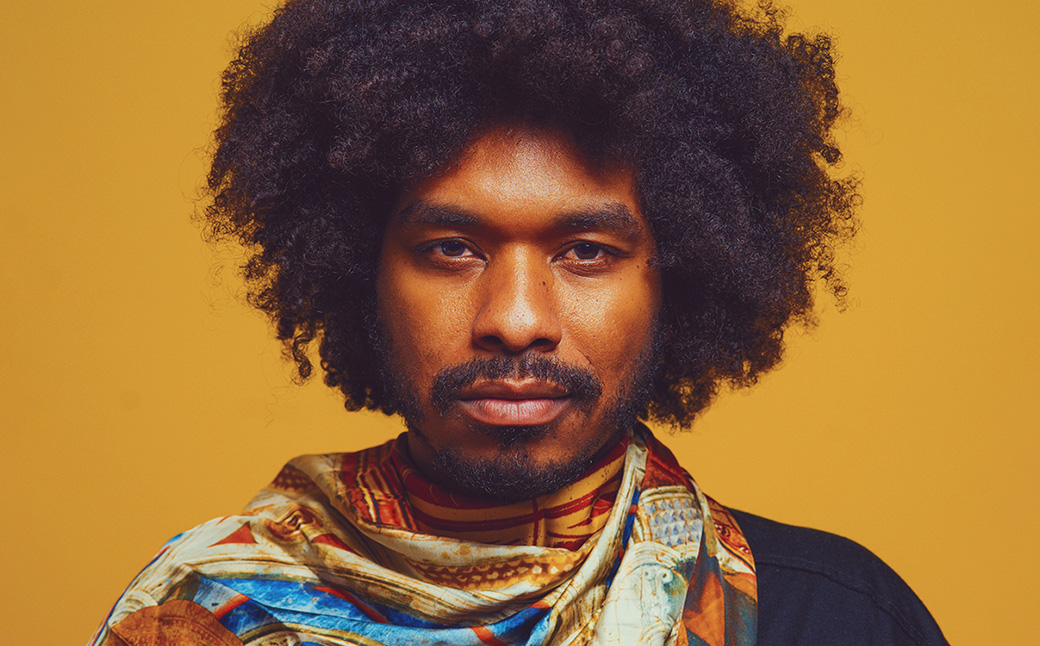 "His work is an Afrofuturist's dream that holds a mirror up to present-day reality and forces it to confront itself in an abstract, yet fitting, manner. It serves hard truths you can't look away from, and it does so in the Blackest way ever."
–Taryn Finley, Huffington Post
Terence Nance is one of the most extraordinary filmmakers of his generation. While his work is bolstered by its artistic excellence and technical complexity, it resonates because of its social relevance. Nance's practice is collaborative in scope and serves as an inspiration to many other contemporary artists and filmmakers. The forthcoming exhibition at the
Institute of Contemporary Art
,
Terence Nance: Swarm
, reflects Nance's innately interdisciplinary style that includes live action film, animation, photography, sound, performance and installation.
Given that Nance considers BlackStar to be "a fertile gestation space where all the Black filmmakers on earth who make films as art as opposed to product can get together and reboot, refine, politic and most importantly generate the necessary energy to keep making work," the opportunity for his first solo show to take place in Philadelphia in collaboration with me has felt kismet. We have known each other for a long time and share similar cultural backgrounds–having both grown up in the nexus of independent theater and post-Black Arts cultural communities. In addition to BlackStar's festival programming, I have featured works by Nance in two previous exhibitions:
Lossless
(2017) and
Assemblage
(2019), both at the Leonard Pearlstein Gallery at Drexel University.
Nance's first feature film,
An Oversimplification of Her Beauty
, premiered at the 2012 Sundance Film Festival and was released theatrically in 2013. I'm excited we're able to
showcase it at Penn Live Arts on March 16
, as it encapsulates a style that Nance would soon become renowned for — using a combination of animation and live action to tell a delightful and sometimes romantic story. The night before,
on March 15 at Penn Live Arts
, we'll also be spotlighting a series of short films, music videos and commercial work he's directed, including
Swimming in Your Skin Again
and
Univitellen
, which will both be reimagined as installations in the exhibition. We'll also include a short promo created for his debut album
V O R T E X
, which was released in 2022, and is a further extension of his genre-defying practice.
In 2014, Nance was named a Guggenheim Fellow and has since received a United States Artists Fellowship. In the summer of 2018, his Peabody award-winning television series
Random Acts of Flyness
had its premiere at the 2018 BlackStar Film Festival and debuted to great critical acclaim on HBO. Richard Brody in
The New Yorker
describes its recently wrapped second season as "a visionary exploration of Black American life." Additional films include collaborations with Hank Willis Thomas, Sanford Biggers, Solange Knowles and Bradford Young. In 2017, Nance premiered a performance piece,
18 Black Boys Ages 1-18 Who Have Arrived at the Singularity and are Thus Spiritual Machines
at Sundance.
Swarm
will be the first solo museum presentation dedicated to this extraordinary body of work. The exhibition at ICA Philadelphia runs March 10 through July 9, 2023, and further highlights the artist's creativity during the ten-year period spanning 2012 to 2022. The title is a tribute to the community of friends and family Nance built around him in Brooklyn in the early to mid-2000s. Each piece in
Swarm
reflects their influence: from collaborations with his mother, Vickie Washington, and brother, Nelson Mandela Nance, to the partnerships he's created with friends and chosen kin.
This exhibition brings together pieces which represent the full scope of Nance's innovative practice, offering unexpected and alternative paths for creating art that layers video, sound, printed matter and live performance in contemporary environments. He discards conventions of cinema opting for modes that experiment with temporality, spirituality and lineage. The five immersive environments in
Swarm
also allow for an intimate connection to the stories, relationships and histories at hand. Taken together, it extends Nance's interest in deepening collective intuition and worldmaking through ritual and collaborative artistic expression.
Born and raised in Dallas, living and working in Brooklyn for almost two decades, and now rooted in Baltimore, Nance's career has always been linked to the communities within which he has made work – that is, the people, places and relationships descended from the Black Arts movement which have sustained and amplified Black cultural production over the last four decades. Our hope is that the upcoming exhibition and this screening series build on and extend that legacy, while further shining a light on Nance's singular contributions.
Maori Karmael Holmes is the Artistic Director and CEO of BlackStar Projects and our Curator-at-Large for Film.


related events