Doug Varone brings his latest masterwork, Somewhere, to Philadelphia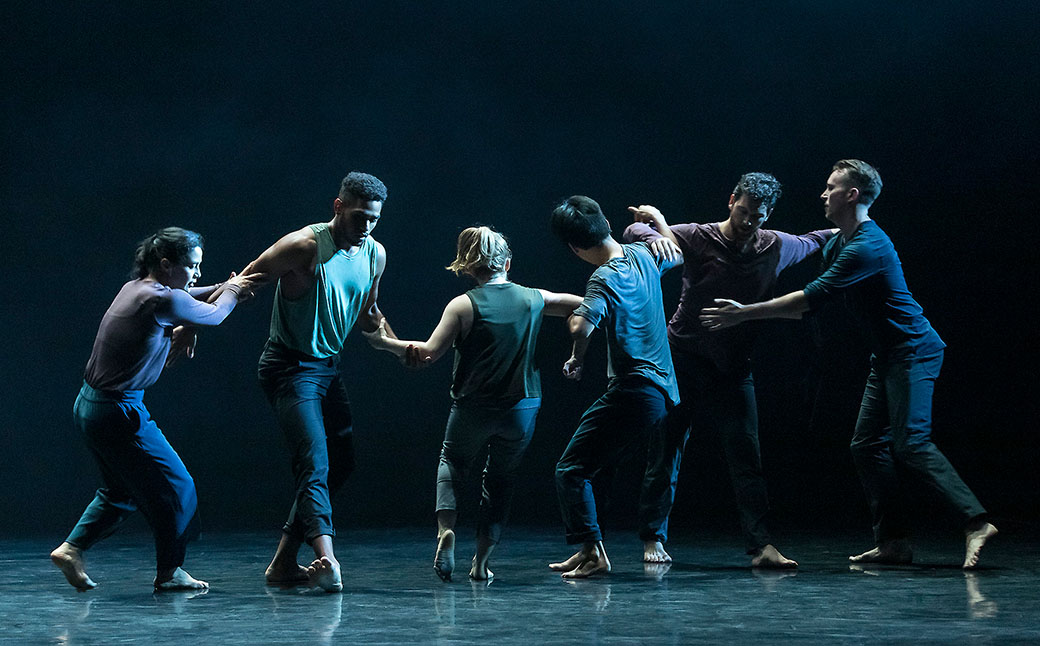 Expect the unexpected when the award-winning Doug Varone and Dancers burst onto our stage with the Philadelphia premiere of
Somewhere
, an inventive plotless take on Leonard Bernstein's memorable score for
West Side Story
. Founder Doug Varone's signature style is acclaimed for its fluid athleticism, painterly musicality, speed, naturalism and emotional depth that speaks to the human spirit. "This is a company of master dancers, performing masterly choreography." (
Newsday
) It is no wonder the company is an 11-time Bessie Award recipient with performances in 125 cities worldwide.
No stranger to local audiences, Doug Varone and Dancers made its debut in 1988 at the NextMove Festival (at the Painted Bride) with subsequent Annenberg Center engagements in 1994-95, 1998-99, 2002-03, 2008-09 and 2016-17. You may recall, as I do, Varone's masterworks including
Possession
,
Lux
,
Boats Leaving
,
Rise
, or the striking
Ballet Mechanique
, set to George Antheil's groundbreaking score for 16 player pianos. Full disclosure, I became a diehard Doug Varone fan when I stumbled upon the company in the 80s. Amazed by Varone's prolific body of work, the dancers' fluid, highly kinetic and complex interactions, and his ingenious approaches to dance making, I noticed the shift from narrative-based gestural explorations to open-ended creations that continue to celebrate and challenge the complexities of the human spirit.
Doug Varone's illustrious career features work for dance, opera, theatre, film and fashion. His prestigious awards include a Guggenheim Fellowship, an OBIE Award (Lincoln Center's
Orpheus
and
Euridice
), the Jerome Robbins Fellowship at the Bogliasco Foundation in Italy, two individual Bessie Awards, a Doris Duke Artist Award, and the Lifetime Achievement Award from the American Dance Guild.
Varone considers himself a musical theatre geek. As a child, he tap danced and enjoyed watching MGM musicals featuring Fred Astaire and Gene Kelly. He was smitten by the performers' naturalism, spontaneity, rhythm and superb technique, noting "That magical sense of blurring the line between being a pedestrian and being a fantastic dance technician is something I strive for, not only as a dancer, but also within my choreography." Prior to forming his company, he danced with Lar Lubovitch (who studied with José Limón at The Juilliard School) and the Limón Dance Company which provided him a solid foundation for his company work as well as for his many commissions for the Paul Taylor Dance Company, Hubbard Street Dance Chicago, Rambert Dance Company (England), Martha Graham Dance Company, Dancemakers (Canada), Batsheva Dance Company (Israel) and many more.
Referred to as "a choreographer's choreographer" (
The New York Times
), Varone's choreography is jam-packed with tiny meaningful moments that transport audiences to mini universes. Celebrating the company's 35th anniversary, the program for our
November 17-18 performances
reflects the breath and power of Varone's artistry in three works: the exuberant
Rise
(1993),
Two Piano Pieces
(2001, 2017) and the latest tour-de-force,
Somewhere
(2019).
Varone noted that
Rise
was his first "purely abstract" work and a nod to his Limón roots based on the use of breath and fall and recovery. Eight dancers, paired in different colored costumes, swirl, flail, lift and collapse, suggesting controlled chaos. Set to John Adams'
Fearful Symmetries
, a rousing score accented by whistle and train sounds, the choreography echoes the dynamics of the music while affirming the frailty and strength of human connections and the need for community. Varone's intent was to "shape the essence of a story rather than being a literal agent with it."
Two Piano Pieces
is an umbrella title for two works:
Short Story
and
Nocturne
. Varone's love affair with Chopin and solos for himself began in 1987 in
Nocturne
. Thirty years later, he created
Nocturne 11
to Chopin's
Nocturne in E Minor, Opus 72
. These
Nocturnes
serve as bookends to Varone's magnificent career. The later version is an intimate and fragile meditation on aging and memory and will be performed by Doug Varone for our performances.
Short Story
, set to Rachmaninoff's
Prelude in C-sharp minor
, is an emotionally driven duet that explores the life cycle of a relationship. It will be performed by company principals Bradley Beakes and Aya Wilson.
Somewhere
, a full company work set to Leonard Bernstein's legendary
West Side Story
score, provides new insights and raises questions. Can an audience let go of preconceived ideas associated with the music, when the words and story line are so well known? Will they leave with new ways of thinking about this inventive, non-narrative interpretation of a classic score, and the symbiotic relationship between music and dance? These questions have baffled audiences and critics alike since its premiere in 2019.
Ironically, it is the first time the Bernstein Foundation has granted a choreographer the rights to a score without a
West Side Story
production. Equally fascinating is that the setting in
Somewhere
resembles a brick wall playground or tenement structure (like in
West Side Story
) and Varone's massive resume includes choreography for two New York City 'cult' musicals,
Triumph of Love
and
Murder Ballad
. The debate ensues.
The Santa Barbara Independent
called it "destined to become a classical work of contemporary dance. The entire work stands as a testament to [Varone's] prolific creation of movement." Varone notes, "the music is also so amazing in its own right that it really stands on its own."
We challenge audiences to interpret freely, fuel the debate and share responses. In addition to the
three public performances,
Doug Varone and Dancers will offer a
Student Discovery program
on Fri, Nov 17 at 10:30 AM which will offer insights into Varone's creative process. There is also a
free masterclass
for high school and college students on Sat, Nov 18 at 9 AM.
related event