Bringing Beowulf into the present day with Benjamin Bagby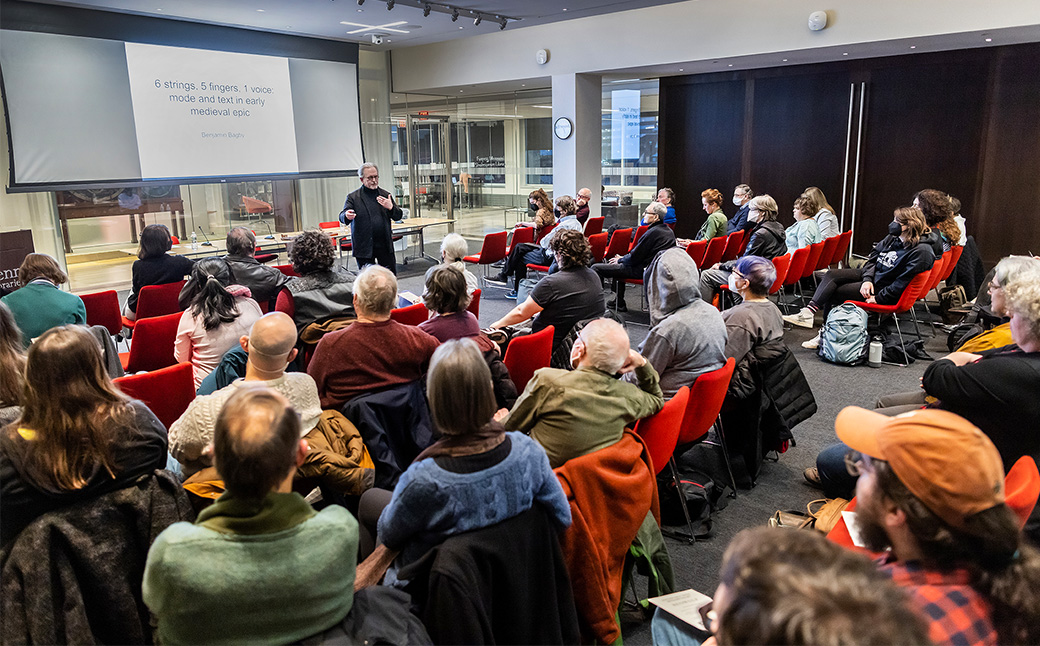 When we contacted a group of early modernist faculty in the Penn music and English departments about a possible engagement event featuring Benjamin Bagby, whose performance of
Beowulf
took place on January 27, the response was immediate and enthusiastic. These faculty, including Assistant Professor of Music Mary Channen Caldwell, Assistant Professor of English Caroline Batten, and Professor of English David Wallace, were more than scholarly appreciators of Bagby's painstaking historical investigation into the type of harp most likely to have accompanied the epic poem, or his years of touring the globe enlivening the Old English text for contemporary audiences: they were
fans
.
Quickly, other collaborators came aboard: Lynne Farrington, Director of Programs/Senior Curator of Special Collections at the Kislak Center, offered to host, and Mary Tasillo of the Common Press, Penn's letterpress studio, agreed to print special programs for the event. The team planned a roundtable discussion with an exhibit of complementary materials – including
Beowulf
editions and translations going back centuries – from Penn's collections.
By the day of the roundtable, Bagby's
Beowulf
performance was sold out with a waitlist, and the discussion itself drew close to 50 people to the Kislak pavilion. Bagby began by recounting his fascination with
Beowulf
, dating to when he was in middle school. "When I first read
Beowulf
, it was presented to me as a masterpiece of British literature," he said, but once he had embarked on a career as a performer of early music, he realized that the poem, in fact, preceded the modern notion of literature. Far from being a work that someone read silently in isolation, the text was almost certainly performed as part of a rich social ritual by the
scop
, a kind of medieval bard figure whose job it was to make the day's news worth listening to. His life's work, Bagby explained, had become reproducing—to the extent possible in the 20th and 21st centuries—the tradition that works like
Beowulf
had once occupied.
Caroline Batten rounded out this portrait of the poem's history, noting that it was only by chance that the manuscript had even reached the 21st century. Most notably, it had survived a devastating fire when a librarian threw it – and himself – from the window of a burning building.
Beowulf
, she explained, was neither just a fantasy epic nor merely evidence of the kind of recitation medieval listeners experienced: it was only written down at a time after the Norman invasion when British identity was deeply in flux. David Wallace noted the many figures who had claimed
Beowulf
as part of a nationalist concept of British identity, and Mary Caldwell explored the development of early musical notation systems and how they might inform a performance practice like Bagby's.
Together, the roundtable provided a portrait of the complex historical, musical and political influences that contributed to the poem's 21st century status. Bagby asked after the meaning of performing such a work to a traditional "classical music." Historically informed performers, he noted, have taken pains to approximate the way music sounded centuries ago, but "haven't done anything about the audience."
Beowulf
's medieval listeners, he went on, would have been unlikely to sit quietly in the dark as contemporary audiences have been trained to do. Instead, they would have interacted noisily with the
scop
, offered their opinions, and perhaps knocked back a few beers.
related events