A visionary celebration of sound and motion
Dance Penn Live Arts Debuts Philadelphia Premieres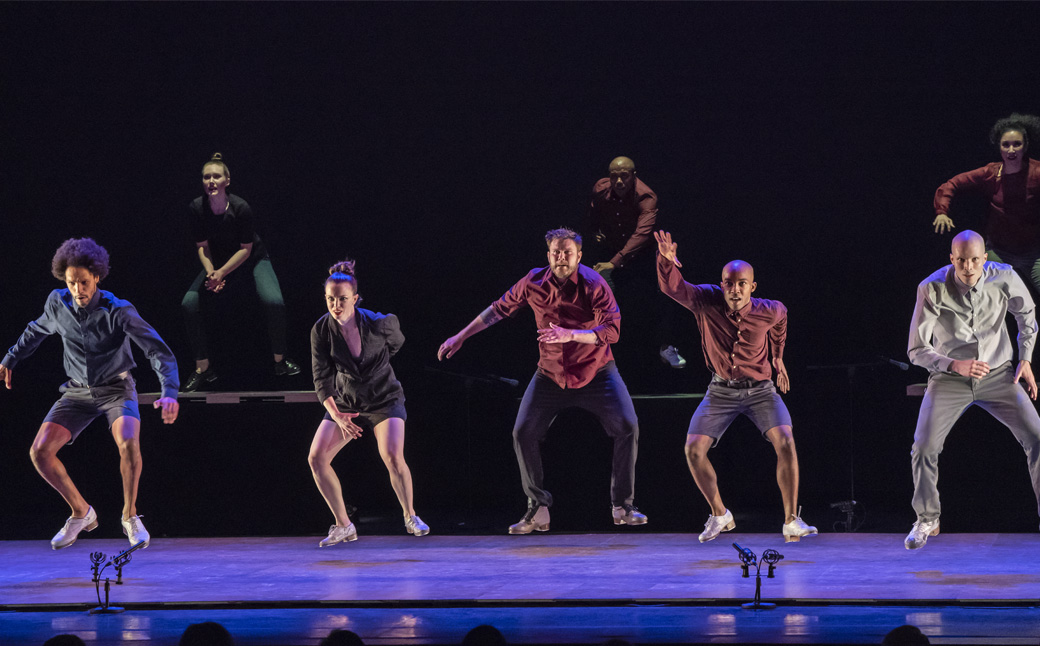 Listen, watch and be wowed by celebrity tap star Michelle Dorrance's sensational sounds and moves when her company explodes onto the Zellerbach Theatre stage December 10-11.
A MacArthur Fellow "Genius Grant" recipient, the first ever for a tap dancer, Dorrance is an unstoppable force of nature. She is a virtuoso tap dancer, visionary choreographer, passionate ambassador, fearless activist, relentless evangelist, supercharged innovator and devoted "edutainer" (educator/entertainer). She honors the rich, diverse history of tap while introducing new audiences to tap's endless possibilities through her ground-breaking and imaginative approaches.
Born in Chapel Hill, North Carolina, Dorrance began dancing at age four under the tutelage of her mother, M'Liss, a ballet dancer who performed in Eliot Feld's first company and founded the Ballet School of Chapel Hill. Her father, Anson, serves as the head coach of the University of North Carolina's women's soccer program. The family joke is that both parents use their feet for their profession. Michelle Dorrance did not have the flexibility or feet for ballet but fell instantly in love with tap, especially the music. Mentored by Gene Medler, founder of the North Carolina Youth Tap Ensemble (NCYTE), she spent 10 years honing her skills as a performer and educator. Medler worked with masters such as Clayton "Peg Leg" Bates, Charles "Honi" Coles, Cholly Atkins and Bunny Briggs, as well as contemporaries Brenda Bufalino, Sam Weber and Savion Glover, many of whom Dorrance met as a child. Medler encouraged his students to honor tap's powerful legacy, a lesson perpetuated by Dorrance. She earned a BA from the New York University Gallatin School of Individualized Study, where she customized her major, studying democracy and race in America through the lens of tap and its blend of culture.
Dorrance has toured with STOMP and has worked with Savion Glover, Barbara Duffy & Co., Jazz Tap Ensemble, RumbaTap, Ayodele Casel (who appeared as part of our 20/21 digital season), Mable Lee, Harold J. Cromer, Derick K. Grant and Jason Samuels Smith. She has served as a faculty member of Broadway Dance Center and been commissioned to create repertoire for the Martha Graham Dance Company and American Ballet Theatre. Dorrance is known for works that feature exuberant athleticism, collaborative improvisation, live music, "sophisticated musicality, thrilling ensemble arrangements and layered choreography that hits a wide range of emotional notes." (Dance Magazine) Now celebrating its 10th anniversary, she founded her company, Dorrance Dance, in 2011.
Dorrance Dance took off like a tsunami, boasting deeply rooted artistic values and a loyal dream team of award-winning collaborators – dancers who often double as musicians and choreographers, musicians who are multi-instrumentalists, and designers, many of whom are founding or core members. Our audiences may recognize names such as Toshi Reagon, a musician who performed her concert version of Octavia Butler's Parable of the Sower in our 15/16 season. Reagon co-created The Blues Project (2013) with Dorrance, Derick K. Grant and Dormeshia Sumbry-Edwards. Ephrat "Bounce" Asherie, whose company made its Philadelphia debut in our 19/20 season, was an additional choreographer for Dorrance's revised SOUNDspace and Myelination (2017) as well as ETM: Double Down (2016) with Dorrance and Nicholas Van Young, the company's associate artistic director.
Dorrance Dance features founding company members Elizabeth Burke, who trained at NCYTE, and Warren Craft, also a musician/choreographer, plus additional dancers including Leonardo Sandoval (one of Dance Magazine's "25 to Watch" in 2021), Byron Tittle (2019 Princess Grace Award winner), Christopher Broughton (two-time NAACP ACT-SO Award-winner), Karida Griffith Walker, Nicholas Van Young and Claudia Rahardjanoto, all of whom performed during the company's 2015 Philadelphia debut on the NextMove Dance series with musicians Donovan Dorrance (Michelle's brother), Aaron Marcellus (vocalist) and Gregory Richardson. The current company also includes dancers Asherie, Naomi Funaki, Luke Hickey, Carson Murphy and Matthew "Megawatt" West.
Early on, the troupe was supported by top presenting organizations such as Jacob's Pillow Dance Festival, Martha's Vineyard, The Joyce Theater, Danspace at St. Mark's Church, Vail Dance Festival and Sadler's Wells, where Dorrance Dance had the pleasure of multi-year engagements, leading to extensive national and international tours.
Now, making its Penn Live Arts debut, the company will perform a mixed repertory program with excerpts from SOUNDspace (2013), with choreography by Dorrance, solo improvisation by the dancers, additional choreography by Asherie and Tittle, and music by Richardson. SOUNDspace was inspired by the unbelievable acoustics of St. Mark's Church and the fact that in that venue, dancers could not use aluminum taps on their shoes. Instead, they experimented with socks, bare feet, leather shoes (the original tap shoes worn for buck dancing) and wooden mats. In making this work, Dorrance was mindful of her influences and created a sliding section with dancers in socks in tribute to the legendary Dr. Jimmy Slyde.
The program also includes the Philadelphia premiere of Basses Loaded (2019) for four basses (two electric, two standing) and four tap dancers, choreographed by Dorrance with solos improvised by the dancers. Rounding out the program is the rarely performed Three to One (2011), also a Philadelphia premiere, which focuses on one tapper and two barefooted dancers, and a new full-company work that celebrates Ella Fitzgerald's holiday songbook with vocals by brilliant baritone, Marcellus. You won't want to miss this amazing company in a joyful celebration of dance, music and holiday cheer.
related event