5 Questions with Michelle Dorrance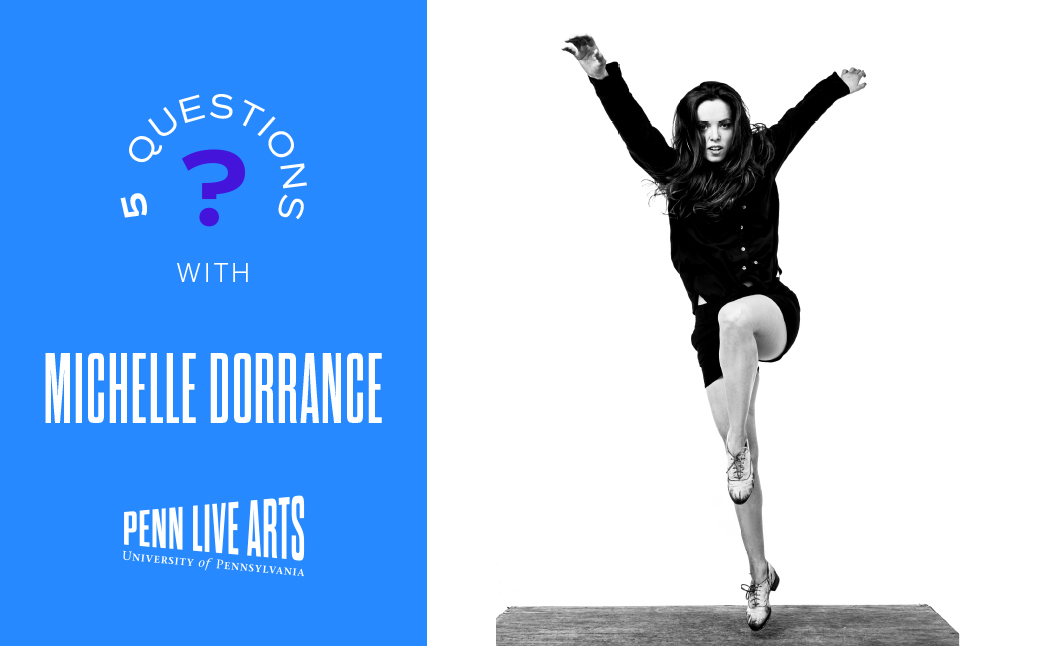 On December 10-11, we welcome
Dorrance Dance
for its Penn Live Arts debut. "Dorrance is a virtuoso, both as a dancer and choreographer," (
The New York Times
) and we can't wait to have this tap superstar's company grace our stage. But first, let's learn a little bit more about her in just five questions.
1. What first got you into dance?

My mom was a professional ballet dancer, and she started a school in Chapel Hill, North Carolina when I was barely a year old, so I started dancing very young, but I was pretty terrible at ballet (inherited my soccer coach father's flatter feet and much less flexible legs). However, I quickly excelled at/became obsessed with tap dancing because it was a form of musical expression, and that came much more naturally to me than graceful movement as a loose-limbed kid. And I truly fell in love with the art form through the tutelage of the school's founding tap teacher, Gene Medler. Very different from most "studio" tap dance teachers of the time, Gene sought out the elders of our community, taught us a history we never would have learned elsewhere, and brought us to the early tap dance festivals to study with cutting edge young dancers like Savion Glover and the last of the jazz-era hoofers who were in their 80s and 90s at the time. I feel so incredibly lucky to have grown up with Gene as my teacher, mentor, and friend.
2. What inspires you to create?
Inspiration can come from such a huge range of places - from experiencing heartbreak to hearing the acoustics of a church to witnessing harrowing injustice to feeling the way bass resonates in your collar bone... When working with dancers, I am inspired by what makes each dancer unique. My dancers' singular qualities are the reason I started making work for them in the first place. This is one of the many things I find so deeply moving about tap dance as a tradition - it is rooted in improvisation and individual expression. Our elders taught us to find and amplify our personal style and what makes us unique. Embracing this has only pushed the art form forward and is the kind of culture I want to be a part of creating onstage and off.
3. What is your process?
My process is always most joyful when it feels like play. My mentor Gene Medler always told us to "stay whimsical," and we are at our best when we remember that.
4. What projects are you working on currently?
I am currently making my choreographic Broadway debut with Flying Over Sunset, a truly unique work by writer/director James Lapine. This is my very first "previews" process and it is simultaneously exhausting and thrilling.
5. Name a few artists you love that everyone should check out.
Two women who are elders in our community and have influenced me deeply - Brenda Bufalino and Dianne Walker.
Bonus Question: Do you sing in the shower?
Absolutely. I LOVE to sing and I also love to tap dance in the shower. What a playground of sound! The water creates fantastic attack and if showering in a tub, the tub itself is such a great chamber for bass and accentuates the lower end of the sounds we make with our heels.
related event