Until we meet again (in person), Philadelphia Children's Festival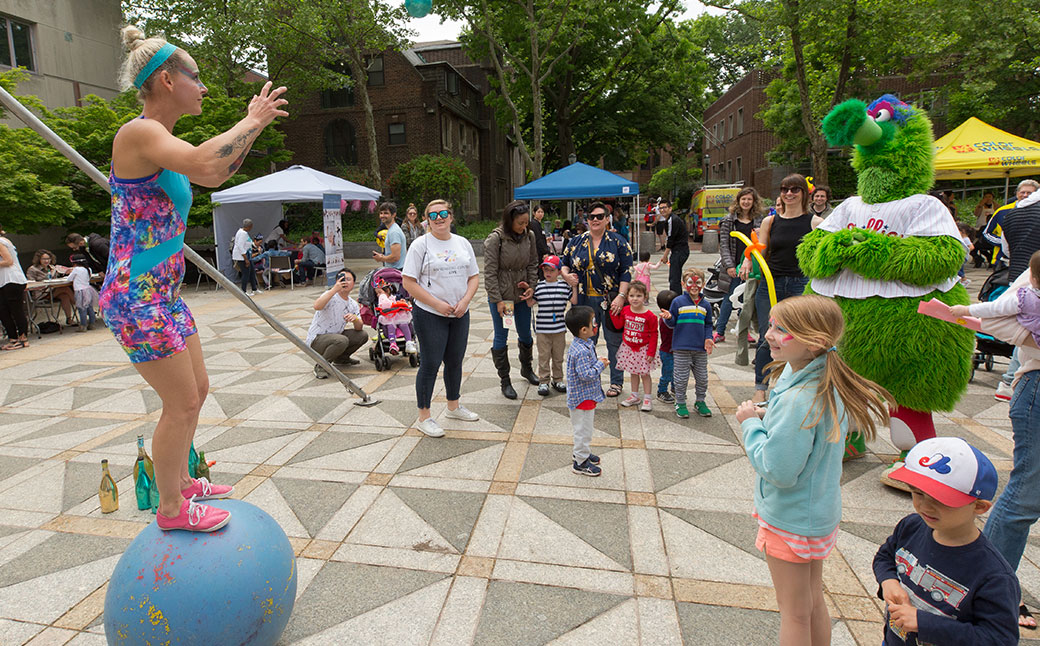 Regrettably, for the second year in a row, the COVID-19 pandemic will prevent us from holding the Philadelphia Children's Festival. We eagerly look forward to spring 2022 when we can welcome your families for the Festival again. In lieu of the Festival, which would have been this week, we will offer children and their grown-ups the magic of The Amazing Max through Zoom. What I love about Max and his
Virtual Magic Academy
is his ability to connect with children. This virtual experience is so much more than watching Max do tricks, it's doing them along with him. And, in my own personal experience, this one hour on the screen results in many hours, even days, of being an audience to your child's magic practice OFF the screen.
In this blog post, I am happy to shine a spotlight on our amazing PlazaMania partners, who normally fill our lobby and Outdoor Plaza with fun, interactive arts activities. Read on to see what they're up to now:
During the pandemic, our friend the Phillie Phanatic has been playing it extra safe and only making minimal live appearances at the ballpark. He's upped his social media game with live Phanatic book readings on Instagram and has been carrying out his Phanatic About Reading program virtually in the classroom. He's still the biggest fan at all Phillies games, just with a bit of social distancing.
Since spring 2020, Koresh Kids Dance has done virtual residencies at its 10 partner elementary schools, offering students in grades 2-5 a chance to connect with their classmates, flex their creativity and move their bodies during the school day. And now, Koresh's Spring Outdoor Class series will see free classes at parks across the city as well as two pop-up performances by the Koresh Youth Ensemble in May. The free, 45-minute classes are aimed at dancers in grades K-5, but all ages are welcome, and no dance experience is required. Details and pre-registration: koreshdance.org/koresh-kids-dance.
The Philadelphia Museum of Art (PMA) has been experimenting with virtual experiences for its youngest audiences. The biweekly Art Museum Playdate (ages 4-7) provides an opportunity to get a closer look at all kinds of artwork while engaging in playful discussions, sketching challenges and other fun activities. PMA also hosts the biweekly Friday Art Club after-school program (ages 6-10) in which the kids create abstract works of art with a focus on line, shape and color.
This spring and summer, PMA will continue offering virtual programs including The Trickster's Tale: A Family Webinar on May 7 at 3:30 PM. This folktale fun will be inspired by the Malaysian fables of Sang Kancil, the cunning mouse-deer who outwits a foolish tiger. In this webinar performance, friendly animals lead art challenges and close-looking activities. Visit the PMA website for more details on this event as well as several upcoming in-person programs.
The Fabric Workshop and Museum (FWM) has offered programs connecting the exhibitions at FWM to the materials families have in their own homes. From creating mirror monoprints to envelope kites, the staff have found new and creative ways to bring contemporary art and printmaking to families at home. This spring, they are happy to welcome visitors back for exhibitions and hands-on printing workshops in the print studio. A variety of virtual tours and workshops will also continue.
FWM will return to Parkway Pals at Sister Cities Park this summer every Monday June 14-August 16. Kids may create river prints, moon viewers, playful patterns, secret seed sculptures and objects for a community table. Meanwhile, the interactive storytelling and hands-on art workshop, Stories by the Yard, remains available virtually or onsite. Participants interested in enjoying an animated story, interactive play and a guided art activity may register by emailing kparry@fabricworkshopandmuseum.org.
Experience the magic of nature using clay and fabric when FWM joins forces with The Clay Studio on July 17 for an all-ages outdoor workshop called Plant Magic: Printing with Plants on Fabric and Clay. Participants can use flowers, leaves and stems to create the surface designs for a clay tile and print a silk bandana using an eco-printing process with real plants. Details and registration information:  fabricworkshopandmuseum.org/events.
The Clay Studio has been offering virtual workshops with clay kits available for curbside pick-up. This spring and summer, they also have in-person events including: Annual Pottery Sale on May 7, Associate & Resident Artist Outdoor Sale on May 8, Tilemaking on June 4, Flower Bowls on July 2 and weekly summer camps.  More details at theclaystudio.org/events.
Kun-Yang Lin/Dancers (KYL/D) has been working with local public schools via the CHI Dance program to provide free mindfulness through movement classes and resources for teachers. The company also developed short mindful break videos called CHI Time, which can be accessed at kyld.org/mindfulness-resources. KYL/D piloted a family-friendly virtual CHI Dance program earlier this year, which will be expanded in May.
Our friends at the Penn Museum have invited everyone to travel the world and explore the Museum from home, learning about our shared human history through hands-on crafts, music, dance and more. Some upcoming virtual programs include: World Wonders After School on May 19, At-Home Anthro LIVE on Tuesdays May-August and Virtual Passport Days on Fridays May-June. The Penn Museum is currently open to the public with limited capacity.
This May, Pennsylvania Ballet will activate Cherry Street Pier with Spread Your Wings, a dynamic exhibit of photography, video, visual arts and live performance. In partnership with Mural Arts, see artist David McShane's brand-new work featuring Pennsylvania Ballet company dancers. Spread Your Wings opens on May 7 with a Pennsylvania Ballet II performance of Maria Konrad's Phrenetic which uses a backdrop of Philadelphia's rich artistic community and a soundtrack mixing classical, spoken word, electronic, jazz and music from the Philadelphia Gay Men's Chorus. Also on display will be large-scale photography by Vikki Sloviter, Arian Molina and Shawn Theodore, as well as video produced by Big Picture Alliance.
Stimulus Children's Theatre, Penn's student-led theatre company for young audiences, pivoted to virtual programming to continue fulfilling its mission of inspiring children through the magic of theatre. The company produced two series of recordings, Story Time with Stim, reading children's books aloud, featured in previous Annenberg Center @ Home posts (Season 1 and Season 2). Stim also hosted live storytelling sessions with local Philadelphia schools and created two productions available online: Detention: A High School Mystery, a fully student-written, directed and produced play about what happens when a mascot goes missing, and Nostalgia Night, a cabaret of Penn students singing, dancing and telling stories they loved growing up. Both productions are available for viewing on YouTube.
Please explore more via our PlazaMania partners' websites: