The legendary Martha Graham Dance Company brings two Philadelphia premieres and the timeless masterpiece, Appalachian Spring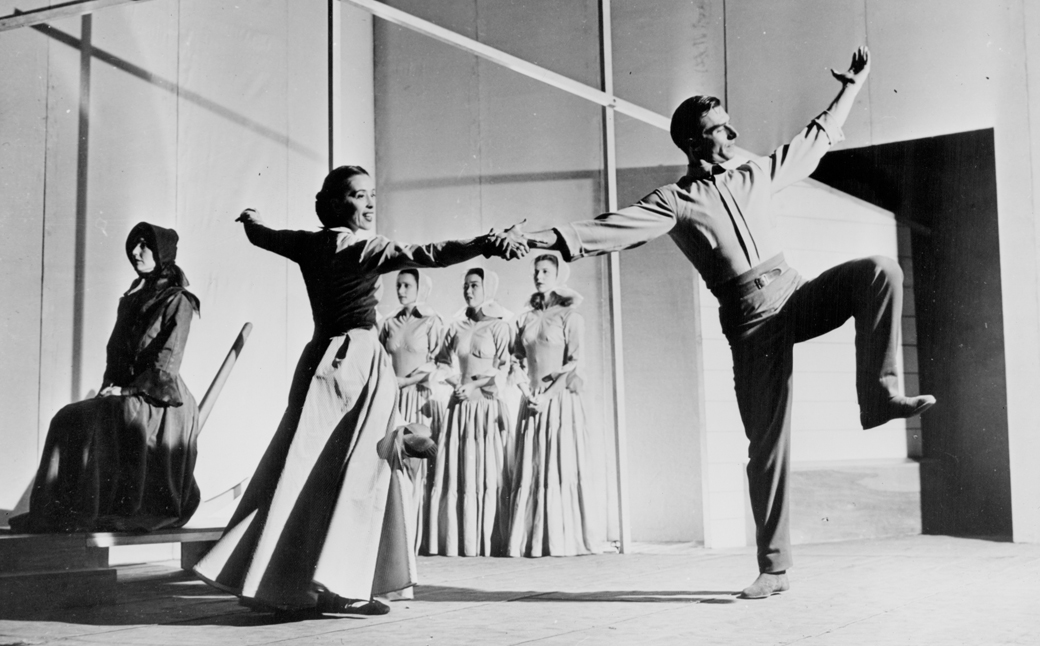 "Dancer of the Century," (
TIME
) genius, revolutionary, brilliant and superstar. These are just a few of the terms used to describe the mother of modern dance in America, Martha Graham.
In 1926, the Martha Graham Dance Company (MGDC) exploded onto the world stage, stunning audiences with its unique approaches, stimulating subject matters, angular movement vocabulary and powerful theatrics. Graham's prolific repertoire of 181 dances, her own spectacular performances and her company's commanding appearances are forever embedded in the memories of devoted fans. Graham's famous mantra is at the heart and soul of the company's work, "Dance is the hidden language of the soul of the body. The body says what words cannot. Movement never lies:"
One wonders how a company can maintain such an incredible legacy and then evolve and remain a foremost dance organization in the 21st century. Philadelphia audiences can experience this phenomena February 10-11 when the MGDC returns to Penn Live Arts with three works. The program includes Graham's signature classic, Appalachian Spring (1944), a 2022 reimagined version of Canticle for Innocent Comedians (1952) with choreography by eight distinct dance-makers and lead choreographer Tony® and Emmy® Award-winner Sonya Tayeh, and CAVE (2022) by Israeli choreographer Hofesh Shechter.
Martha Graham was born on May 11, 1894, in a suburb near Pittsburgh, PA. With her parents, George and Jane, and two siblings, she moved to California as a teen. In 1914, Graham saw a life-changing performance by the Ruth St. Denis Company and immediately enrolled in the Denishawn studios founded by Ruth St. Denis and Ted Shawn, who later founded Jacob's Pillow. Graham was invited to tour the production Xochitl with Denishawn. In 1925, Graham became an instructor for the Eastman School of Music in Rochester, NY. Here, she began experimenting with modern dance forms which led to the discovery of her percussive movement theory. Combined with her groundbreaking concept of contraction and release, based on breath, Graham created a new physical language that became the foundation for her company, formed in 1926, and the Graham Technique taught worldwide, impacting generations of dancers, choreographers and educators. Her first group piece, Vision of the Apocalypse, was performed in 1929 followed by another famous early work, Heretic.
Graham's Frontier (1935), a solo, could be viewed as a precursor to Appalachian Spring. In her autobiography, Blood Memory, it was noted that Frontier was inspired by her family's move to California, a journey to a new land and a new world filled with hope and challenges. Frontier was part of a larger work, American Perspective on the Plains (1938). As in Frontier, Appalachian Spring features a minimal set by longtime collaborator, Isamu Noguchi and explores the American experience. Set to music by Aaron Copland, Appalachian Spring portrays a young couple as they begin their lives together on the American frontier. Originally called Ballet for Martha, Copland's composition won a Pulitzer Prize in 1945. The original cast featured Graham (the Bride), Erick Hawkins (the Husbandman and Graham's real life muse, lover and future husband), Merce Cunningham (the Preacher) and his followers: Nina Fonaroff, Pearl Lang, Marjorie Mazia and Yuriko plus May O'Donnell (the Pioneering Woman).
Janet Eilber, Artistic Director and former MGDC dancer, researched Graham's Canticle for innocent Comedians (1952) to celebrate the works' 70th anniversary but discovered there was little documentation. Canticle was inspired and named for a poem by Ben Belitt, Graham's friend and former colleague at Bennington School of the Dance. Of the eight sections – Sun, Earth, Wind, Water, Fire, Moon, Stars and Death – Moon is the only segment that survived thanks to the filmed documentary, A Dancer's World. Wind was originally performed by Sir Richard Cohan. He recalled going on after Mary Hinkson's solo, rushing onto the stage like the wind, weightless, effortlessly floating and flying. In 2019, he was commissioned to recreate the section for the reimagined work and completed it prior to his death at 95 years old.
Eilber commissioned a range of additional choreographers to help remount the nature-driven work based on Graham's original blueprint. Sonya Tayeh played a lead role in choreographing Sun, interludes and the opening and closing segments. She was joined by Kristina and Sadé Alleyne (Earth), Juliano Nuñes (Water), Micaela Taylor (Stars), Yin Yue (Fire) and Jenn Freeman (Death/Rebirth). Celebrated jazz composer and pianist, Jason Moran, created an original soulful score with nods to Claude Debussy, Henry Cowell and Chick Corea. Costumes by Karen Young are fabricated from recyclable plastic bottles honoring Graham's "hymn to nature" and suggests our collective responsibility to the planet. Paul Taylor, Graham star soloist from 1955-1962, once remarked that as a Juilliard student watching Canticle, it inspired him to become a choreographer. In his autobiography, Private Domain, he wrote "the whole dance was the loveliest, most impressive, and magical work I'd ever seen."
Nightlife, raves and techno converge on the concert stage as MGDC's program closes with CAVE (2022), a crowd-pleasing, visceral, highly kinetic dance choreographed by Hofesh Shechter, known for creating atmospheric scores to compliment his unique riveting choreography. International ballet star, Daniil Simkin, approached the MGDC with the idea for CAVE, noting that "Hofesh and the MGDC share an understanding of movement that connects to a primal experience. After a long period of isolation, this is the time to join together in a search of ourselves and what it means to be human." (Broadway World)
MGDC, one of the oldest modern dance companies in the world, survives and flourishes by honoring the vision of its founder and through its willingness to evolve and engage other creative voices that share Graham's basic philosophy that "dancing is an affirmation of life through movement." We can't wait for you to experience the wonder of this great company Feb 10-11.


Anne-Marie Mulgrew, MFA is the Artistic Director of Anne-Marie Mulgrew and Dancers Company and Education Consultant for Penn Live Arts.
related event