Summer Internship Reflections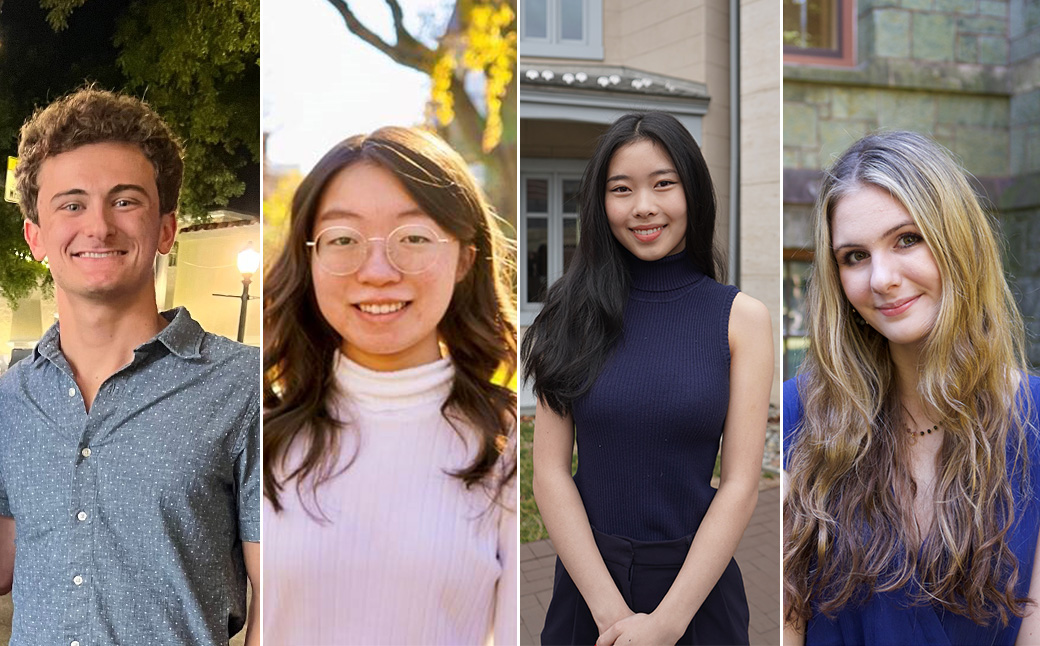 This summer, Hollywood looked and felt a bit different as the SAG-AFTRA and WGA strikes continued, but that didn't faze Penn summer interns Lucy Gale (SAS '25) and Evan Golinsky (SAS '24), who both pursued talent management opportunities in Los Angeles with the help of our Arts Career Connections initiative. The program responds to an appetite on campus for enhanced support of career exploration in the arts and has provided summer funding support to students in a range of arts industries since 2022. In 2024, we aim to pilot a curated list of funded internship opportunities across film, theatre and other areas in addition to offering a flexible funding award to support independently secured internships.
Lucy interned at Atlas Entertainment, the production company behind films such as
The Dark Knight
trilogy,
American Hustle
and
Oppenheimer
. Evan was at Creative Artists Agency (CAA), a major talent agency. Lucy writes that the experience was both an exciting introduction to the industry while providing both broad and deep learning experiences:
As someone who came into the internship with little experience in the entertainment industry, I was truly able to grow and flourish at Atlas. I completed script and book coverage, reading through them and writing reports on their viability as potential new projects, edited actor demos, completed tasks for and interfaced with clients, covered reception and managed the phones, and provided general support for managers and producers on daily operations. Not only was I able to learn while doing, but Atlas offered weekly "intern lunches" where we would sit down with executives and assistants to receive in-depth, personalized guidance on their path in the industry and advice for our own futures.
At CAA, Evan echoed this experience of a survey introduction to the field as well as robust networking and mentorship opportunities:
Being a double major with political science and cinema and media studies, I found myself getting an in-depth education at the crossroads of those two fields of study, with the politics of the media business a regular conversation. While some decried the fact that I would not be getting the full agency experience due to strike guidelines strictly limiting career moves for talent, I pointed to the strike as the perfect environment to see the tenacity of a talent agent tested. Watching agents negotiate limited interim production agreements from the Screen Actors Guild (SAG) so their clients can still work exemplified the role and purpose of an agent.

Fortunately for me, CAA's culture emphasizes collaboration, mentorship and knowledge sharing as paramount values, so these agents were more than happy to speak to an aspiring colleague. The biggest names in the building took the time out of their day to speak with me, hear my story and share their wisdom to make my experience personally enriching. I am impressed by this aspect of CAA's corporate culture, as the stereotype about agencies is that everyone must fend for themselves in shark infested waters.

For both Evan and Lucy, Penn Live Arts and other campus support made their opportunities accessible and financially viable, enabling them not only to work dream internships but also to immerse themselves in the environment of LA. Lucy writes:
This internship would not have been possible without the generous support of Penn Live Arts through the Summer Internship Award. As a Chicagoan, I was worried about the prospect of living and working in a brand-new city, Los Angeles. Penn Live Arts was able to provide me with the support I needed to make this move a possibility. While LA was unfamiliar territory for me, I quickly became acquainted with its unique culture, wonderful climate, and unfortunately, its stand-still traffic. Most importantly, being afforded the opportunity to live in Los Angeles opened up so many doors for me in the entertainment industry that would not have been as accessible in another city or remote. Most notably, at an alumni event hosted by Penn Live Arts, I was put in contact with the CEO of Lionsgate and had the chance to discuss my own career goals and seek advice from him personally.
Evan also found that despite, or perhaps because of, the unusual conditions the strikes created, he was able to deepen his connections to the industry and the city:
…in some ways the slower workload allowed me to develop deeper relationships with the people around me and get the full LA experience. I am so grateful and appreciative of all of the wonderful people that I was able to meet and learn from at Atlas and in LA as a whole. As I've learned more about what I want, I've been inspired to continue on this path this fall through an externship at The Gersh Agency and an internship in Stewart Talent's LA division. I am excited to see what my future holds in entertainment and so glad I was able to take a leap of faith through my internship this summer. I am so thankful for this experience, Penn Live Arts, and everyone who helped me to make this possible.
We can't wait to hear updates from Lucy and Evan as they take the next steps on their professional journeys. Stay tuned for reflections from more of our summer internship funding recipients later this fall, and learn about our Arts Career Connections Program and other campus support for professional experiences in the arts at
Jump Start Your Arts Career
, a special event at the Annenberg Center on October 3.