Recent Highlights: Jan – Mar 2021
Penn Live Arts Debuts Dance Early Music Film Music Philadelphia Debuts Special Features Virtual Stage World Premieres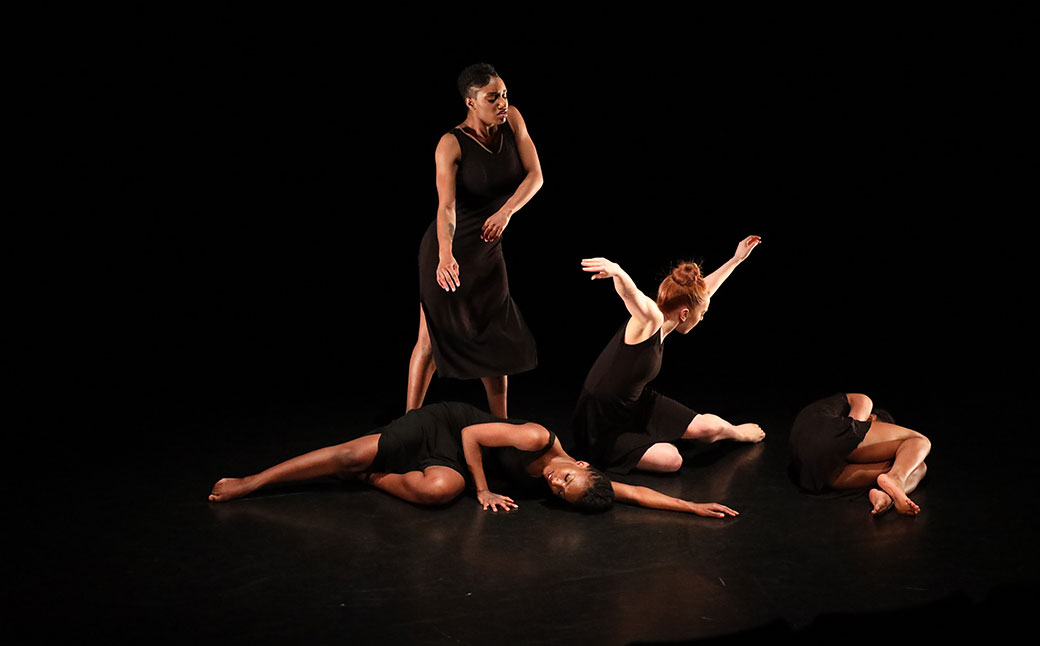 Powerful. Stunning. Inspiring. These are just a few of the words our audiences have shared with us since the spring digital season began in early February. It's always great to hear such praise for the artists who have given a superlative performance. But in the past year, as we transitioned to livestreamed performances, it is particularly meaningful. And when we read that "the production team stars along with the dancers," we get excited at the thought that perhaps that invisible barrier, across the virtual divide, just might be dissolving, bringing our virtual audiences so much closer. As one of only a couple of venues in the Philadelphia area to stream live performances in real time, this is a wonderful affirmation of the artists and their art and our staff learning to work in completely new ways. Here are a few highlights from the first weeks of our spring season.
Preserving the live experience has been our overriding goal for our 20/21 season. For debut artists, the dramatic tension of the live experience lends an extra level of energy, even in a virtual setting. For the audience, hearing new artists such as rising jazz stars Samara Joy and Pasquale Grasso gives a peek into the future of the art form. These fresh voices and musicians were a great kickoff to the spring season. You can read more about Samara Joy and her connection to Philadelphia in The Philadelphia Tribune and hear from both artists on our blog in our 5 Questions series.
Welcoming longtime friends Paul Taylor Dance Company in their first performance since the pandemic shut down in March 2020 was a particular thrill. The performance was postponed by a day due to a snowstorm that prevented the ensemble's travel from New York during a particularly wintry week. The extra day's wait made the performance all the more special. "We all need this lightness!" said one viewer. And Philadelphia Inquirer dance critic Ellen Dunkel declared in her review, "It was worth the wait. …the dancers looked as wonderful as ever, fit, fluid, and fully rehearsed." Read more about the company and our digital series in this Philadelphia Inquirer feature article. If you missed the show, be sure to visit our blog for a video retrospective of the company's works or learn more about its Artistic Director Michael Novak in just 5 Questions.
There is a wealth of extraordinary talent among students, faculty and staff at Penn, and we are always honored to present some of these artists on our stage. We enjoyed a contemplative evening of early music with Duo Tempesta di Mare, composed of Penn's Director of Early Music Ensembles, Gwyn Roberts, and Richard Stone, both co-founding artistic directors of the ensemble. The program featured a superb range of works by artists who were inspired by staying at home. Another livestream featured cellists Thomas Kraines of the Daedalus Quartet, Penn's Quartet-in-Residence, and Kinan Abou-afach, who also played the oud and whose music champions Arabic and Syrian traditions. The thought-provoking, cross-cultural program featured world premieres by Kraines, Abou-afach and noted composer Gene Coleman. You can read more about these artists and their fascinating artistic process on our blog.
Hope Boykin, whose planned retirement from a 20-year career with Alvin Ailey American Dance Theater was abruptly cut short by the pandemic shutdown, made her Philadelphia choreographic debut with the powerful world premiere of Redefine US, from the INside OUT. Commissioned by the Annenberg Center, this intensely emotional work sparked numerous comments from viewers who called it "poignant and powerful," "beautiful and incredible moving" and "an amazing performance." The Philadelphia Inquirer review noted "The dance is lovely and empathetic and hits home for people also struggling with lives interrupted…" Learn more about Boykin in this 6ABC Loves the Arts feature and Dance Magazine preview.
We closed the month of March with the start of our spring independent film series. The KINOWATT micro- festival featured three films devoted to exploring the connections between music, technology and culture. The event included discussions with the filmmakers and even special performances as part of the Zoom conversations.
The winter months also brought news of note off the stage. A generous gift from Wharton graduates Merry and Rick Feintuch officially named our lobby the Feintuch Family Lobby, which eagerly awaits the return of audiences. You can read the touching story behind the gift that made this possible in the Power of Penn. And among the many one-year COVID-19 pandemic reflections, our Executive & Artistic Director Christopher Gruits sat down with professors Raghu Iyengar and David Reibstein to share the story and process of how our entire organization pivoted to virtual presentations of artists performing live, streamed in real time from the Annenberg Center. Watch the full episode, part of the Wharton School's "Markets in Motion" series here. Gruits also shared his thoughts on the past year and its extreme effect on the performing arts industry in his One Year On blog post.
Our 20/21 season continues with many more outstanding artists, performing live on our stage. If you haven't yet purchased livestream access, you can still get the subscriber discount by buying just three shows. Visit AnnenbergCenter.com to see what's coming up next. We hope to see you online soon!
...