Recent Highlights: Aug – Dec 2021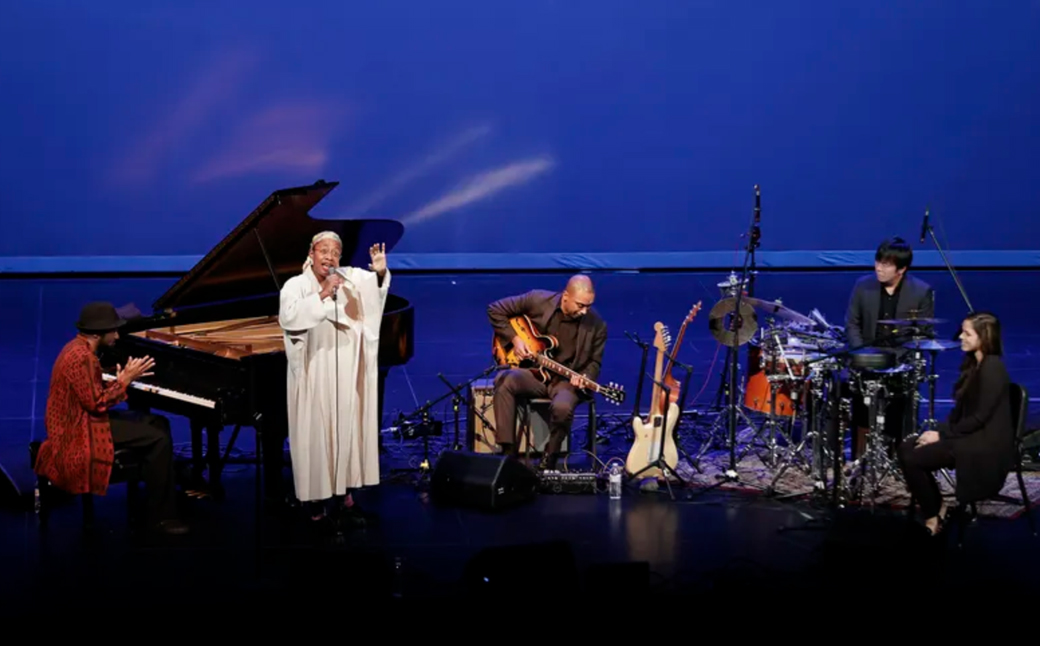 The 21/22 season marks the first with our new identity, Penn Live Arts (PLA), and we're excited that it highlights our connection with the University of Pennsylvania even as we broaden our performances to venues outside of our home at the Annenberg Center. The name also underscores our commitment to live performances, which we're proud to say continued throughout the pandemic.

Since we officially re-opened the Annenberg Center in August, we have welcomed 10,000 people to a wide variety of events, from scores of student shows to Penn Vet's rite-of-passage White Coat Ceremony to Legacy on Broad, the largest Bollywood-fusion dance competition on the East Coast, to our first indoor Penn Live Arts presentations since March of 2020.

Mid-September saw the opening of the Annenberg Center Arts Lounge, a new creative space within the Feintuch Family Lobby. The Arts Lounge is part of a host of improvements to the Annenberg Center that have been generously funded by alumni Keith and Kathy Sachs. The first exhibition featured in the Arts Lounge was Martha Rich: It goes by fast. Read about the artist and the exhibition in Penn Today.

We kicked off our 21/22 season with Ten Thousand Birds, Alarm Will Sound's amazing outdoor performance at the Morris Arboretum. It was the perfect setting for violinists in trees, bassoons playing the role of frogs and live crickets to all blend together on a nice autumn day. Learn more about the piece in The Philadelphia Inquirer's feature and Echoes' host John Diliberto's review.

Students were eager to return to physical stages, putting on over three dozen shows across the campus, including at the Annenberg Center. We were delighted to welcome back Bloomers Comedy, the South Asia Society Cultural Show, Penn Players, The Inspiration, Penn Singers, Counterparts, Soundworks Tap Factory, Sparks Dance Company, Stimulus Children's Theatre and Penny Loafers. Read more on our blog post about student performing arts and our partner Platt Student Performing Arts House.

Our film series kept many evenings busy throughout the fall with offerings that featured work responding to pressing concerns: the impact of climate change and shifting political alliances on our environment as well as the effects of the global pandemic. We also continued our focus on Pew Fellows with a program guest-curated by filmmaker/producer Heidi Saman, a 2016 Pew Fellow.

Our performances with live, in-person audiences began in December, kicked off by the Penn Live Arts debut of Dorrance Dance. "It's so great to be back, and to see such a full house," said one longtime subscriber, a sentiment echoed by many throughout the weekend. The dancers absolutely wowed the audience, with the Broad Street Review writing "Interest in tap dance had brought a senior couple and a pair of high-school students to Dorrance Dance. Witnessing their conversation reinforced the unique power of seeing live performance with others, a shared experience that can make memories with loved ones and forge connections between strangers." Read the full review here.

Must-see jazz vocalist Cécile McLorin Salvant brought her nearly four-octave range and electric stage presence to a packed Zellerbach Theatre for her Penn Live Arts debut. "Salvant possesses a unique ability to draw conflicting emotions from a song, exploring the nuances of a lyric with theatrical eloquence and a prismatic variety of perspectives," wrote The Philadelphia Inquirer in its review. Also in the house was noted jazz critic and award-winning author Nate Chinen, who commented on Salvant's "stunning musical vignettes" on Twitter and Instagram. The audience weighed in as well with a standing ovation to close out the evening.

Platt Student Performing Arts House held its annual Carnegie Hall showcase, "A Toast to Dear Old Penn," in early December, offering a diverse sampling of Penn student performing arts. We were thrilled to produce a livestream of the event, expanding access to our Penn community across the globe. The livestream is available through January 7, 2022 and can be accessed here. In addition to Penn Live Arts and Platt House, the event was supported by the Penn Performing Arts Regional Councils of New York and Los Angeles. Read more about the event in this Penn Today article.

We were thrilled to partner with World Cafe Live to welcome Grammy® Award-winner and MacArthur Fellow Chris Thile, making his Penn Live Arts debut. Mandolinist, composer and vocalist; member of the bands Nickel Creek and Punch Brothers; and former host of the radio program Live from Here, Thile gave an intimate solo performance in support of his recently released album, Laysongs.

We always look forward to our collaborations with The Crossing, and this year's The Crossing @ Christmas program, Carols after a Plague, held special significance for us all. Seeking to find the right words to fit this moment in time, The Crossing commissioned new works by 12 composers of diverse background, style, experience, identity and race, including Penn's own Tyshawn Sorey, presidential assistant professor of music, to collectively contemplate our recent past. Read about Carols after a Plague in this introspective blog post written by Donald Nally, The Crossing's conductor, and this WHYY feature article.

It's been an amazing fall, as we gratefully returned to seeing you and being together in our theatres for live performances. We eagerly look forward to many more exciting programs in 2022!