Recent Highlights: Apr – Jun 2022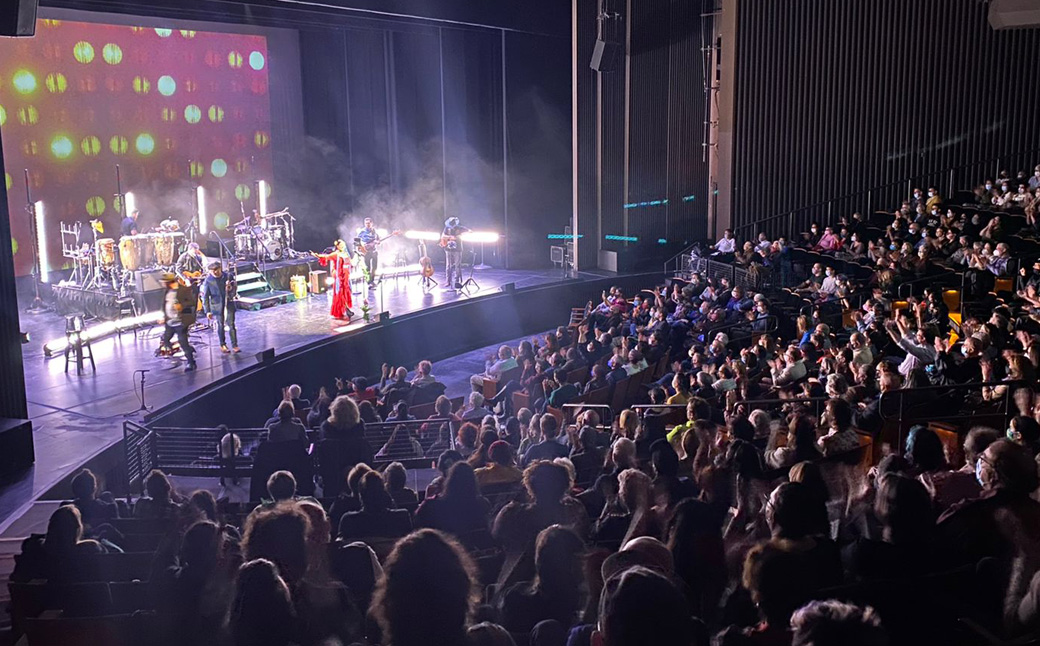 This spring brought two of today's best dance companies, a lovely mix of musical styles, film premieres, community connections and above all, happy audiences ready to embrace amazing performances. And, to cap it off, the announcement of our 50th anniversary season made it a spring to remember!
Mark Morris Dance Group (MMDG) and MOMIX both graced our Zellerbach stage, bringing works never before seen in Philadelphia. MMDG performed the great Pepperland, set to music by The Beatles, with authentically styled, brightly colored costumes. MMDG dancer Nicole Savella, a University of the Arts graduate, talked to Phindie about performing the 2017 premiere of Pepperland in Liverpool, England, one of her most memorable moments with MMDG.

World-renowned for its imaginative artistry, MOMIX thrilled with the Philadelphia premiere of Alice. Audiences were entranced by a Wonderland brought to life, its elaborate lighting and costumes, giant Alice, and most of all, the dancers that pushed their bodies to their limits to explore this fantastical story. Even before the show, social media followers shared their excitement, with one commenting, "I love MOMIX! I'm sure that this'll be weird/cool."

The opening night performance also served as a celebration of dance impresario Randy Swartz, who retired in 2020 after more than 50 years of bringing the world's top dance ensembles to audiences in Philadelphia and championing Philly's own dance community. Both The Philadelphia Inquirer and Broad Street Review profiled Randy, who was presented with a giant, lifetime ticket representing the pair of seats that are now named for him.

We were delighted to welcome back SFJAZZ Collective, originally scheduled for 2020. Vocalist Martin Luther McCoy helped us anticipate the group's performance with his responses to the 5 Questions feature on our blog. We warmly welcomed longtime PLA friend Zakir Hussain for a live performance, on the heels of his livestreamed appearance back in 2021. Vibraphonist Joel Ross, who also performed via livestream in 2021, returned for a hybrid performance with flutist Gabrielle Garo. "The flute and vibes make for such a dreamy sound," shared one online viewer. And, we enjoyed guitarist Pasquale Grasso alongside double bassist Ari Roland in another hybrid performance, with one online viewer declaring "Thank you!! Loving this, watching from Puerto Rico!" while another commented "Loved all the selections, amazing players and the sound was great!"

Global singing sensation Lila Downs, originally scheduled as our artist-in-residence for the 19/20 season, generously gave time to attend a luncheon discussion with Penn students, faculty and staff, sharing her inspirations, particularly those behind her recent album, Al Chile. With a full house in our Zellerbach Theatre, the audience loudly expressed their enthusiasm with roars of affirmation and applause, with many sharing rave reviews on social media, saying "Thank you very much for transmitting the great beauty of our culture" and "It was worth the wait!"

Our first Children's Festival in three years was a joyful gathering of people of all ages. The one-day event saw children and families entertained in the outdoor PLAYground filled with community partners The Clay Studio, Circadium - School of Contemporary Circus, The Philly POPS, Fleisher Art Memorial, FringeArts and Stimulus Children's Theatre. Everyone danced along to Lolly & YoYo and were tickled to see the beloved Phillie Phanatic. The Amazing Max captivated with his magic tricks in the Prince Theatre after performing virtually for us last year. And, Kalabanté's Afrique en Cirque, profiled in a Philadelphia Tribune feature, closed the Festival, keeping the capacity audience enthralled until the final standing ovation. NBC10 showed highlights of the Festival to close the 11 PM newscast. And, following the Children's Festival, local schoolteachers were given access to a recording of Kalabanté's live performance to share with their classrooms, expanding access at a time when many schools are unable to enjoy fields trips.

There was considerable excitement around the exclusive Philadelphia premiere screening of Apichatpong Weerasethakul's highly anticipated film, Memoria, which did not disappoint the in-person audiences. You can listen to Justin Chang's review of Memoria on Fresh Air with Terry Gross if you missed the screening. The film series also included Weerasethakul's Uncle Boonmee Who Can Recall His Past Lives.
Also, this spring, Executive & Artistic Director Christopher Gruits spent two weeks in Germany, visiting multiple cities and cultural organizations in fulfillment of his Eisenhower Fellowship. After joining their strategy and planning discussions about connecting authentically with immigrants and diverse populations, Gruits will return to Germany this month to observe the resulting events and festivals to incorporate some of his learnings into PLA's already-ongoing programming around immigrant communities. Stay tuned!

We kicked off the official celebration of our 50th anniversary with a festive reception, welcoming subscribers, members of our Board of Advisers, and artistic and community partners from Penn and Philadelphia. Earlier in the spring, we had announced our season-long residency partnership with the Negro Ensemble Company (NEC), which The Philadelphia Inquirer declared will ensure our anniversary celebration will be "lit." At the season announcement reception, opened by Penn's Interim Provost Beth Winkelstein and including remarks by NEC Artistic Director Karen Brown, Gruits shared the exciting details about the rest of the big anniversary season, which was reported by both 6ABC Loves the Arts and Penn Today.

As our 21/22 season concludes, we are filled with gratitude for an incredible year. We were thrilled to finally welcome audiences back to our theatres this season, being together to enjoy the transformative power of live performance. Now, we eagerly anticipate our upcoming season and monumental celebration of our 50-year legacy. With world and Philadelphia premieres, local debuts, commissioned works and amazing artists from around the globe – it's a 22/23 season befitting this major milestone. Subscriptions are on sale now and single tickets will go on sale in early August. We can't wait to see you again next year!