5 Questions with Martin Luther McCoy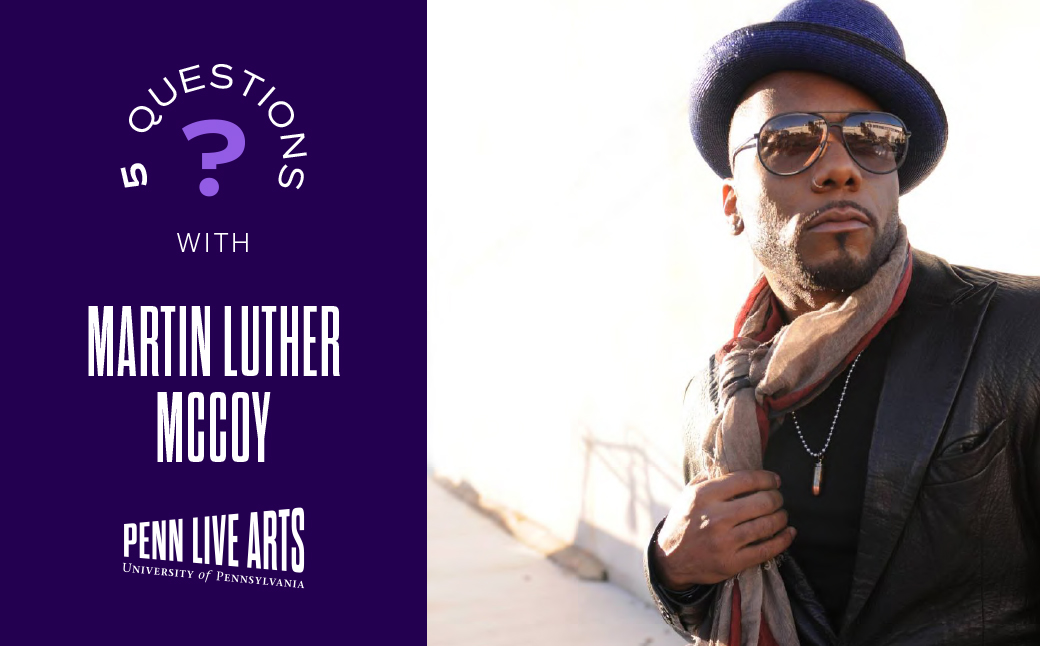 We can't wait for SFJAZZ Collective to return to our stage on April 3. The ensemble, hailed as "contemporary jazz's premier all-star band" by The New York Times, will debut new compositions and welcome several members to its fold, in a perfect kick-off to Jazz Appreciation Month. In anticipation of their upcoming performance, we caught up with vocalist Martin Luther McCoy to learn more about his process, influences and upcoming projects in just five questions.

1) What first got you into music?
My early memories start with my grandmother Ruby Mae Watkins from Marshall, Texas, who sang amazingly at church but always hummed with deep rich lull to her voice. She blessed my father who also sang amazingly, and that gift was transferred to me. My early days in church would be spent reworking the melodies and cadences of gospel hymns. 

2) How would you describe the music that you typically create?
I create rebel soul music. I was raised on a healthy diet of funk soul R&B and rock music. Thanks to my older brother's love and adoration for Parliament-Funkadelic, he made sure that I was aware of the great rock bands while my uncles kept Marvin Gaye and Al Green on the turntable. I also danced and played sports so we would have dance battles at the end of Friday night basketball games. All these elements went into my spirit and once I started to write music on guitar in my early twenties, I wanted to blend that Bob Marley/Stevland Morris (Stevie Wonder) lyricism and wit, with edgier, funkier street-sounding rock music. 

3) How do you compose music?
I often feel channeled and tasked with the challenge of creating sounds and messages that speak to the times that weigh heavy on the mind. Heavy times are not always the fun or illuminating subject matter to write about but when no one else speaks up about real needs, problems that plague the black community and societal ills that keep being brushed over, I have to say something, and I find tremendous joy in being used for such a purpose. 

I am also a fan of technology and, with all the ways we can create music using computers and cell phones to record or share ideas, I'm often down the YouTube rabbit hole learning about all the new ways or tactics you can employ just to instantly make the normal or mundane electrifying and intense. I make urban hip hip, ghetto funk, acoustic singer/songwriter folk, heavy soul and pop music. I am music and I also love to collaborate with other super talented passionate creatives.

4) Who are your biggest influences?
Prince is my single biggest influence and with that comes the love for artists like Joni Mitchell, Neil Young, Albert King, Q-Tip, Questlove, Lenny Kravitz, Sly Stone, James Brown, Andrea Bocelli, Sade, OutKast and Kendrick Lamar. The list goes on and on from producers I follow like 9th Wonder and Dr. Dre to Matt Serletic, Rick Rubin and Quincy Jones. I'm not just a singer or songwriter or producer or label executive. I have to do all of these things in order to advance my self-started career, and to keep it alive, I must remain agile enough to adapt fast to times that are constantly changing.

5) What projects are you working on currently?
I'm putting the finishing touches on my new album, entitled Blak Genus, as well as a multimedia project called MoonMedicin with multidisciplinary visual artist Sanford Biggers. The new SFJAZZ Collective album just dropped this month and I have a tribute project to my fallen Bay Area soldier in music and Morehouse College brother Baba Zumbi from Zion I Crew. I completed a blues record produced by Jahi Sundance (Robert Glasper/ Meshell Ndegeocello/Chris Brown) and I have just started working on a multimedia show where I tell the stories of my life through visual arts mediums. I have also started developing an orchestral suite which has employed arrangers like Minna Choi and Kev Choice and will manifest in a few years. This life is short and for me to die empty, I have lots of work to do.

Bonus Question: Do you sing in the shower?
I sing and write new songs in the shower all the time and on my iWatch, I can record in the shower too.
related event