Spotlight on Priscilla Felten, Wharton '20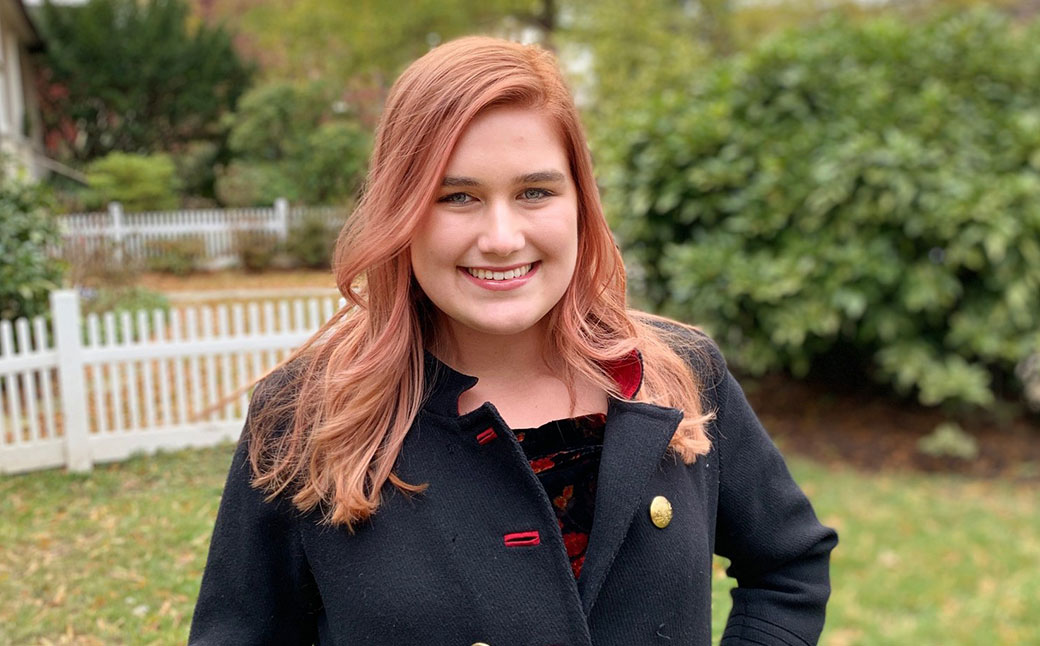 The universe of performing arts is going to need talented and committed people like Priscilla Felten, W'20, when it emerges from the pandemic.
With a degree from the Wharton School and years of hands-on experience as both performer and highly-motivated intern, Felten will be uniquely positioned to figure out new ways for the entertainment industry to carry on when we return to the "new normal." "There are a lot of open questions," she says. "How can it be cost-effective for those that must sell a lot of tickets to survive? Will people even want to go into theaters or will they prefer to consume entertainment and culture from home? Will there be a hybrid of live performances and online streaming? How will artists stay safe onstage and off? How might policies and contracts change?"
Hailing from an artistic family (her father is a jazz musician), Felten honed in on singing as her primary artistic love after many early years of studying ballet. When it came time to consider colleges she already knew she wanted a future in the entertainment business or as an arts administrator. "Penn gives me a good balance, combining Wharton for the business background and a strong arts scene."
While pursuing a BS in economics concentrated on marketing and communications and a minor in cinema and media studies, Felten spent summers and breaks in arts-related internships at Creative Artists Agency, Warner Bros Pictures and Allied Global Marketing. While doing all of this, she has been simultaneously engaged in her own artistic endeavors at Penn, including leading the Penn Arts pre-orientation program for new students, serving as chair of Stimulus Children's Theatre and President of Penn Singers, and acting in, directing or producing nearly 20 student theatre productions. She has also been a member of the Penn Sirens, and can be seen and heard in their just-released video (below) for Ariana Grande's "Honeymoon Avenue."
In her first year at Penn, Felten found her way to the Annenberg Center where she spent all four years working alongside artistic, executive, fundraising and education staff, guided by now-Assistant Director for Education and Engagement Caroline Leipf. "I was given an opportunity to learn firsthand about artistic programming, contract writing, partnerships and many other necessary skills—real hands-on experience that is unheard of in many internships."
Culminating all this hard work is being honored as the 2020 recipient of the Stephen Goff Award, an award conferred annually by the Mask and Wig Club to a senior who has shown great leadership and who best exemplifies the spirit of Penn's performing arts community. The Award is named after Stephen Goff, AR'62, the first and longest-tenured managing director of the Annenberg Center.
"I'm looking for ways to stay engaged creatively right now and eager to start my career. When we are past this pandemic, I believe that people will be more passionate than ever and will jump at the opportunity to have the collective experience that live arts brings to us all."