A virtual trip to Paris with Paul Taylor Dance Company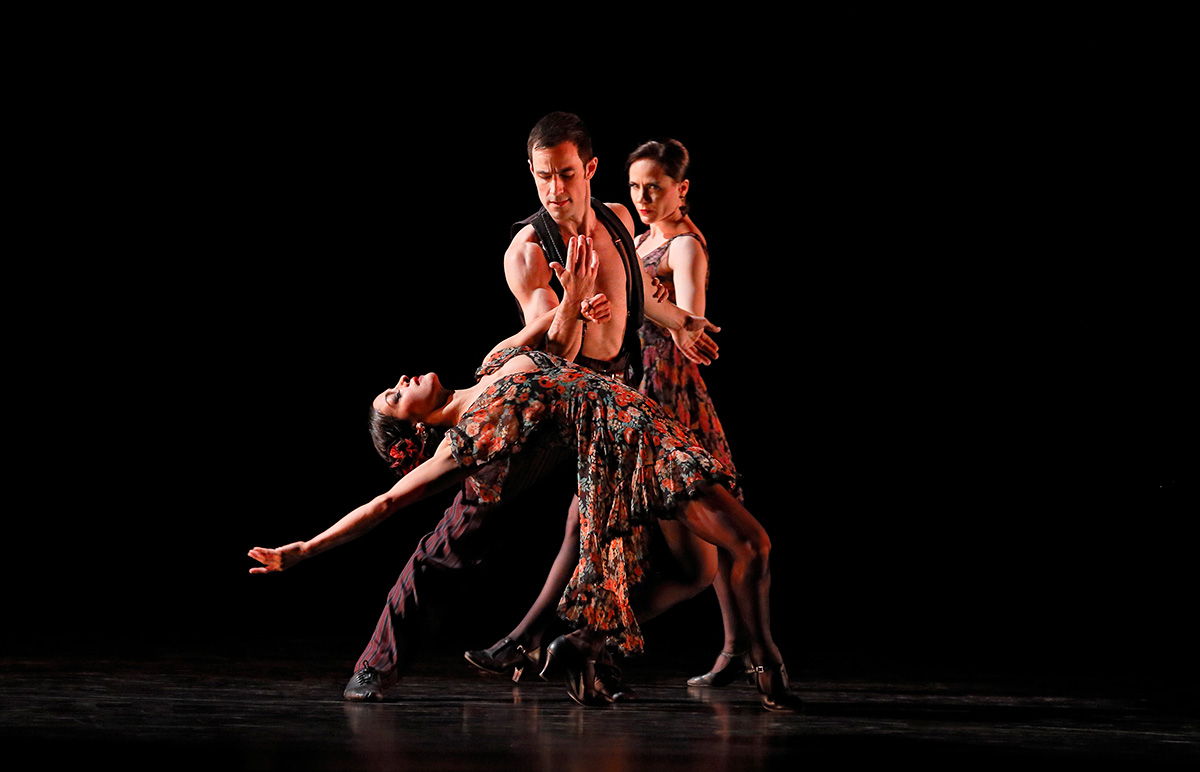 In January of this year, we welcomed back a longtime Annenberg Center and NextMove Dance favorite,
Paul Taylor Dance Company
, to the Zellerbach stage. It seems like so long ago now! They are among our many friends in New York City who have been in our thoughts these past few months, and looking back on their remarkable artistic accomplishments is providing us some solace as we navigate the road ahead. We were excited to stumble on
this wonderful film
from 2012, which marks the 50th anniversary of the company's first-ever performance in Paris. The remarkable program, recorded at the Théâtre National de Chaillot for the
Les Étés de la Danse
festival, features
Brandenburgs
, set to Bach's Brandenburg concertos #3 and #6, and
Beloved Renegade
, set to music from Francis Poulenc's
Gloria
.
Brandenburgs is a magnificent interpretation of one of Bach's most beloved musical masterpieces. Paul Taylor was the ultimate renaissance man of choreography, tackling music from medieval to rock, and in this case, he does a superb job of communicating through Bach's sublime music. In a review of the work, the Manchester [UK] Guardian notes, "Beauty is the only word for Brandenburgs…[which] celebrates the good things in life. Such a radiant, seamless flow of invention that the choreography seems an entirely natural way of moving to this music."
Described by Alastair Macaulay of The New York Times as "one of the great achievements of [Paul Taylor]'s long career," Beloved Renegade was inspired by the life and work of 19th century American writer Walt Whitman. The work depicts the experiences of an artist described in a line from Whitman's "Leaves of Grass": "I am the poet of the body and I am the poet of the soul."
Taylor choreographed 147 dances for his company, and we're fortunate that our audiences have seen more than 35 of those inventive and insightful works in 12 Philadelphia appearances since 1984. Dubbed the "naughty boy of dance" by Martha Graham, with whom he danced for seven years, Taylor's celebrated legacy as a seminal figure in the modern dance world continues through stage and TV works, films such as Dancemaker, his autobiography, Private Domain, the spirit of hundreds of dancers who have danced with him and in devoted audiences worldwide.
While we wait for the company to return to Philadelphia in person, let's enjoy this virtual trip to Paris and the stunning choreography of Paul Taylor.