Jamey Hampton, Ashley Roland and the unsurpassable BodyVox
Posted September 15, 2020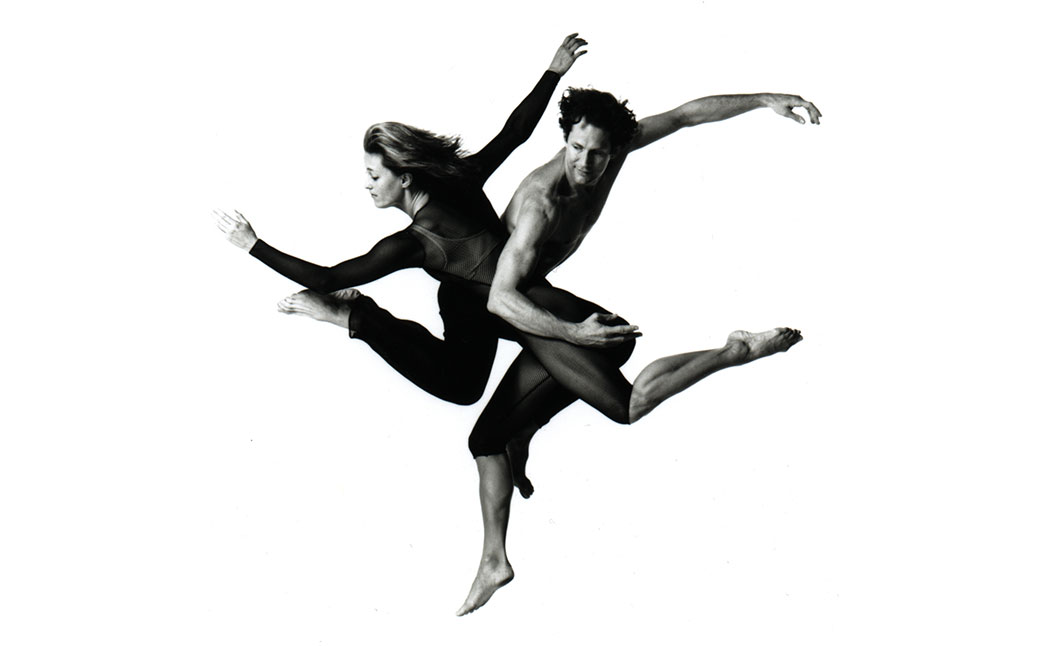 Audiences have been wooed for decades by the impressive physicality and larger-than-life theatricality of
MOMIX
,
Pilobolus
, I'm So Optimistic (ISO) and
BodyVox
. Jamey Hampton and Ashley Roland, the Emmy award-winning choreographers and founders of BodyVox, are a major part of the mayhem, memories and magic comprising this incredible legacy of inventiveness in dance. The husband-and-wife duo, who spent years touring the world with Pilobolus, MOMIX and ISO, founded BodyVox in 1997, since creating at least 30 original shows, 12 films and three operas, encompassing more than 200 original dances.
In 1986, Hampton and Roland appeared in MOMIX's first performance on the Dance Celebration Monday Night Series. The unforgettable program included Woomen (1983) by Hampton and Daniel Ezralow, Fever (1984) by Roland, and Skiva (1983) and Mr. Seawater's Pool (1985) by MOMIX founder Moses Pendleton, Hampton, Ezralow and Morleigh Steinberg. Hampton and Roland returned with ISO in 1988 to perform their witty duet piece, Scare Myself, and Captain Tenacity, the hilarious signature solo work in which Roland, dressed as a Velcro-clad superhero, runs, jumps and sticks herself onto a wall, defying gravity to thunderous music by Richard Wagner. Both works reappeared sporadically over the years in BodyVox programs and at Dance Celebration galas.
BodyVox performances are known for featuring 10-12 radically different vignettes built on a singular concept. Together, the vignettes encompass a wide range of moods, styles, settings and personalities with a Pacific Northwest edge that represents the company's home in Portland, Oregon. BodyVox's notable full-length appearances in Philadelphia include our presentations of Reverie (2003), A Thousand Little Cities (2006), Water Bodies (2009) and The Cutting Room (2013), as well as the NextMove Dance presentation of Urban Meadow (2018) at the Prince Theater. "Advance" from Urban Meadow is one of my personal favorites. In it, Hampton and Roland perform one dance seamlessly in 50 locations in two minutes. The clever "Metamorfishes" is another favorite in which Roland's purchase of goldfish in a pet store morphs into an incredible underwater duet where she courts Siamese swordfish while wearing a fish-like scuba costume.
While the COVID-19 pandemic has forced many dance artists to explore new technologies, BodyVox has been ahead of that curve. For years, the company has collaborated with acclaimed filmmaker Mitchell Rose, "a rare and wonderful talent" (The New York Times), winner of 95 festival awards and a filmmaking professor at The Ohio State University. Rose's projects with BodyVox have been viewed by millions of new, loyal and crossover audiences (both in the theatre and virtually) and have allowed BodyVox to set itself apart from similar dance companies through this unique, visionary medium. One of my favorite film collaborations, the Modern Daydreams series, featured Hampton as the same character in four separate films, earning the 2002 American Choreography Award for Outstanding Achievement in Short Films. Rose's "Contact" from The Cutting Room also won the 2013 International Video Dance Competition's Best Choreography Prize.
Perhaps Rose's most popular film with BodyVox, "Learn to Speak the Body: Tape 5" (2006) is a six-minute educational video that has reached over three million views on YouTube. The hilarious video shows dancers responding to a series of spoken directives with explanations regarding the meaning of gesture and body language. It's definitely a fitting exploration for today as we rely more than ever on our digital expression and connection.
While nothing replaces live performance, the vast, virtual creations of BodyVox can certainly keep us entertained in the meantime as Hampton and Roland continue to fearlessly pioneer new ways to enlighten, charm and amuse.