David Parsons/Parsons Dance: A tour-de-force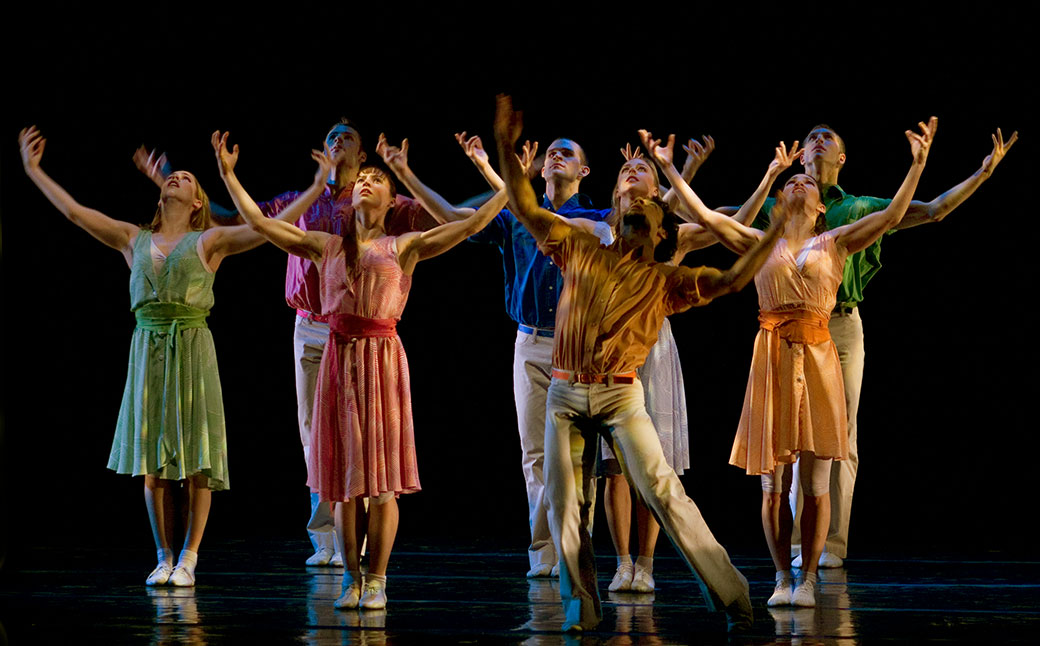 "One of the great movers of modern dance" (
The New York Times
),
David Parsons
has had a remarkable career spent innovating and developing the physical prowess and technical skill in modern dance. Having spent his early years training as a gymnast and wrestler, Parsons' athletic talents had already risen to the surface. His mother enrolled him in summer dance classes at age nine and by age 17, he was on his way to New York City to study at
The Ailey School
, where he had been awarded a scholarship. In New York, Parsons apprenticed with celebrated dancer/choreographer Paul Taylor before joining the
Paul Taylor Dance Company
as a principal dancer. He went on to become a guest artist with the
New York City Ballet
, spending his summers touring with
MOMIX
and performing for
Mark Morris
and Mikhail Baryshnikov in the early White Oak Dance Project tours. Following in the steps of Taylor, whom he considered his mentor, he founded Parsons Dance in 1985 with
Howell Binkley
, a Tony Award winner for his lighting designs in
Jersey Boys
(2006) and
Hamilton
(2016).
Parsons first became known to Annenberg Center audiences when he took to the stage with Paul Taylor Dance Company in 1984. He danced with Taylor's company from 1978-1987, enchanting audiences with his incredible technique, powerful physicality and fearless dancing in Airs (1978), Equinox (1983) and Runes (1975). Parsons returned to Philadelphia with his own company in 1988 for the launch of the Dance Affiliates/NextMove Festival, and has since become a Philly favorite, as indicated by 14 subsequent Annenberg Center engagements. The company is highly sought after by presenters worldwide for its accessible, athletic and exquisitely performed works to a wide range of music. Many of Parsons' programs feature his dazzling classics like The Envelope (1984), Nascimento (1990) and Caught (1982), as well as innovative new works like his popular Remember Me (2009).
I was blown away when I first saw The Envelope and Nascimento. Set to the music of Rossini, The Envelope is an edgy social commentary in which dancers in black hoodies and spyglasses relentlessly pass each other a white envelope. Nascimento is a joyful tribute to the great Brazilian composer/guitarist/vocalist Milton Nascimento, who created the score as a gift to Parsons Dance. The 1990 version of the piece featured Parsons as the lead with Jaime Martinez, Elizabeth Koeppen and the rest of the company taking the audience on an infectious romp through turns, lifts, leaps, kicks and nonstop entrances and exits. Complete with Santo Loquasto's (Tony Award-winning production, scenic and costume designer) colored shirts, pants and dresses, audiences now excitedly anticipate seeing Nascimento as the closer to Parsons' programs.
The first time I saw Parsons' Caught, I found myself, like others, gasping in awe on the edge of my seat. In choreographing Caught, Parsons invented a new way for a dancer to fly using a remote device and strobe lights. The soloist begins meditatively in a circle of light, building to an explosive sequence of 100 jumps on a dark stage where the dancer is seemingly caught in mid-air. Set to music by Robert Fripp, the incredible leaps and landings and cheeky depictions of walking on water and air are absolutely enthralling for their unfathomable physicality and wonder. Caught has been performed on the Annenberg Center's stage more than 50 times between 1990 and 2019.

Remember Me, Parsons' dance-rock-opera was his first full-length work and was created in collaboration with the East Village Opera Company, featuring composer/arranger/vocalist AnnMarie Milazzo and vocalist Tyley Ross as narrators. Based on a love triangle, it featured contemporary dance, a combination of live and recorded music (including 100-year-old songs that Parsons wanted to introduce to his audiences), eye-popping projections and lusty, sensual virtuoso dancing. My favorites from Remember Me are "section C" from Mozart's Le Nozze Di Figaro and the tenor aria "Che gelida manina" from Puccini's La bohème. The work opens with soloist Abby Silva as she is wooed by fellow Parsons dancers Miguel Quinones and Eric Bourne. A rousing group section follows in which the women dancers climb onto the shoulders of the men, standing upright with arms open while walking in a circle. Merilyn Jackson of The Philadelphia Inquirer noted, "This is the kind of show that would have elicited flowers flung on the stage in another era."
In 2019, Parsons Dance came full circle with its Annenberg Center performances of Paul Taylor's Runes, a dark, mysterious, ritualistic dance evoking the primacy and pathos of humanity. Program notes from the production refer to Runes as "secret writings casting a spell." Set against a backdrop of a full moon and a dissonant piano score by Gerald Busby, dancers in nude unitards and tights perform superhuman physical feats that showcase power and strength. Precarious lifts are mixed with explosive falls, striking turns and angular shapes reminiscent of Egyptian runes and mythology. Regarding the restaging of the work, Parsons said, "Paul was an amazing inspiration for my work, and I wanted to do Runes as a dedication to him this season because we never did a piece by Paul."
Other notable Parsons Dance works include the experimental The Machines (2016), done with drones in partnership with Drexel University, the witty, self-described Hand Dance (2005) and multiple Dance Celebration commissions. One of those commissions, Class Act (1996), was a special work driven by community outreach and conceived by Dance Celebration founder Randy Swartz in partnership with The Institute for the Arts-in-Education. Through a residency in 10 Philadelphia schools, Parsons met with hundreds of students in a workshop format where the students worked directly with the company dancers to teach them movements of their own creation. Those moves were then incorporated into Parsons' world premiere performance of Class Act at the Annenberg Center. Workshop students could be heard from the audience excitedly shouting, "That's my move!"
To date, Parsons Dance has performed at prestigious venues in at least 445 cities, 30 countries and five continents, as well as on networks including PBS, Bravo, Discovery Channel and A&E. The company has performed 35 world premieres from its outstanding repertoire of 80 works including commissioned works by Alvin Ailey artistic director Robert Battle, dancer/choreographer Trey McIntyre, choreographer Katarzyna Skarpetowska and dancer/choreographer Natalie Lomente. Most recently, we were looking forward to Parsons' 2020 world premiere by Philadelphia-based choreographer Matthew Neenan. The new work, set to Locatelli's Concerto in D Major, was rescheduled due to COVID-19. We can't wait for the return of live dance and all the exciting projects yet to come for the extraordinary David Parsons and Parsons Dance.