Adapting and optimizing live performance for the virtual stage
Dance Music Virtual Stage World Premieres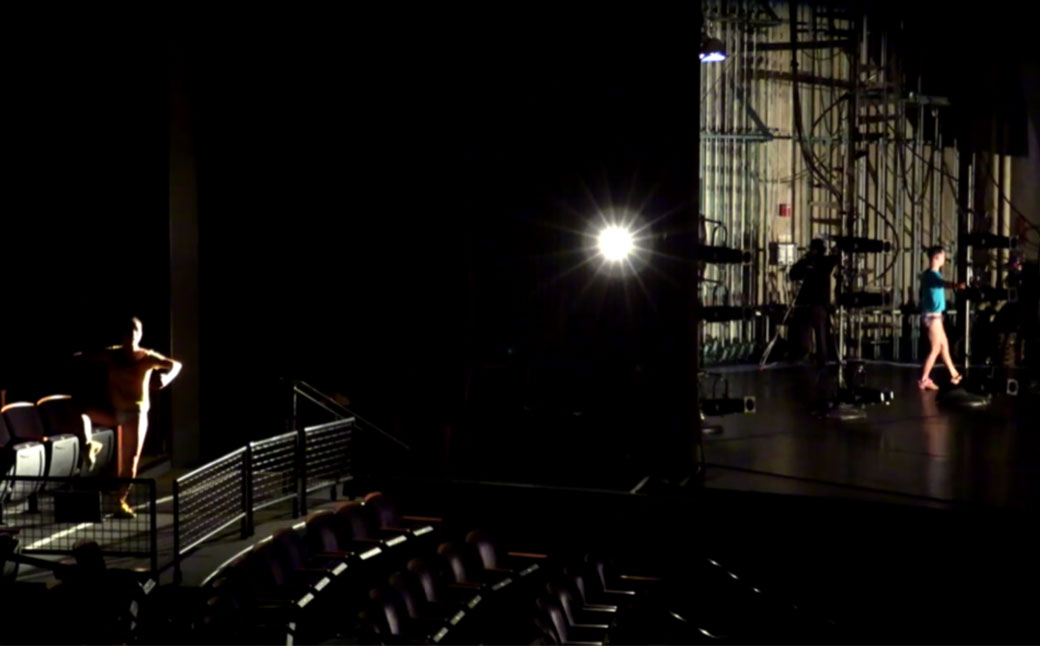 Last September, when we first announced our fall digital season, I was overjoyed that after months without live performances, the Annenberg Center would be joining the world of livestream events. Within our line-up, I was especially interested in what Pam Tanowitz Dance, a company known for its "fascinating uses of stage space" (
The New York Times
), would do with our completely empty Zellerbach Theatre. Tanowitz did not disappoint with her fascinating world premiere of
Annenberg Solos: Sites 1-4
. The piece featured four solos performed in unconventional areas of the theatre such as backstage and the wings or alongside empty audience seats. Even the audio for the piece was interesting as it included moments of silence, discordant "soundscapes" rather than actual music and the sounds of Tanowitz herself calling out stage cues, intentionally patched into the livestream as part of the work. One might argue that it was a piece built only for livestream and only for an empty theatre, which made me consider the art of a livestream performance and explore creative ways that venues and artists have adapted spaces for other uses. Many, like Tanowitz, have even optimized their work specifically for digital viewing.
One of the more notable space adaptations I came across last fall was that of the Park Avenue Armory in New York. Following strict social distancing and safety guidelines, the Armory reopened its doors in August, but as a site for artists to rehearse and run workshops. Its huge Drill Hall space allowed for the Bill T. Jones/Arnie Zane Company to film Afterwardsness, an hour-long dance performance that featured nine dancers weaving around 98 masked volunteer "audience members" seated throughout the hall. The Armory also drew the attention of singer-songwriter David Byrne, who used the space to workshop Social! Byrne's 55-minute set of dance tracks aimed for socially distanced participants to dance together, taking recorded movement suggestions from Byrne himself.
Like the Annenberg Center, many organizations turned to now-universal livestream software to bring their performances to audiences digitally. But even this took shape in lots of different and intriguing ways. In Los Angeles, Geffen Playhouse (cheekily renamed Geffen Stayhouse) created a Zoom-based virtual puzzle show called Inside the Box in which participants are led through a series of puzzles, wordplay and games. Meanwhile, dance companies like our friends at Pilobolus began streaming classes and performances immediately on Facebook Live, an easy and cost-free way for its followers to stay connected. And then there is the Williamstown Theatre Festival which, rather than cancelling its 2020 season altogether, partnered with Amazon's Audible to produce audio adaptations of planned performances.
As we gear up for our spring digital season, I look back at our fall livestreams and realize that each one of our performances was quite special in its own way. Our viewers had the opportunity to communicate in real-time with Caleb Teicher and Chris Celiz during their tap dance/beatbox program based on audience suggestions. Our loyal early music lovers realized what a treat it was to see close-up views of Richard Stone's lute when he and mezzo-soprano Meg Bragle performed a touching program of baroque and renaissance music. And who could forget the incredible archival footage and photos that accompanied Martha Graham Dance Company's evening of classic Graham works just last month? While we look forward to safer, "normal" times when we can be together in person, the innovation and creativity that theatres and performing artists are offering on the virtual stage is more than enough to tide us over for now.