A salute to trailblazer Arthur Mitchell and Dance Theatre of Harlem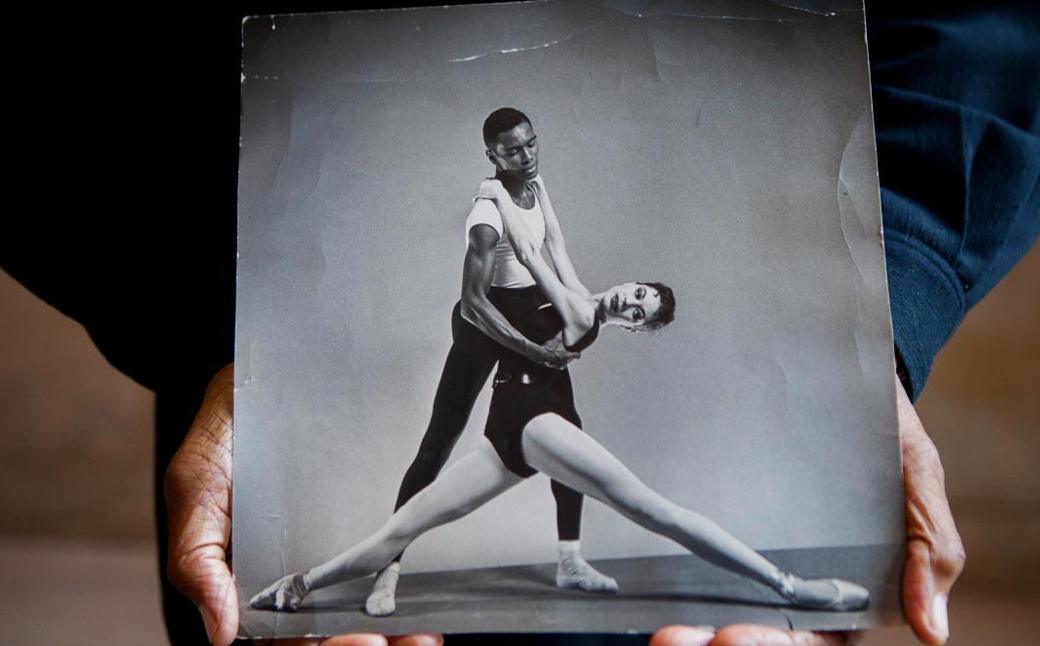 The monumental legacy of Arthur Mitchell, self-described as the "Jackie Robinson" of professional ballet, defies definition. His tap audition for LaGuardia High School for the Performing Arts propelled him on a trailblazing path, forging creative opportunities for generations of Black and Brown artists worldwide. In 1957, he stunned audiences in George Balanchine's neo-classic
Agon
(1957), partnering with white ballerina Diana Adams, and crushing racial boundaries and 400 years of ballet history. Known for his technical virtuosity, powerful artistry, elegant lines and pure charisma, he quickly rose to international stardom. As a Balanchine protégé, he joined New York City Ballet in November 1955, replacing the injured Jacques d'Amboise in
Western Symphony
, and is credited as being the first African American principal dancer (1962-1968) in a major American ballet company. Mitchell's legendary roles include his naughty and mercurial Puck in
A Midsummer Night's Dream
(1962) and his passionate partnering with Suzanne Farrell in
Metastaseis & Pithoprakta
(1968). However, it was Mitchell's performance in Balanchine's
Requiem Canticles
(1968), a tribute to civil rights leader Martin Luther King Jr. that shaped dance history. Greatly impacted and galvanized by King's passing, Mitchell needed to follow his dream.
In 1969, Mitchell and his ballet guru Karel Shook (mentor to Alvin Ailey, Carmen de Lavallade and Geoffrey Holder) founded Dance Theatre of Harlem (DTH) and its school funded by the Ford Foundation. To make dance accessible, neighborhood kids were encouraged to take classes, even if just in jeans. By 1974, there were approximately 1,500 students enrolled, 560 studying ballet.
Now under the direction of founding member and 30-year prima ballerina Virginia Johnson, DTH has amazed audiences worldwide for more than 50 years. In the early days, DTH performed in pink and white tights and shoes. Mitchell changed the ballet world's perception in the 1970s by dyeing leotards, tights, ribbons and shoes to match the skin tone of the dancers, a practice still used today.
Philadelphia audiences were first introduced to DTH in 1969 in a program featuring
Rhythmetron
, a ritual dance in the classic style for six dancers set to music by Marlos Nobre. The company returned in 1971 for performances and a lecture-demonstration featuring
Rhythmetron
again (which later became a prize-winning PBS documentary in 1973) alongside works by Balanchine, then president of DTH's board who offered his works pro gratis. In 1976, DTH appeared at the 41st Eucharistic Congress at the Robin Hood Dell (now called the Dell Music Center) performing Mitchell's
Spiritual Suite
, dedicated to Martin Luther King Jr. and showcasing Philadelphia's Marian Anderson as a guest artist.
By the 1980s, DTH was America's most sought-after and loved Black ballet company. Years of national and international touring, Broadway and TV appearances and New York City Center seasons resulted in a huge, loyal audience hungry to be part of the DTH sensation. The company exploded onto our stage in February 1984, kicking off the inaugural Dance Celebration series co-presented with Dance Affiliates in a performance featuring Virginia Johnson dancing
Agon
. DTH made frequent return engagements over the years with classical and contemporary works showcasing its rich heritage. Highlights include
Dougla
(1974) by Geoffrey Holder,
The Moor's Pavane
(1949) by José Limón and
Firebird
(1982) by John Taras. Philadelphia's Robert Garland, a PHILADANCO dancer/choreographer and DTH principal dancer and first choreographer-in-residence, created several works performed on our stage, including
Crossing Over
(1999),
Gloria
(2012) and the 2019 world premiere,
Nyman String Quartet #2
. In 2019, DTH celebrated its 50th anniversary and was the second annual Annenberg Center Artist-in-Residence.
Now, as the world seeks to connect while staying apart and rises to the call of past-due social change, DTH looks to the virtual world to share its art as a mechanism for healing and inspiration. For the next six weeks, audiences across the globe can enjoy and seek solace in
stunning ballets each Saturday at 8 PM
. Featuring a mix of historical and current repertoire, the series provides a chance to see the DTH artists of today and those who contributed to the making of the company's legacy. Mitchell once stated, "I believe that dance, and the arts more broadly, can be used as a catalyst for social change — this is why I started the Dance Theatre of Harlem." Mitchell realized his dream, but there is still much work to be done.

Anne-Marie Mulgrew, MFA, is the Group Sales & Education Consultant for the Annenberg Center and enjoyed 22 years as Director of Education for Dance Affiliates/NextMove Dance, where she had the pleasure of interacting personally with numerous dance companies and artists. She is also the Artistic Director of Anne-Marie Mulgrew and Dancers Company.