A Lifetime of Service: Celebrating Usher Milestones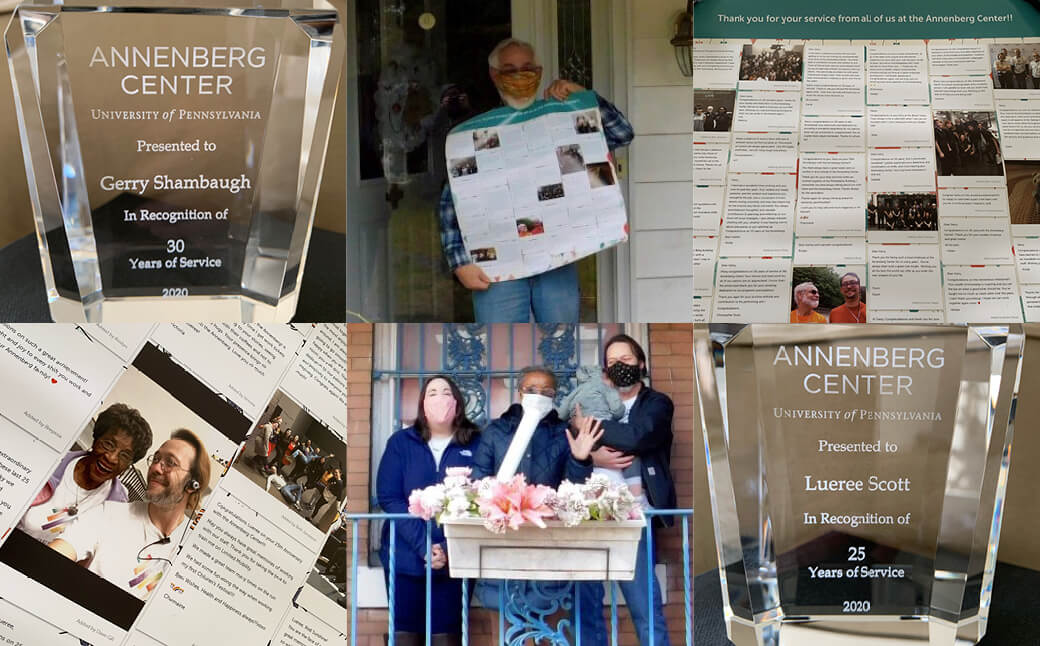 With the holiday season in full swing, thoughts often turn to gratitude and giving. While this year has certainly been unlike any other, there are still many reasons to celebrate. For our Front of House department, 2020 marks two employee milestone anniversaries worth celebrating: Lueree Scott's 25th year and Gerry Shambaugh's 30th year at the Annenberg Center.
I knew I was in the presence of front of house (FOH) royalty when I met Lueree and Gerry over five years ago. Working alongside these two over the last few years, I have learned so much. Gerry, a confident and quick lead usher/theatre usher, is there with sage advice and guidance at every turn. He is always the first to jump in when extra hands are needed and can come up with creative solutions to any problem. Lueree, our ticket-taking pro theatre usher, arrives extra early for every shift, and greets incoming ushers with her kind smile and incredible zest for life. At 91 years of age, Lueree keeps up with our children's matinee audiences and Penn student workers alike. She always tells us this work "keeps her young!"
Initially, we had hoped to celebrate Lueree and Gerry with an in-person gathering with our entire Annenberg Center and FOH staff. However, due to the pandemic, we had to forgo a large get-together, and instead opted for an intimate surprise delivery.
This past week, a few FOH team members masked up and paid a physically distanced outdoor visit to Lueree's and Gerry's homes. Aside from clearing the date and time, I gave them very little information about what we were up to or why we were coming. Both were incredibly surprised to be presented with a personalized service award and a poster filled with best wishes from colleagues across the Annenberg Center.
For Gerry, we stood together in front of his new home in New Jersey and reminisced about the programming he had been fortunate enough to see in his 30-year tenure. We spoke about suggestions he had made, and how implementing them changed the way our department runs to this day. On Lueree's front porch in West Philadelphia, she gushed over how this group of strangers had become more than friends to her, but family. Having survived both of her two children, she always said she looks at many of us like her own children. She even called for her neighbors to come out and take a peek at her award and poster, beamingly saying, "See, I've got a bunch of people who care deeply for me!"
I consider myself incredibly lucky to have had the opportunity to work performances and events alongside Lueree and Gerry. They have each been pivotal in making me feel at home in the Annenberg Center's Front of House department. I will always be thankful for the example they set in providing outstanding patron experiences to our audiences. This holiday season, I am grateful for all that Lueree and Gerry have given to me, their fellow staff members and patrons, and especially proud to be able to celebrate their milestones together.