A 40-year love affair with MOMIX
Penn Live Arts Recommends Dance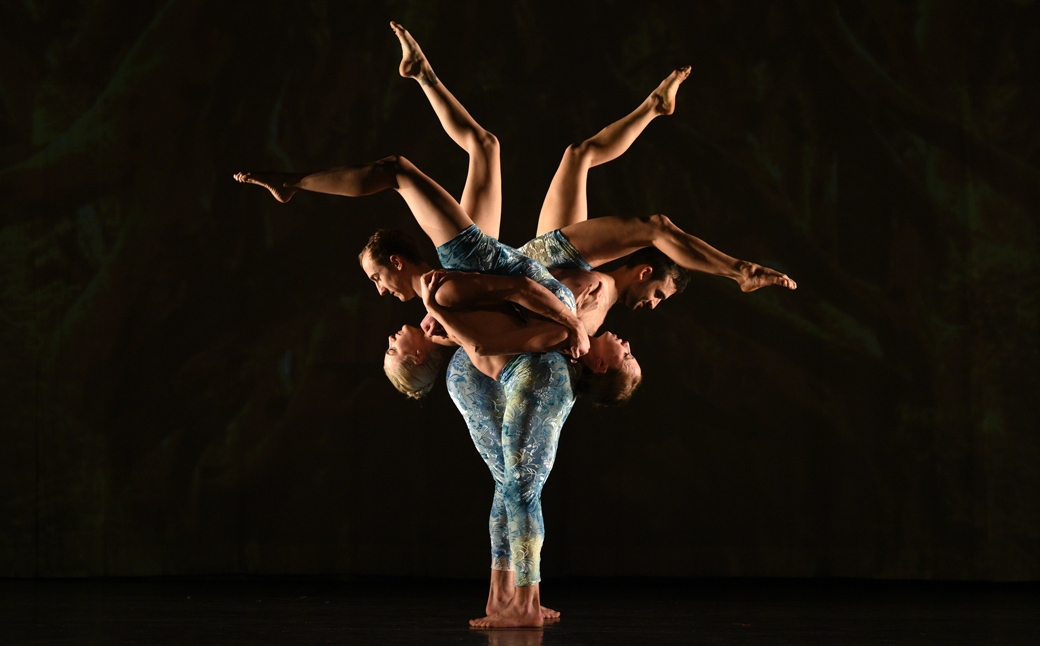 MOMIX
has a long and joyful relationship with Philadelphia audiences, wowing dance lovers, newcomers and even skeptics with its theatrical magic. MOMIX has appeared on the Dance Celebration Series presented by the Annenberg Center and Dance Affiliates/NextMove Dance 12 times during a 30-year partnership. The first time I saw MOMIX, I was awed by its outrageous inventiveness, almost reckless physicality, unbelievable beauty, transformative use of props, constructed costumes and lights, new age music, and unusual subject matter.
Early Roots
The MOMIX connection began in the early 1970s when Philadelphia audiences were amazed by the wild and wacky antics of the recently-formed troupe, Pilobolus, on the Walnut Street Theatre Dance Series. Moses Pendleton, the artistic director and founder of MOMIX, was also one of the founders of Pilobolus. While at Dartmouth College, Pendleton, a skier and English literature major, took a dance class with Alison Becker Chase, who required students to create an original dance. Legend has it that three male dancers—Pendleton, Steve Johnson and Jonathan Wolken—new to dance and not wanting to dance alone, created a work they titled Pilobolus, in which they stayed connected the entire time. This work led to the founding of the company Pilobolus and a new dance language based on collaboration, weight-sharing techniques, creative play, physical prowess and sculptural beauty.
MOMIX the company derives its name from a solo dance that Pendleton created for the 1980 Winter Olympics. He combined MO, for Moses, and MIX, the name of a milk supplement fed to calves, reflecting his upbringing on a Vermont dairy farm. Early promotional images show him in his MOMIX dance costume in front of a huge Holstein cow. Since 1986, the troupe has also featured Cynthia Quinn, Pendleton's life partner/dancer/collaborator and later co-artistic director.
The 1980s
In 1984 and 1986, Pendleton performed with Pilobolus on the Dance Celebration Series at the Annenberg Center. He returned in 1987 with his own troupe for its Philadelphia debut, performing his solo MOMIX attired in a white suit, hat, shoes and walking stick (but no cow). Later, the dance was part of the troupe's Dance Celebration program in 1990.
The 1990s
MOMIX premiered its first full-length multimedia touring work, Passion, in 1991. Set to Peter Gabriel's The Last Temptation of Christ, the work delighted Dance Celebration audiences. Based on themes of passion both corporeal and spiritual, Passion is filled with visual spectacle, fluid physicality and haunting imagery.
MOMIX returned to the Dance Celebration Series in 1996 with another full-length, multimedia production, the Philadelphia premiere of Baseball (1994), an irreverent and mysterious take on the sport with dancers in striped unitards, caps and sneakers. Sections include "Spirit of the Green," "Bush League," where two Neanderthals discover the game, "Bad Habits," "The Umpire Strikes Back" (a witty pun on the movie) and more. A featured dancer was Renee Jaworski, a University of the Arts graduate, who later joined Pilobolus and is now its co-artistic director. Baseball was a hit for Philadelphia audiences.
In 1999, MOMIX brought a mixed bill of works to the Annenberg Center, including Underwater Study #5 with a solo dancer in a swimsuit and goggles, created by Brian Sanders, artistic director of the Philadelphia-based company, JUNK. Sanders, a University of the Arts graduate, toured with MOMIX for 10 years. Underwater Study #5 was part of MOMIX's program in 2001, which also included White Widow, an aerial dance performed by Quinn. Choreographed by Pendleton and Quinn to Andelo Badalamenti's score, White Widow explores loss and the unattainable. It premiered in 1995 and was featured in Robert Altman's film The Company, a film about the Joffrey Ballet. The Joffrey Ballet is the only company other than MOMIX to perform this dance.
MOMIX opened Dance Celebration's 20th anniversary season in 2002 with its full-length multimedia extravaganza, Opus Cactus. Conceived and directed by Pendleton, the work was originally created for the Arizona Ballet. Opus Cactus takes audiences on a mesmerizing journey through the natural world of the Southwestern deserts inhabited by Gila monsters, saguaro cacti, desert flowers, slithering creatures, a wren en pointe, men with sticks and women with giant fans. Considered one of Pendleton's most successful works, The New York Times stated it is "a feast for the eyes, this performance will linger in my subconscious for years to come." Audiences may have seen this glorious work at the 2002 performances, in 2016 on the inaugural NextMove Dance Series at the Prince Theater or as excerpts performed during a free pop-up performance at City Hall's Dilworth Park.
Pendleton's magic takes us on an adventure to the moon in Lunar Sea (2005), a full evening work using black lights, projections and puppets by The Lion King creator, Michael Curry. Pendleton notes "it is not humans dancing but instead moon creatures." Dancers seem to float, fly, and soar defying gravity while igniting the audience's imagination as to how it is done.
Dance Celebration presented MOMIX for its 25th anniversary season in 2007, "Dance Around the World," featuring a program of classic hits. Works included White Widow, Tuu, Dream Catcher, Millennium Skiva (with two dancers on oversized skis), E.C., a clever and signature shadow dance, and others including The Last Vaudevillian, a humorous work by Sanders featuring a dancer in a costume that appears to be bouncing on its head.
In 2010, MOMIX performed the Philadelphia premiere of its riveting, lush and sensational full-length Botanica. Beautiful and enthralling, Botanica is inspired by the four seasons and nature as a remedy for healing. It features puppetry by Curry with outlandish costumes where "the dancers become marigolds and sunflowers and trees bending in the wind. They may inhabit a pack of centaurs, melting snowdrifts and plants rising from the earth to meet the spring sun, or find themselves dancing with the bones of an ancient saurian."
MOMIX is so popular it has opened and closed many Annenberg Center Dance Celebration seasons, leaving audiences exhilarated. In 2012, the program reMIX included favorite works and new premieres such as Baths of Caracalla and If You Need Somebody, a tongue-in-cheek work with dancers costumed with mannequins of dancers attached to them. In 2013-14, MOMIX wrapped up the Dance Celebration Series with its full-length theatrical production Alchemia. Set to a diverse, 17-set soundtrack, Alchemia offered a fantastic exploration of the four elements of nature – earth, wind, fire and water. One section features women in oversized red bodices, hats and bustles while other sections have dancers interacting with a huge sculpture, wooden poles, aerial apparatus, ropes, mirrors, extensive lights and projections to create transformative environments.
I am eagerly awaiting MOMIX's return to the Annenberg Center with Pendleton's newest creation, Alice, based on Lewis Carroll's book, Alice in Wonderland. The magazine The Wonderful World of Dance praises the work, saying "it is a triumph of the imagination, illusion and special effects, a mind-blowing show." Pendleton, an avid gardener (known for his sunflower fields) and photographer, is a master of illusion, magic and wizardly. In his own words: "Alchemy by definition, can be anything. MOMIX is alchemy."
Anne-Marie Mulgrew, MFA, is the Group Sales & Education Consultant for the Annenberg Center and enjoyed 22 years as Director of Education for Dance Affiliates/NextMove Dance, where she had the pleasure of interacting personally with numerous dance companies and artists. She is also the Artistic Director of Anne-Marie Mulgrew and Dancers Company.