5 Questions with Michael Novak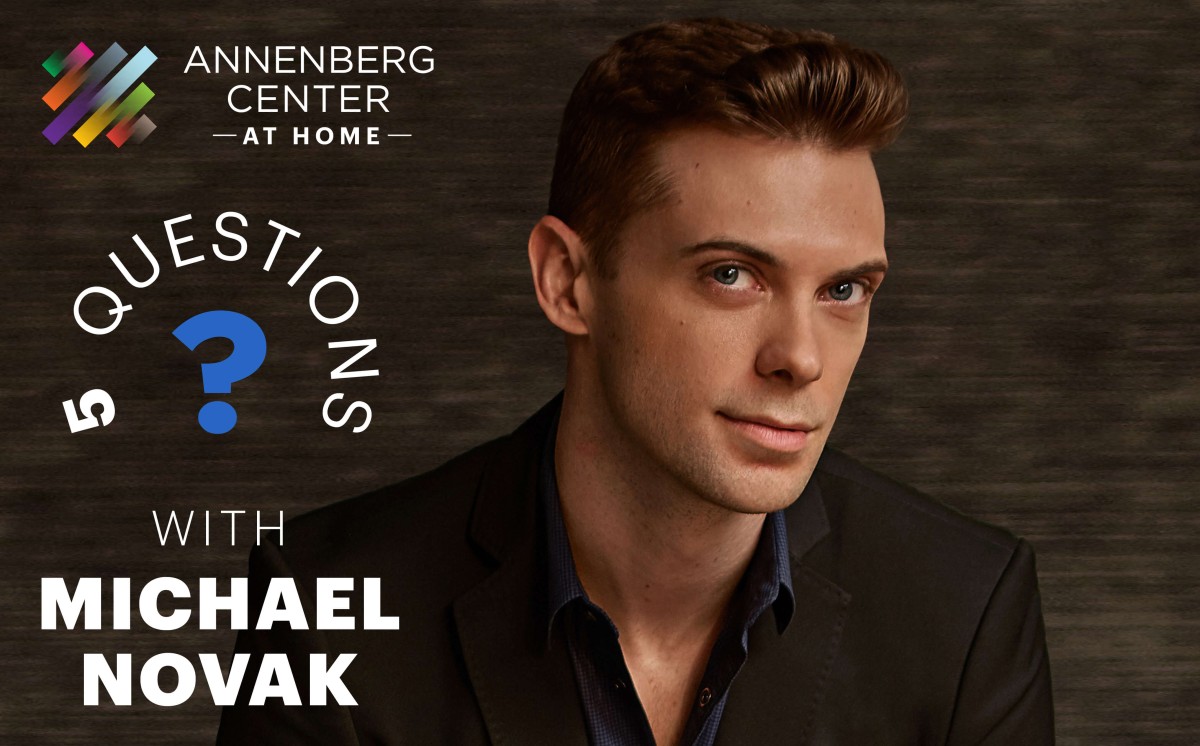 We continue our series aiming to discover more about Annenberg Center artists and others whom we find interesting in only five questions. Today, we hear from Michael Novak, Artistic Director of the Paul Taylor Dance Company. Novak danced with the company from 2010-2019 and became the second Artistic Director upon the death of Paul Taylor in 2018, working to continue Taylor's vision and nurture the future of modern dance. Read on to learn more and join us for this beloved
company's performance on February 18,
including an interactive, post-show Q&A with Novak himself!
1. What is your earliest memory of dancing?
My earliest memory of dancing was "choreographing" (a term I use loosely) a dance with a friend to a song in their basement to some great tunes from the 80s. We were probably seven or eight years old. I don't think we had any clue what we were doing, but I remember we had a lot of fun.
2. What is your vision for the company's future?
My role as Artistic Director is to educate, preserve and present the works of Paul Taylor, and to present works by dance's historical icons and today's contemporary dancemakers. We fulfill this through a variety of programs, from The Taylor School, worldwide licensing, our international touring program and our annual season in New York City, among others.
My vision for the future is to have an innovative network of engagement platforms and experiences that allow audiences unique entry points into the world of modern dance. I see myself not only as an Artistic Director, but also as a tour guide through an ever-evolving landscape. Modern dance is an incredibly rich, diverse and unique world, and I look forward to creating ways to bring people in and expand their understanding of what we do.
3. Can you share a favorite moment with Paul Taylor?
My favorite moments with Paul are the ones where we would be in rehearsal doing one of his comedic works and he would laugh. Sometimes it was just a giggle, a nod and a huge smile. Other times, he would really get going and it was hilarious for all of us. Such a powerful thing - laughter.
4. What projects are you working on currently?
This past year, we launched PTDF Digital, an ongoing virtual engagement program for our audiences and patrons that creates unique showings, conversations, archival films and educational offerings about our work here at Taylor. In addition, our dancers rehearsed in the studio this past fall (under specific protocols and guidelines), so we were able to continue our contemporary commission with Lauren Lovette and experiment with how to reimagine beloved Taylor works for film. All efforts are to get our company ready to get back to the stage as soon as possible.
5. How does the company's work comment on current social or political issues?
Few choreographers in dance history have revealed the many facets of the human condition like Paul Taylor. While he has created some of the most hilarious, downright funny modern dances ever made, he has also made some of the darkest and most charged works of our time.
• Big Bertha exposes the violence and destruction that can live underneath the quintessential American family.
• Banquet of Vultures reveals a single political figure in a suit against a sea of soldiers in camouflage searching for escape in the darkness.
• From Sea to Shining Sea is a social satire on America's symbols and history and, for a brief time, was considered anti-American and even encouraged to be dropped from goodwill tours abroad. However, audiences abroad loved the work for its honest take on American history.
• Speaking in Tongues shows us a religious community driven by a demagogue leader that, in their fanaticism to connect to God, take their own lives en masse.
Each of the above works has polarized audiences for their realism, poignancy and controversial look at our humanity. Paul was no stranger to showing these aspects in his work.
Bonus Question: What do you do to clear your head when you need to?
The best way for me to clear my head - and spirit - is to find a place in nature where I can look into the horizon. I have always been in awe of the majesty of nature and there is something about finding a quiet moment surrounded by nature and seeing far into the distance that is very good for my soul.
related event