5 Questions with Veronica Swift
Penn Live Arts Debuts Penn Live Arts Recommends Jazz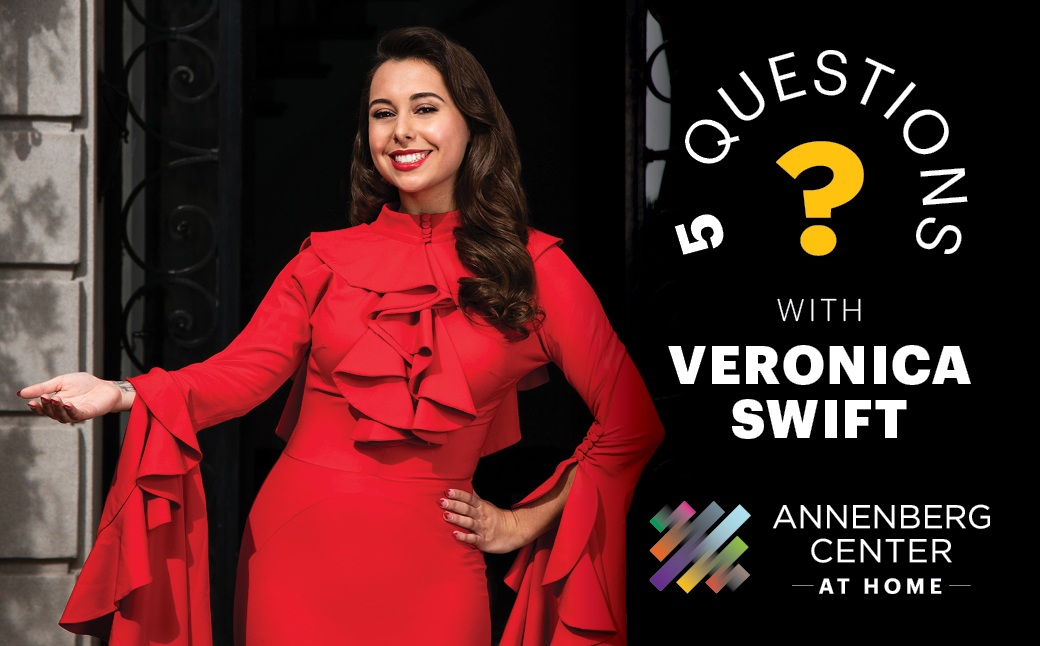 With expansive musical influences, a commanding stage presence and a renowned jazz lineage, vocalist Veronica Swift is carving out her own identity in the world of jazz and beyond, and she's just getting started. She's making her
Annenberg Center debut on November 12
but let's get to know her a bit better through our 5 Questions series.
1. Talk about your background.
As many of your subscribers may know, I grew up in a touring jazz musician family. This means I grew up on the road, sleeping in the back seat of a car with my head propped up against a JBL speaker, stopping at drive-thrus, sitting at the bar or in the green room with my sketchbook while my parents gigged with some of the great jazz legends. You know those old MGM movies about the vaudeville family on the road together? Well, once I turned nine years old and started to sing, that was my life. Learning this music and also the way of the road from the greatest of examples in jazz.
2. What is your earliest memory of hearing music?
Even though I started singing jazz professionally at the age of nine, I wasn't hit with the jazz bug until much later in my life. What got me as a young child (like three or four) was the Bach Harpsichord Concerto in D minor. I would listen to that piece every night before going to bed and could sing it! And from Bach, I went on to loving Stravinsky, Rachmaninoff and Debussy!
3. What is your process for composing music?
When I compose music, lyrics or a screenplay, it is almost as if the piece comes to me as an already finished project. I am hearing it in my head in its entirety, so all I have to do is write down what I hear and edit later. Of course, when I come up with a theme I want to write about, I think on that theme for months, sometimes years, and I'd like to think that subconsciously my brain is doing the composing while I go about my life and ponder the topic in great depth. But once it comes, I have to write it down right away or else it'll be gone, and I'll have moved on to the next topic.
4. What role does the musician have in today's world?
The role of a musician in today's world (or any world) is a subjective question that has no one answer. I can only speak to what I believe my role in this moment in time is artistically. There are days when you read the audience and the climate (socially and weather-wise) of the geographical point of location. Sometimes the people (including myself) NEED the artist to provide them with an escape from their current reality (American songbook, songs of romance and personal tribulations and triumphs). Then, there are the days and the audiences that come to be provoked, that come to question. The artist's role in this situation is to instigate thought and reflection on the current events. I have a show of songs that fall into this category (actually, my new record is very much a commentary on the times we are in). But in my opinion, I cannot stress enough the importance of an artist using their voice and influence to NOT alienate and speak to a specific demographic but to unite the audience by speaking and validating everyone's experiences.
5. What projects are you working on currently?
I am a woman (some would say) who wears many hats. And while yes, I am known to most as a jazz singer, I prefer to use the term storyteller as there are numerous artistic mediums in which I am heavily involved. During my time off in the horrible year of 2020, I have taken advantage of my available months and finally put together cast and crew for my new movie, Dear Old Stockholm. I wrote the script a couple years back and we've been working on it this year, as well as constantly recording and preparing to release segments of my rock opera Vera Icon which I wrote back in college (imagine if Marilyn Manson and Queen had a baby). 😊 I hope down the road to produce a musical of mine called The Man from Harlem off-Broadway and on the West End.
Bonus: Do you have a lucky ritual or object that inspires you?
I wouldn't consider this a ritual, but before a show, every artist has their specific mindset they like to be in. Some need peace and quiet to get "in the zone." Others like me thrive on conflict and neurosis! It peps me up energy-wise (which is helpful when you've been touring 300 days in the year and get tired all the time from flying and driving for hours every day). I like a good old fight or disagreement before a show!