5 Questions with Tyshawn Sorey
Music New Music Special Features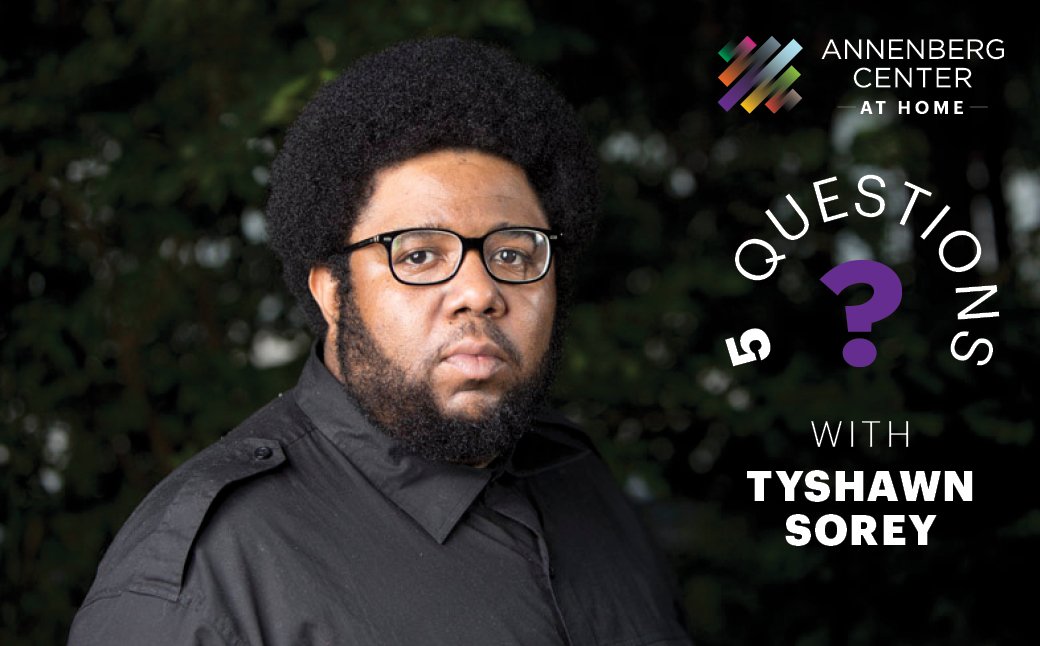 In this brand-new series, we're asking five questions to discover more about Annenberg Center artists, Penn faculty and others whom we just find interesting! To kick us off, we're highlighting
Tyshawn Sorey
, one of two new faculty joining Penn's music department this fall. A 2017 MacArthur Fellow and multi-instrumentalist, Sorey is "a composer of radical and seemingly boundless ideas" (
The Wall Street Journal
) who defies distinctions between musical genres, composition and improvisation. Let's learn more about this new figure at Penn.
1. How would you describe the music that you typically create?
Without getting into my issues with genre names because of their inability to accurately describe music, the music that I typically create as both a composer and performer comprises myriad styles – almost always with an experimental bent. I like to think of myself as an individual who creates music that traverses many musical/art worlds and, ultimately, expands one's consciousness and their sense of what music can do. Put another way, I musically am free to do whatever I want to do and create whatever music I wish. I think this compositional and performative attitude cuts directly to the chase and it seems the best way to describe it.
2. Who are your biggest influences?
The list would be much too long to create, but this is a partial list of composers whose work continues to be influential for me: Bunita Marcus, Anthony Braxton, Tania León, Bill Dixon, Charles Wuorinen, George Lewis, Morton Feldman, Björk, Butch Morris, Marcos Balter, Gloria Coates, Roscoe Mitchell, Olly Wilson, Frank Zappa, Nicole Mitchell, Olga Neuwirth, Jo Kondo, Georgia Anne Muldrow, Carla Bley, Hale Smith, Florence Beatrice Price, Anton Webern, George Walker, Pauline Oliveros and Toru Takemitsu. Again, this is a very partial list.
3. What do you enjoy most about teaching and working with students?
What I enjoy most about teaching and working with students is learning from them. At that point, it's more about the receptivity to information on both sides, and that receptivity fosters a livelier environment for learning rather than simply having them only taking my words as gospel. I love seeing students who go well beyond this, who discover themselves and work diligently to get the results they need to accomplish whatever it is they want. Most rewarding are those special moments when the students make inspiring connections of what is going on in their life and in the world along with the materials read or heard in class. Teaching and learning is more about becoming than anything else. I'm absolutely certain that Penn's wonderful climate of undergraduate and graduate students will afford me these experiences.
4. What themes do you pursue in your work?
Depending on context, sometimes my work does center on current social issues, like the issues that we have been and are currently experiencing in this country. Other times, my music is more about sound itself and doesn't deal so much with narrative. So, it depends.
5. I never start my day without _________.
Black water. In other words, coffee!