5 Questions with Tivon Pennicott
Penn Live Arts Debuts Jazz Special Features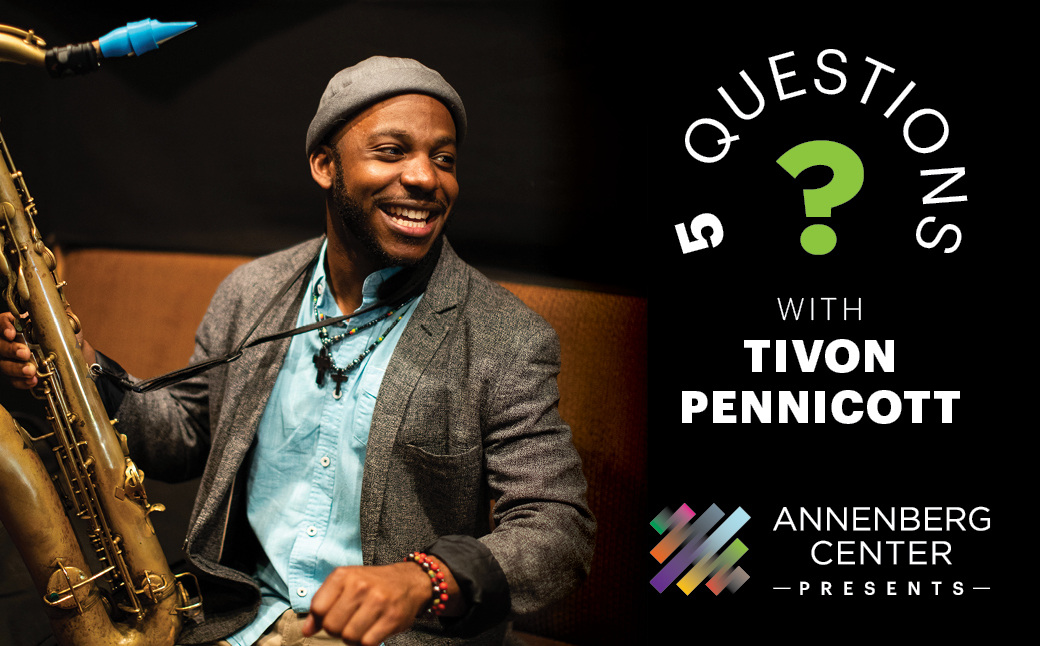 Let's learn more about tenor saxophonist Tivon Pennicott in just five questions! This three-time Grammy® Award-winner is making his
Annenberg Center debut on October 22
as part of our fall 2020 season. We know he's in-demand, as the go-to tenor player for Stevie Wonder, Jon Batiste, Gregory Porter, Esperanza Spalding and more, but we're eager to discover more about this rising jazz star.
1. Talk about your background.
During the American civil rights movement, my parents were listening in a small town in Jamaica from a choppy radio signal on all the happenings. As the early beginnings of positive change came to be, the Land of Liberty became more enticing to my folks. They decided to move to North Carolina in the mid 70's. They eventually moved to Marietta, Georgia where my sister and I were born. Needless to say, our way of living remains deeply rooted within our Jamaican heritage.
2. What first got you into music?
I remember my dad, on a whim, strolling around the house on some Saturday mornings, strumming his guitar strapped on his shoulders while simultaneously blowing through his head-harnessed harmonica, creating the most earthy, organic sounds of hymnals from his youth in Jamaica. My mother would join in with her songbird voice and laugh-sing along. It was an inescapably joyful environment, as my sister and I looked on, soaking everything in. My father had personally given us both, my sister and I, piano lessons from early on as a requirement of the household. During our weekly Sunday devotions, we would sing and play then go through some scripture before church. I eventually got some pencils and began beating on some cups I had scrounged up from kitchen cabinets to play while my sister played piano, father played bass and my mother sang. Seeing that, my father eventually gifted me a drum set. I always cherish the fact that I was a drummer first. Then the melody bug hit me and I gravitated towards the saxophone.
3. How would you describe the music that you typically create?
With my Jamaican heritage and culture, combined with growing up in white-southern gospel, I eventually put together a foundational sound that can have lots of mystery for many. I know for sure that melody rules my world. I want my mother to be able to sing along with my music with ease. But I have my technical side as well, where I enjoy the challenges that exploring my musical craft has created. All in all, my music has two elements, strong groove and melody, no matter what genre I write.
4. What projects are you working on currently?
I have composed, arranged, orchestrated, played, produced and recorded my new album, Spirit Garden. It is set to be released October 27, 2020. It has a 26-piece orchestra with percussion, along with my "chord-less" quartet (bass, drums, trumpet and saxophone). I'm very excited about it.
5. How does your work comment on current social or political issues?
I believe that artists have a responsibility. Whether it's direct or indirect, we have a responsibility to appeal to that part of the human condition which responds to creativity and art. Music happens to be my artistic outlet, and I am sharing my moments during such a poignant time with the listeners. We have heard many times that music has tremendous power to unite, to heal, to create future nostalgic memories and even to awaken one's spirit if it's available. Without saying anything too specific, I would say that my music offers a much-needed healing outlet from all of the noise and stress of our current conditions.
Bonus: I never start my day without _________.
...celery juice. It's my coffee. On a serious note, celery juice has an infinite amount of healing benefits that I suggest everyone explore. It has helped to heal me so much that my single from my album is called "Celery Juice."