5 Questions with Santino Lo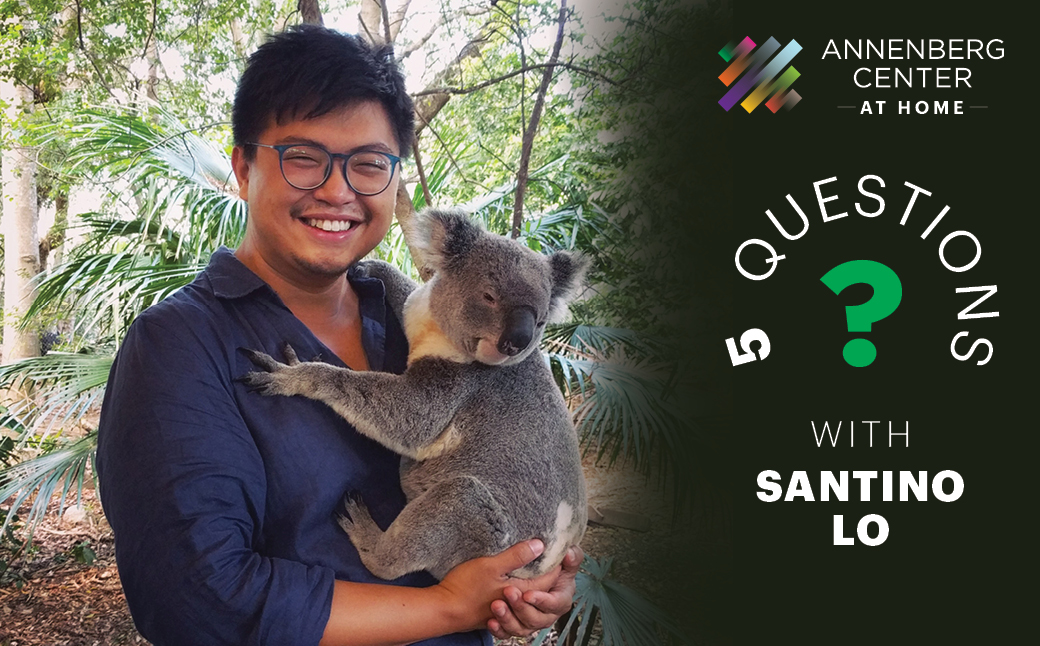 For this installment of our 5 Questions series, we are thrilled to highlight Santino Lo, Artistic Project Manager here at the Annenberg Center. Santino joined our production team in 2017 following his several years as a festival and touring production manager based in New York City. He has worked extensively with choreographers
Jonah Bokaer
and
Marjani Forté-Saunders
as well as the
River to River Festival
and
Bridgehampton Chamber Music Festival
. Read on to learn more about Santino!
1. What first got you into live event production? Do you have a background in the arts?
Growing up in a family of musicians, concert and opera productions have always been in my periphery. At one point, I wanted to be an orchestral musician. But, as I was graduating and considering grad school, I learned that I really didn't enjoy auditions. I was fortunate to have attended a college where I had a lot of freedom to work with choreographers and artists of all disciplines.
In my senior year, I pulled together resources from across campus with students from all the conservatories at SUNY Purchase (music, acting, dance, visual art, etc.) to produce a theatrical concert-in-the-round in the main dining hall. It was very ambitious, terrible and so obviously my first large-scale project; however, that dining hall project eventually became a nonprofit initiative that lasted for several years. We produced shows in low-income housing, through which I was able to fundraise and produce work with the artists around me, all the while creating theatre experiences for children that had little to no access to the performing arts. We would outfit the recreation room into a makeshift theater. I'd say this experience is what started me down the path of live event production.
2. Of the productions you've worked on, what has been the most memorable and why?
I'd say the most memorable was Judd Greenstein and Joshua Frankel's A Marvelous Order: an opera about Robert Moses and Jane Jacob. The opera is based on the true stories of Robert Moses, a public official and "master builder" who influenced the construction of U.S. parkways/highways and suburbia ideals, and Jane Jacobs, a social activist and author who influenced urban planning and how we live in cities. It was the first large project I worked on and I am so thankful to have been involved. I was already a big fan of Greenstein's music and of Dashon Burton (baritone for Roomful of Teeth), who played Robert Moses. He's such a powerful performer.
The project was so different from anything I've done and the most responsibility I've had on any gig at that point. I helped manage scores and timing for director/animator Josh Frankel, managed auditions, recorded sessions, worked with great stage management and video design teams, helped to build custom LED walls and learned what that process was… all kinds of crazy stuff.
3. Who are the most interesting artists you've worked with and why?
Okwui Okpokwasili comes to mind as one of the most interesting artists I've worked with, and honestly one of the most interesting artists working in dance and theatre. Her work is so raw and free of fluff that it is difficult to not have an immediate emotional connection to the performance. I first saw her work (a site-specific version of Bronx Gothic) at the River to River Festival, where I was a production coordinator at the time. The following year, I was promoted to a production manager at the festival and got to work directly with Okwui on a brand-new piece. The festival chooses a special location for each artist, so every aspect of the production is site-specific. Okwui's piece took place in an abandoned armory of an old fort. I learned how she works with Peter Born, her husband and designer, and how they used that opportunity to start building and workshopping components that would later become a piece I toured with called Poor People's TV Room. I just can't get enough of her work.
4. What do you do to clear your head when you need to?
I meditate to the music I love. I think it is an effective exercise that lets whatever is clouding your mind and bringing you fatigue exit from your body as the music passes through you.
I find myself putting on violist Nadia Sirota's albums a lot, especially first things first. Judd Greenstein (the composer I mentioned above) has a piece called "The Night Gatherers" on that album, which is probably one of my favorite pieces of music. The other ones I put on a lot are Richard Reed Parry's Music for Heart and Breath (yes, Richard Reed Parry of Arcade Fire) and composer Nico Muhly's works. I also go back to my classical music roots and listen to Ravel, Mahler, Bach and such when I need to clear my head.
5. What was the craziest thing you've seen go wrong during a live performance?
I'm very fortunate to not have had anything too crazy happen during a live performance, except for one "technical difficulty" in which a four-projector video-art crashed one of the computers, resulting in a very obvious issue from the audience perspective (what you're always most afraid of happening). But the craziest story I have from touring as a production manager was visiting Novi Sad, Serbia and learning that taking a "lunch break" for the local crew means going to the production office (located above the lighting grid on the other side of the roof) and drinking homemade raki (a local version of moonshine) together. It was a miracle nothing went wrong during the performance!