5 Questions with Janet Eilber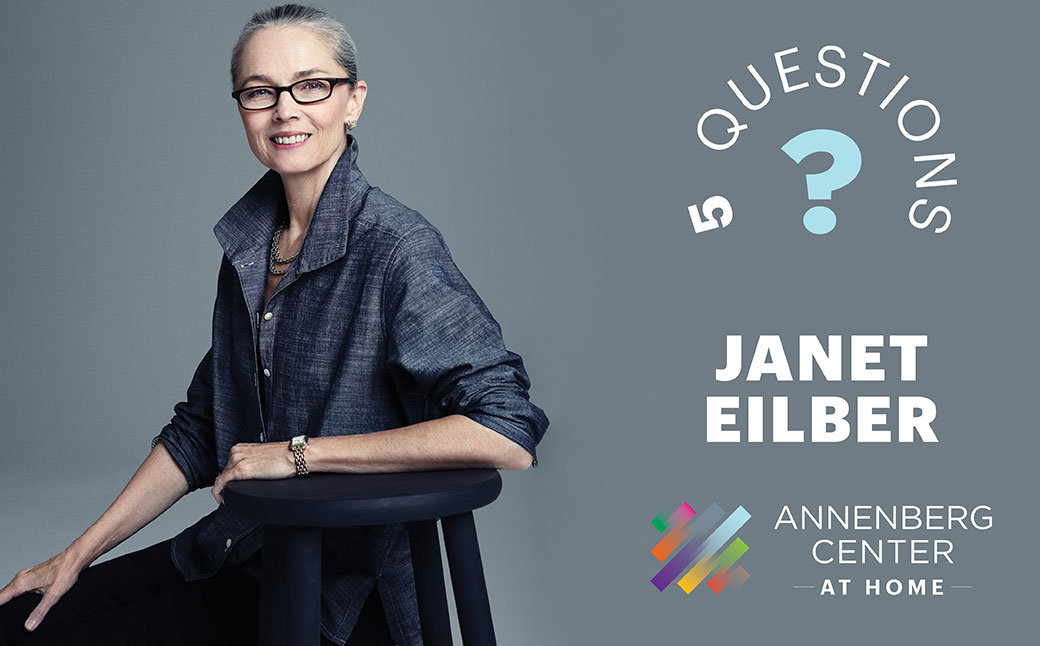 We continue our series asking five questions to discover more about Annenberg Center artists and others whom we find interesting. Today, we learn about Janet Eilber, the Artistic Director of Martha Graham Dance Company which
returns to our stage on December 10
. A former principal dancer with the company who worked closely with Graham, Eilber has been its Artistic Director since 2005 focusing on creating new ways of access to Graham masterworks for today's audiences. Read on to learn more about Janet Eilber.
1. What first got you into dance?
At the age of six, I was entranced by the Treasure House Ballerina on Captain Kangaroo – one of the first programs for children on black-and-white TV in the 1950s. I told my mother that I wanted to do that, and she enrolled my sister and me in ballet classes in Detroit.
2. Talk about your background.
I had a checkered career –– from my great dance training at Interlochen and Juilliard to working with greats of 20th century dance (not only Martha Graham, but Bob Fosse, Tommy Tune, José Limón, Agnes de Mille), to acting in films and TV, organizing foundation funding for arts education or having a great marriage and two fantastic daughters. I draw on all of these diverse experiences every day. I am quite amazed at how it has all come together to support and influence my current role at Graham.
3. Talk about your artistic vision for the company.
My north star for steering the Company is Graham's legacy of innovation. She was a revolutionary. She used to say that she had an "appetite for the new," and I take inspiration from that – and in a way, I take permission! When people ask me if I think Martha would like what I am doing, from commissioning new work or deconstructing Graham works to partnering with Google or using social media to create new dances, I say, "yes!" (Of course, I do.) Part of Martha's genius was her eagerness to embrace change. I want the current Graham Company to be known not only for world-class performances of Graham's remarkable 20th century masterpieces but for continuing to lead into new, unknown territory for dance today.
4. How do you honor the company's legacy while also keeping things fresh for 2020?
A large portion of my brain is focused on this issue at all times. I'm constantly looking for the resonance between the classics and the unstoppable evolution of the performing arts. We often curate our seasons and our programs thematically. For example, we brought The EVE Project to the Annenberg Center in 2019 focusing on the many facets of womanhood. This overarching theme allowed us to collect widely diverse dances, projects, media and lesson plans, giving audiences, followers, students and scholars multiple points of access to our work onstage, in the studio, in classrooms, on social media and on the web.
Also, essential to "keeping things fresh" for 2020 or the future is the extraordinary skill, expression, athleticism and power of our dancers! They are 21st century athletes and the timeless Graham classics are imbued with the energy of this moment in time through their bodies and artistry.
5. What inspires you?
I'm currently gobsmacked by the designer Neri Oxman and her work at the MIT Media Lab. I can't explain her work but badly put, she's creating art and architecture out of combinations of biological structures, computing and engineering. There's an excellent documentary on Netflix that's worth a look [Abstract: The Art of Design]. I'd love to figure out how to collaborate with her team on a stage set or a landscape for a dance.
Bonus: What projects are you working on currently?
I'm looking at a way to reinvent a "lost" work of Martha's using a team of up-and-coming choreographers from diverse backgrounds to re-invent it for today. I love the idea of all these young creative minds coming together to build something brand new inspired by an idea from 75 years ago. I hope we will be invited to bring it to the stage of the Annenberg Center in 2022/23 – and that we will be happily together in a full house!
Bonus: Do you sing in the shower?
Yes, and whenever I am sure no one can hear me. I was lucky enough to do a little singing off and on Broadway. I wasn't very good – let's face it, I was known as a dancer – but I love to sing!
Bonus: What do you do to clear your head when you need to?
Call my daughters to see what they are up to, watch Stephen Colbert's monologue from last night (DVR'd), or look at my dancers' posts on Instagram – they are always doing something inspiring!
Looking forward to being with you!!
- Janet Eilber