5 Questions with Emmet Cohen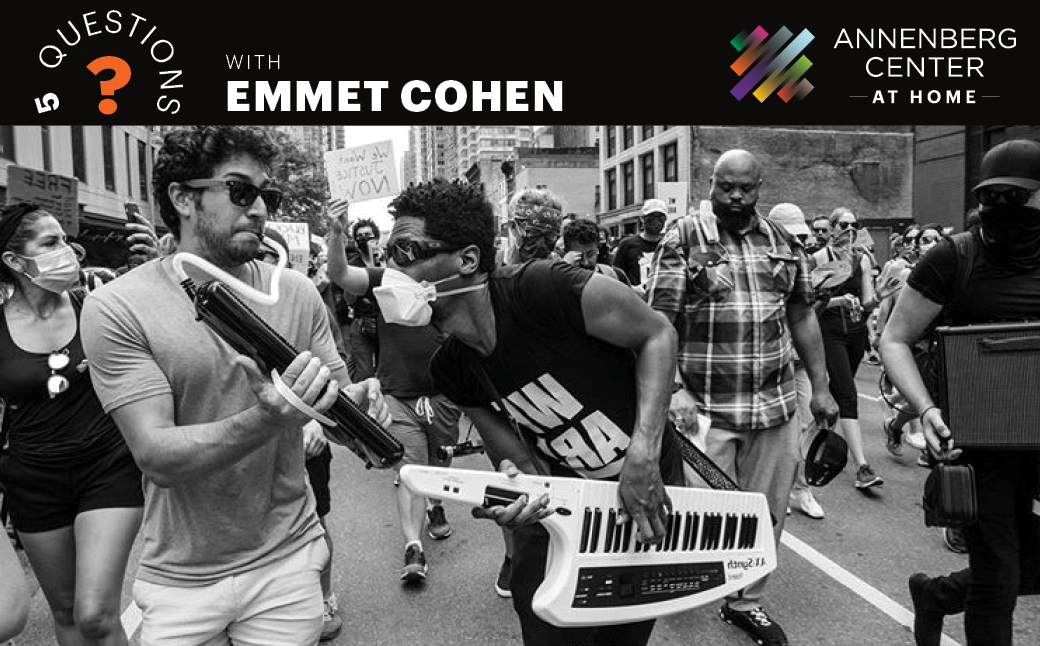 In five questions, we aim to discover more about Annenberg Center artists, Penn faculty and others whom we find interesting. This time, we feature Harlem-based piano phenom Emmet Cohen who made his Annenberg Center debut back in 2019. Cohen blew us away with his prodigious technique, innovative sound and exuberant charm. And now, you can enjoy this rising jazz star from the comfort of your home every Monday night for his Live from Emmet's Place series. Read on to learn more about Emmet Cohen, and join us tonight at 7:30 PM as we share his Monday night concert on our Facebook page!
1. What first got you into music?
I first started piano lessons at three years old, and there was always a lot of music – not in my immediate family, not my parents – but on my dad's side of the family. I think he always wanted to be a musician and it was something that he considered going into as a profession when he was a teenager in the 1960s. Out of high school, he had a recording contract with Brunswick, the same record label with the same management as Jackie Wilson. Jackie's record came out the same time as his record and no one ever called him back again. So he changed professions, but he was really into all types of music. He had a cousin named Greg Kogan who played piano with Buddy Rich and Lionel Hampton (who I met when I was seventeen), among others. My mother is a photographer, artist, sculptor and creative mind. She always encouraged me to pursue my artistic dreams!
2. How would you describe the music that you typically create?
My music and improvisation draws from the core values of freedom, spirituality, community and love. Part of my technical concept is to try to bring together the different styles and the different ways of playing jazz. I love playing stride piano. I love playing classical piano. I love bebop, and I love cool jazz (the term that the critics would use to describe Miles Davis' sounds). I love to spend time around jazz masters and musicians who have had different life experiences than mine. All of this (and more) feeds my artistry in myriad ways.
3. Who are your biggest influences?
I had gotten a gig with the Dizzy Gillespie Alumni All-Star Big Band at the Kennedy Center for New Year's Eve 2013. During the five-hour-or-so bus ride there, I sat across from Jimmy Heath, who played tenor in the original Dizzy Band…an incredible connection. The whole way down, he was telling stories about Charlie Parker coming over to his parents' house for dinner and how he would lend him his horn; about Coltrane playing alto in his big band; about growing up around Benny Golson; and about playing with Philly Joe Jones and his brother in the Modern Jazz Quartet. He spoke about all of his favorite musicians.
At the time, I had just graduated from the University of Miami. I learned a lot there, but sitting there on the bus, I was learning the kinds of things you won't ever learn at a jazz school. What I was hearing was the legacy – the most important information, in my opinion. It was then that I realized there was a great disparity between the elder generation of jazz masters and the young generation of serious jazz musicians.
In order to help continue the legacy in the most authentic way, I decided to create a project called the Masters Legacy Series, a series of recordings, live performances and interviews with jazz masters. I reached out to Jimmy Cobb and asked him if he'd like to make the first record. He became a mentor right off the bat. I learned so much putting that recording together. It gave me a chance to be around someone who played with Charlie Parker, Billie Holiday, [John] Coltrane and Miles [Davis]. I got to hear stories behind the music. Not only stories, but also the feeling behind the music: the playing, the rhythm, the aura.
The next project was with Ron Carter, and that was a whole different thing. I've also played with Benny Golson, Tootie Heath, George Coleman and Houston Person. I've been taught so many lessons by all of them. They are all so different in their own particular way and they all have their own life lessons to impart, their own unique outlook on what is important in life. Ron Carter is the most serious, focused and thoughtful musician that I know; the most prepared musician that I have ever worked with. Jimmy Cobb is a lesson in straight ahead – all forward motion – and you can hear it in the ride cymbal beat. Players like Albert Tootie Heath and his brother Jimmy, they infuse humor into the music. They realize how to connect with other humans on a deeper level.
4. What projects are you working on currently?
I just signed my first official record deal with Mack Avenue Records, and am looking forward to a release in January 2021. The album will be called Future Stride and will feature my trio, Russell Hall and Kyle Poole, alongside our amazing peers Marquis Hill and Melissa Aldana. They are all incredible musicians and we come together to make a cohesive and powerful musical statement.
5. How does your work comment on current social or political issues?
A lot of my experiences with the jazz masters are especially relevant now in such a harsh political climate. People are often quick to disregard their past. They disregard the history of their origins and their people. You see it going on in Europe, Germany and Africa, and you of course see it here in America. People seem to have forgotten what World War I and II were about, and what hate can do to a culture. People seem to have forgotten the extreme climate of injustices that America was founded upon. I think some of that can be rectified using the wisdom of our elders, helping to inform our paths forward. I hope what I'm doing will set a societal example of how to respect others, how to maintain democratic values and how to fight for what is right. We want to move things forward, and need to refrain from making the same mistakes that were made in the past.
Bonus Question: What do you do to clear your head when you need to?
I have a few other interests outside of piano and jazz in general. Yoga, exercise, chess, skiing, reading and time with friends and family all clear my head. Staying politically active and protesting alongside my peers has become a new normal as of recent as well!