5 Questions with Dorothy Wilkie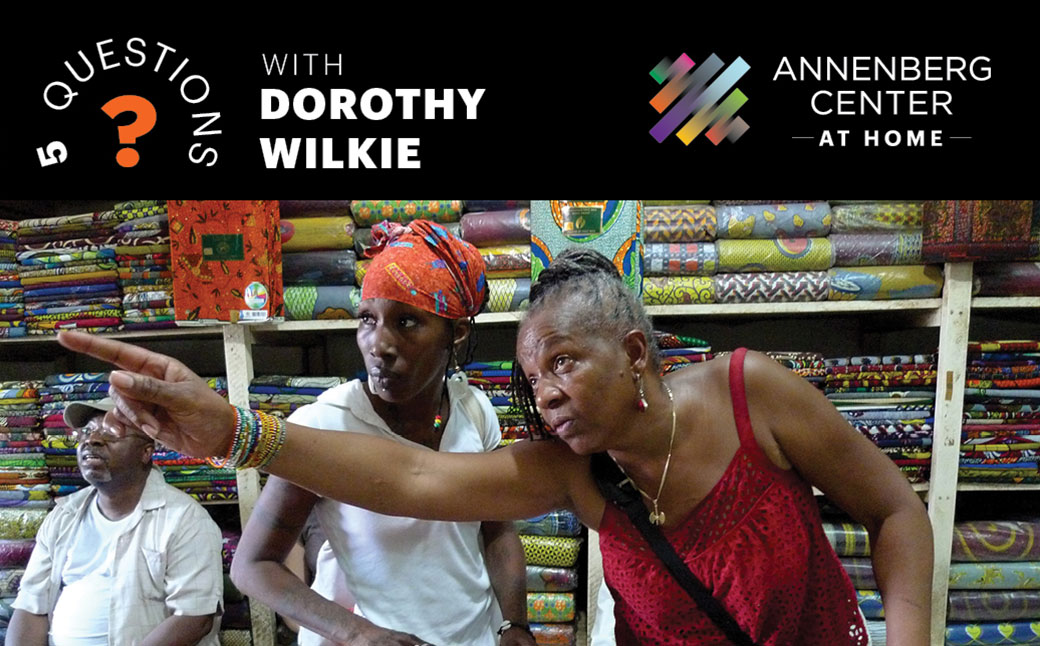 We continue our series asking five questions to discover more about Annenberg Center artists and others whom we find interesting. Today, we learn about Dorothy Wilkie, dancer, choreographer and Artistic Director of Kulu Mele African Dance & Drum Ensemble. With her expansive knowledge of Afro-Cuban and West African dance, Wilkie has led Kulu Mele for over thirty years and, most recently, created the full-length work
Ogun & the People
as part of the company's 50th anniversary celebration. As an Annenberg Center commissioned work, we were thrilled to have Kulu Mele grace our stage for the first time in 2019 with this world premiere. Read on to learn more about Dorothy Wilkie.
What first got you into dance?
I always loved to dance as a child and at family gatherings, people always used to call me to dance to certain music. And that's where it started. Coming up in school, there were Friday lunchtime dances and Friday after-school dances that I never missed. And with live music! People put rhythm and blues to Latin. We were dancing to mambo and cha cha. Slopping and bopping and stranding. Wilk (John Wilkie) and I were known to be dancers. People would make a circle and watch us.
How would you describe the works that you typically create?
I try to give the group a little bit of everything. I had Assane Konte from KanKouran come and teach the company. He's Senegalese. I always try to have the group get the flavor of a lot of cultural things. I have taken the company to Guinea to study with M'Bemba Bangoura and members of Les Ballets Africains, and that really opened peoples' eyes. Two years ago, we went to Cuba to work with Cutumba. I had [Francis] Nii-Yartey from Ghana do some work with Kulu Mele. All these people, I love their work and I want to keep developing our cultural background. And then the drummers, I like to keep them fed, to keep giving them new things to learn. In 2021, M'Bemba and Youssouf Koumbassa are going to be coming back to teach us Soko, from the Malinke people. I watch a lot of dance and bring it all back to Kulu Mele. Sometimes some movements I saw years ago come back to me, and I put that into a piece. There is a movement that appeals to me and I imagine how it might fit the dancers we have now, or the moment in some way.
Who are your biggest influences?
[My biggest influence] is traditions that I am following. Baba Crowder taught me a lot. He gave me the basics. I have to say that I look up to him and I appreciate him. Enrique Adamo Admiral opened Afro-Cuban traditions to me in the early 1980s. Where Afro-Cuban culture is concerned, Ballet Folklórico Cutumba and La Mora (Danys "La Mora" Pérez Prades) are also important influences for me. They came together into my life. I met them in Cuba. We went to see La Mora's group perform. After the performance, she invited the people to a bantaba [dancing circle] and we ended up dancing together with the community. Later, I saw her in a class in New York that she was teaching. I learn a lot from her.
For my West African influences, Les Ballets Africains is important. I saw them for the first time in the 1970s. They were touring and we went back and saw them several times. There weren't that many people in one of the shows, and we went down and got front row seats. I couldn't believe I was so close to them! I saw a whole other kind of drum and a whole other kind of dance. When I first saw them, I said, "Oh, our culture is so rich!" They made me feel so proud. I would have followed them anywhere, if I had money. I would have followed them any place. It just gave me more desire, a hunger for the culture. I wanted to learn more.
I never would have thought that I would take Kulu Mele to Les Ballets Africains' rehearsal space in Guinea the way we were in 2008, taking classes together as a company! And when we were there, we got material for costumes and learned Mali Sadjo, which we performed in 2009. Little by little, I built the company up with dance, costumes, drums and culture. And people want to be part of Kulu Mele which means a lot to me. I was looking at Baba Crowder's great-granddaughter who dances in Omo Kulu Mele, our children's company. It would be amazing if she grew up to be a leader. He'd be doing flips up there.
What projects are you working on currently?
"We're Coming Out" is our new video. I was trying to figure out how I was going to do something with Kulu Mele. I was watching how other people are doing virtual things. It is a new way to step out into the new world, the way it is now, and a way for people to get to know Kulu Mele right now. I chose the works that I want Kulu Mele to present going forward, and we made a video. So that is a project I'm working on. It just started coming to me. Elegba opens up the way and allows us to go forward, so I took us to the park, at the fork of the road. Aidan Un, who has made wonderful videos with us, had many good ideas, so it was a good collaboration. But I thought of places, and I pictured people dancing in familiar places that fit with the dance themes. We're trying to step back into the word as it is now.
I'm planning to work on the pieces that are in that video. Everybody in the company likes what I choregraphed for Elegba [from what] we performed in Ogun & the People last fall. But that Elegba is short, and everyone wants to be in it. I am taking a couple different Elegba dances, traditional dances that we learned over the years, and I am going to put them together to extend the piece. I thought it would be a good thing to bring Elegba out as a dance again. It is always a good time for Elegba because it opens the road! I am thinking to do this as a performance whenever we get jobs again. When we get calls, it'll be laying in the cut to pull out!
In 2021, we are planning to bring M'Bemba Bangoura and Youssouf Koumbassa here to teach the company a new piece, Soko, to expand the West African repertoire with another dance from Guinea.
Which of your past collaborations or partnerships were the most memorable and why?
Ogun & the People was the biggest and most memorable collaboration and choreography that I have ever put together! It was an amazing project. It grew into something unforgettable for everybody involved. Ogun & the People is a Yoruba pataki, a parable that passed from Nigeria to Cuba, and now this pataki traveled to Philadelphia. This particular story was a favorite of mine. I knew about, heard about, read about it. And I wanted to put it on the company. But there were some parts of the story where I just wasn't sure how to do it—how to show what was happening. The project was to make a dance-drama out of the story.
We got a Pew grant that gave me the opportunity to take the whole company to the source, to Cuba. I always dreamed of taking the company there, because I traveled and studied there myself. I got funded to go to Cuba to study with Idalberto Bandera Sidó and Cutumba, and to get some direction to figure out how to put the play on stage. The trip was amazing. We got a chance to venture into the cultural history of Santiago de Cuba, and experience how dance and culture connect. And we got to study together with Cutumba's company, learning this play. All of the dancers and drummers were blown away by the culture. And also by seeing the level of skill of these Cutumba artists, who practice every day, dancing and drumming in that heat, and with their own building and theater and costume department—all Afro-Cuban dance. So it opened everyone's eyes in many ways. It broke barriers for me to get information on how to present some different parts of the story. That was a learning for me. And that opened up other things in my mind for choreography. For how things can be told. Something so simple.
Plus, we had a great team helping with staging and production and the show looked amazing. Ife Nii-Owoo designed stage settings that were beautiful art that showed the feeling of each Orisha [deity] and each part of the story. We never had that before. And [with] that performance in November 2019, I was on a cloud. It was a wonderful, wonderful feeling. And then COVID came. But we are going to take this show on the road, like I planned. Ogun & the People isn't over yet!