5 Questions with David T. Little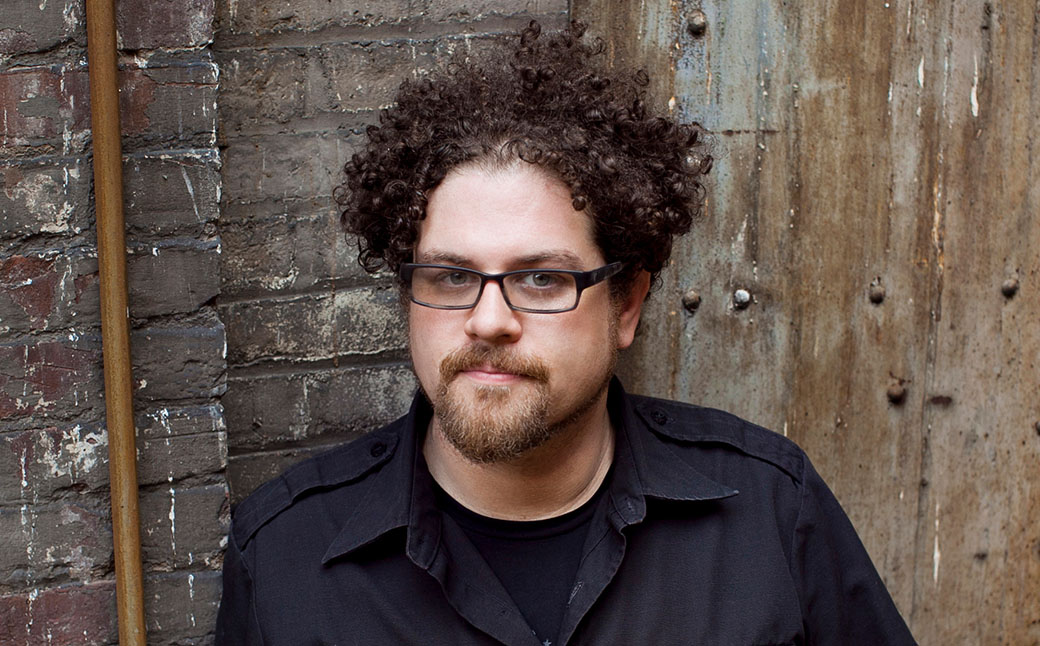 "One of the most imaginative young composers," (
The New Yorker
) David T. Little is known for his "knack for overturning musical conventions." (
The New York Times
) His theatrical choral work,
SIN-EATER, a Penn Live Arts co-commission, will see its world premiere on Oct 14-15
, performed by Philadelphia's Grammy® Award-winning new music choir, The Crossing, and the Bergamot Quartet. Little is also featured as part of our
ListenHear
series, showcasing significant contemporary musical voices. In today's 5 Questions feature, we get to learn how early music memories and a wide breadth of influences have influenced Little's work. Enjoy!
1) What first got you into music?
Music was very present in my upbringing. My mother was always listening to it and singing along, or just singing. Her mother was a fabulous whistler, both of my grandfathers played the organ, and my father played drums and guitar, so those instruments were always around. None were professional musicians, but there was a love for music that I absorbed early, and it was something we shared as a family.
2) What is your earliest memory of hearing music?
I have this distinct memory of hearing The 5th Dimension's
Up, Up and Away
on my family's home stereo. It was a spring day, and I was in our living room, which at that time, was in all its late 70s glory, decorated in gold and brown fabrics with dark wood furniture. I was probably five or six years old and it was perfect.
3) How would you describe the music that you typically create?
Well, my bio says that my work "probes the deep corners of human psychology, invoking political, historical, spiritual, and social themes as pathways for exploring the human condition" and I'd say that's true. I'm really interested in getting into tricky issues and seeing what they have to say. I'd also add that it is very concerned with the idea of drama, even when it is a piece for the concert hall. I tend to be drawn toward big ideas and big gestures; the philosophical, existential, and theatrical. I also write comedies.
4) Who are your biggest influences? Any artists you love that everyone should check out?
My work draws on an extremely wide range of influences. On the more pop side of things: Nine Inch Nails, Public Enemy, Megadeth—i.e. "heavy music"—but also artists like The Cure, Ani DiFranco, Tom Waits, Harry Chapin, Marvin Gaye, Gillian Welch, Utah Philips, and Willie Nelson. And of course, lots of classical composers: Stravinsky, Monteverdi, Berg, Britten, Schubert, Gerard Grisey, Galina Usvolskaya, Lou Harrison, and Giovanni Valentini are always on my mind. Books and art are also really important to me. I think a lot about authors like Garth Greenwell, Karin Tidbeck, Patrick Leigh Fermor, Anne Elizabeth Moore, Thomas Hardy, Stephen Crane, Yu Miri, and Anne Waldman; and painters like Turner, Goya, Zurbrán, El Greco, Dürer, Memling, and van Eyck. I have a real soft spot for classical and renaissance portraiture, apparently, so I also really love artists who engage in a dialogue with / critique of it, like Titus Kaphar, Kerry James Marshall, and Kent Monkman. I think a lot about work by Agnes Martin, Leonora Carrington, Remedios Varo, Elijah Pierce, and Sun Yuan and Peng Yu's installation "Can't Help Myself." I really admire the work that some friends of mine are doing — Melodie Provenzano, Chris Rush, Corey Michael Smithson, and Every Ocean Hughes — and quite recently discovered Australian painter eX De Medici, whose work I'm really loving. I think in all of this work there is something both challenging and communicative, both engaging with past forms and looking forward to what's to come. I'd definitely recommend people check out any of these artists.
5) Do you have a lucky ritual or object that inspires you?
The last piece I wrote for The Crossing is called
dress in magic amulets, dark, from My feet
. It is about how in the time of the Crucifixion, people would wear used nails as amulets, believing that they had taken on magic properties. After writing it, nails became imbued with meaning for me—both as
memento mori
and quasi sacred objects—so I now have both a bracelet and a necklace, which I wear pretty regularly. Likewise, I have a goat skull—perhaps not what you were expecting!—which I've had since a local farmer gave it to me as a kid. All of these objects invoke the
memento mori
for me, which connects me to a so-called distant past (which is not actually so distant) and grounds me in a way that I find important. The skull, in its way, reminds me of where I came from.
related event