The Crossing's new album CARTHAGE features music by James Primosch
Penn Live Arts Recommends New Music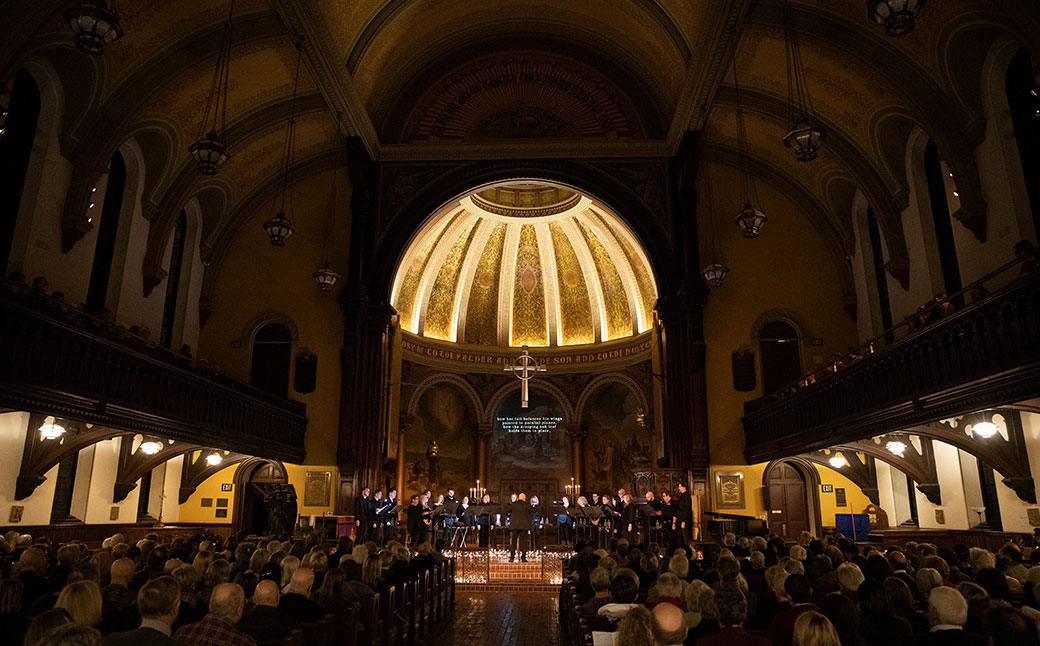 We were thrilled to partner with
The Crossing
this season as our choir-in-residence, and deeply disappointed when their residency was cut short due to COVID-19. We presented The Crossing @ Christmas in December, followed by the unforgettable Knee Plays in February as part of our three-week
#GLASSFEST
honoring
Philip Glass
. We then closed our doors just days before the choir's final residency performance of the season, the world premiere of
Michael Gordon
's
Travel Guide to Nicaragua
with cellist
Maya Beiser
. While we had hoped to reschedule the performance, we ultimately had to cancel it as the pandemic continued to unfold.
Nevertheless, The Crossing, like many performing ensembles, has carried on in the virtual landscape. Every morning since March 16, Rising with The Crossing has provided us with daily selections from the choir's best performances and recordings. You can sign up below to receive these morning emails. The very first installment, featuring David Lang's the little match girl passion, was one that we experienced live at The Crossing @ Christmas. The Crossing was recently honored when the Library of Congress approached the group about including the entirety of Rising in the National Archives.
Just two days before our Travel Guide to Nicaragua world premiere, The Crossing released its Anonymous Man album. The release was perfectly timed, as it not only featured another new work by Michael Gordon, but also highlighted the significance of community as we found ourselves transitioning into solitary lifestyles. Conductor Donald Nally describes Anonymous Man as "a beautiful contemplation of what a community is and does; how it makes, holds and loses its own history."
Now, The Crossing celebrates another brand-new album with CARTHAGE. Released this past Friday, CARTHAGE features six pieces by James Primosch, a professor in Penn's Department of Music since 1988. Primosch is an internationally recognized composer who recently received the 2020 Virgil Thomson Award for Vocal Music from the American Academy of Arts and Letters. Look for our separate spotlight feature on him this week.
The first three works on CARTHAGE were also original commissions by The Crossing and Donald Nally. The album opens with Journey (2019), a solemn chant based on the work of 13th-century monk and mystic Meister Eckhart. The title track Carthage (2018) follows, drawing on prose from Marilynne Robinson's novel Housekeeping. In Mass for the Day of St. Thomas Didymus (2014), Primosch explores the depths between unbelief and faith. The next two works linger on similar questions of faith and spirituality – spiralling ecstatically (1998), a setting of an E.E. Cummings poem, and Two Arms of the Harbor (2011), which draws on the musings of Thomas Merton. The album concludes with One with the Darkness, One with the Light (2006), a setting of poetry by Wendell Berry that explores tensions between light and dark, waking and sleeping, and life and death.
As we wait for the opportunity to experience The Crossing live again, CARTHAGE is a beautiful reminder for us of how much this Grammy Award®-winning and nationally-recognized Philadelphia new music choir has to offer. The Crossing's executive director Jonathan Bradley says the choir members miss performing together more than anything. "We come together for online cocktail parties on Sunday afternoons and [hope] to get back to making music together as soon as it's safe and responsible." We miss The Crossing too.
Please listen to CARTHAGE below and sign up here to "Come. Rise. Now." with The Crossing every morning.