Our fall 2020 digital season takes the performance to you
Dance Early Music Film Jazz Philadelphia Premieres U.S. Premiere Virtual Stage World Premieres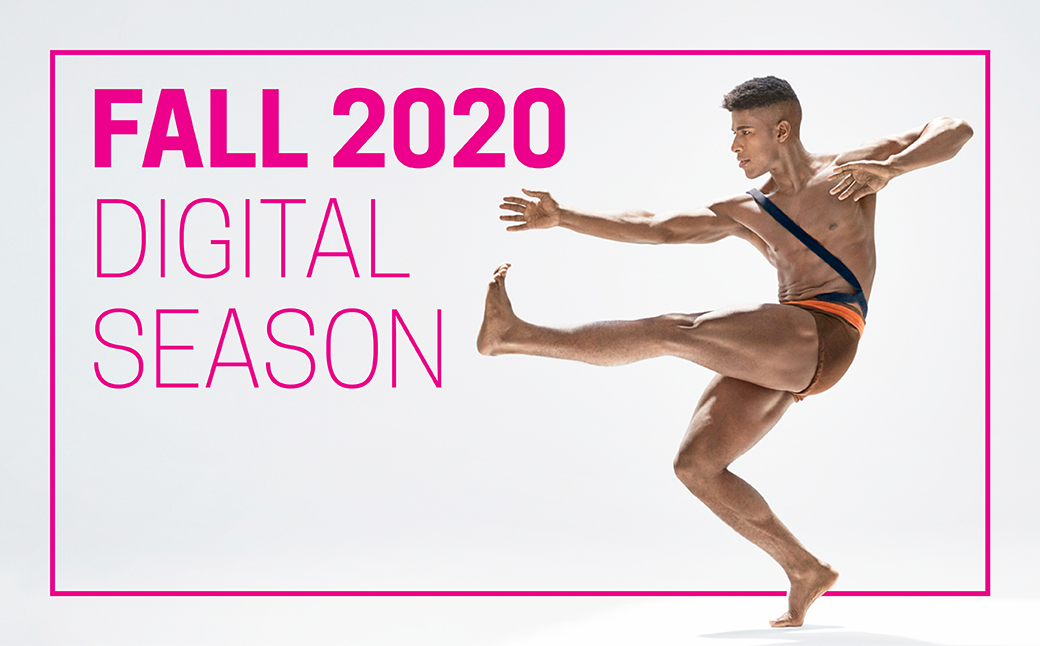 We are excited to announce our fall 2020 digital season! Curated and created just for our patrons, our exclusive live performances will bring some of the best dance and music artists from our stage to your home. Also, new for this season, we are pleased that films will be returning to our line-up, broadening our programming and supporting independent film on campus and in West Philadelphia.
Each one-night-only music and dance performance will be broadcast live from our theatre and be followed by a Q&A with the artists. Viewers will have the opportunity to chat live with each other and the performers, forging connections at a time when we all feel so apart. Read on to discover what's coming to our virtual stage!
Dance
To kick off our dance performances, Caleb Teicher returns after his successful Philadelphia debut on our stage in 2018, this time appearing alongside beatboxer Chris Celiz in an improvised, live event where the virtual audience will inform, change and inspire the performance (October 1). We then welcome the critically acclaimed Pam Tanowitz Dance in its Philadelphia debut with works that take classical movement and turn it on its head in a beautiful interplay of rhythm, style and idiosyncrasy (October 15). Local favorite PHILADANCO returns after last season's popular holiday hit, Xmas Philes, for an evening of solos and duets (October 29). Kun-Yang Lin/Dancers joins us for a special program that reflects on the pandemic with prevailing messages of hope and unity through a new work preview and a surprise world premiere (November 19). We close out our fall dance line-up with the iconic Martha Graham Dance Company in Graham's beloved Appalachian Spring and Dark Meadow Suite, as well as the full solo work, Ekstasis (December 10). Learn more about our dance series.
Music
Our music series features three Annenberg Center debuts by standout jazz artists and one very special early music performance. First, we welcome the Tivon Pennicott Duo, consisting of the Grammy® Award-winning and much-in-demand tenor sax player alongside drummer Kenneth Salters (October 22). Next, a recent finalist at the prestigious Thelonious Monk Jazz Competition, Veronica Swift is a rising star vocalist who, at only age 25, has already performed with some of the biggest names in jazz (November 12). Just a few days later, mezzo-soprano and Penn Department of Music Artist-in-Residence Meg Bragle, who gave a stunning performance with Dunedin Consort last season, teams up with lutenist Richard Stone, co-director of Philadelphia's Tempesta di Mare, for an intimate meditation on music and solitude (November 15). Finally, we close our fall digital season with a holiday-themed performance by Grammy® award-winning jazz pianist Sullivan Fortner (December 17). Learn more about our music performances.
Film
Our film series begins with The Surrogate, the story of a New York web designer whose generous plan to be her best friend and his husband's surrogate is thrown off by moral dilemma that tests their friendship (October 2). Aviva offers a unique impressionistic, genderfluid lens as it follows a young Parisian's long-distance courtship, marriage and accompanying struggles (November 13). The heartfelt documentary My Darling Vivian takes us through the romantic yet dizzying life of Vivian Liberto, Johnny Cash's first wife (November 20). And lastly, Two Beats One Soul, follows the journey of husband-and-wife music producers Ray Chew and Vivian Scott Chew as they bring together artists from the U.S. and Cuba for a collaborative project of Afro-Caribbean-rooted sounds (December 3). Learn more about more about our film series.
Livestream subscription packages are on sale now. In addition to discounted pricing, livestream subscribers also receive free access to our entire film series as part of their package. Individual event access will go on sale Monday, September 14. We look forward to seeing you online this fall as we come together to be inspired by the power of the performing arts!