Spotlight on composer James Primosch, Professor of Music at Penn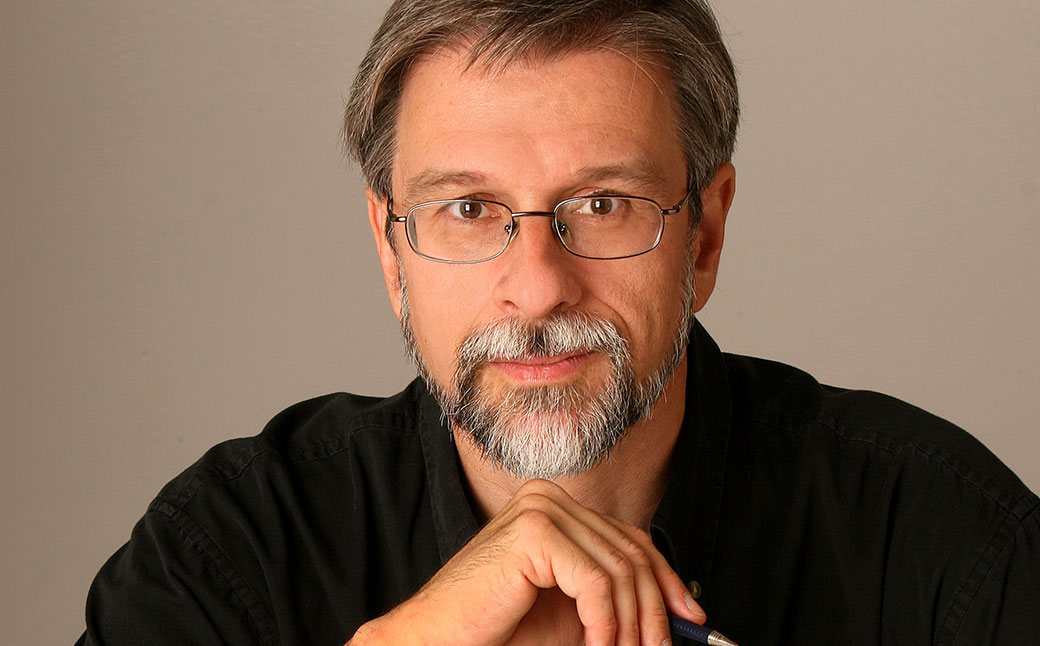 At the top of May, acclaimed composer and Penn Professor of Music James Primosch wrote on his
blog
, "Sometimes not much is happening, but suddenly when things do happen they come in clumps. I've seen it with performances that cluster together, with empty weeks before and after. And now I have two CDs coming out a week apart." How fortunate for music-lovers: proverbial May flowers in the form of magnificent music.
The album Descent/Return features piano and vocal works by Primosch and John Harbison, Primosch's teacher, mentor and friend. Primosch studied composition with Harbison in the summer of 1984 during his Tanglewood Fellowship. The two have kept in close contact since, and Primosch credits Harbison with introducing him to many outstanding musicians, including the husband/wife duo Lucy Fitz Gibbon (soprano) and Ryan MacEvoy McCullough (piano), who perform on this new recording. Primosch contributed five of his songs, including the title piece, as well as Pure Contraption, Absolute Gift, a set of five piano preludes. Descent/Return is a two-movement song that features poetry written specifically for the piece by Susan Stewart. It tells the story of Aeneas' journey to the underworld. Harbison's contribution to the album includes Simple Daylight, a set of six songs, plus his Piano Sonata No. 2, recorded commercially for the first time.
Harbison also has a connection to the other album released this month: CARTHAGE, recorded by two-time Grammy© Award-winning choir The Crossing. The album, a survey of Primosch's choral music, includes three works originally written for Emmanuel Music, a Boston-based choir for which Harbison invited Primosch to compose. The major work on the album is Mass for the Day of St. Thomas Didymus (also known as doubting Thomas). The piece is scored for four soloists, who sing the Latin Mass text, while the main choir sings Denise Levertov's cycle of poems that reflect on the text of the Mass. The recording opens with a work for male voices written especially for this album, a Meister Eckhart setting called Journey. One With the Darkness, One With the Light, a composition on a Wendell Berry text for female voices, closes the album.
Although Primosch doesn't think of himself as a "choral guy" per se, two of the works on CARTHAGE – the title piece and Mass – garnered Primosch the American Academy of Arts and Letters' 2020 Virgil Thomson Award for Vocal Music, announced this past February. Other honors he has received include a grant from the NEA, a Guggenheim Fellowship, and a Pew Fellowship in the Arts. His catalogue of roughly 100 works includes pieces for solo and chamber ensembles, orchestra and wind ensemble, electronic music, and of course chorus. His works have been performed by the Chicago Symphony, the Los Angeles Philharmonic, Dawn Upshaw, Sir Andrew Davis, Gilbert Kalish, Gunther Schuller, and many others.
Born in Cleveland, Ohio, Primosch received his undergraduate degree from Cleveland State University, his master's degree from Penn and his PhD from Columbia University. He counts Mario Davidovsky, George Crumb and Richard Wernick among his principal teachers. He has served on the faculty at Penn since 1988.
Congratulations, Professor Primosch, on all of your well-deserved accolades this past semester!