Celebrate our Philadelphia Children's Festival's 35th birthday from home
Penn Live Arts Recommends Children's Festival Family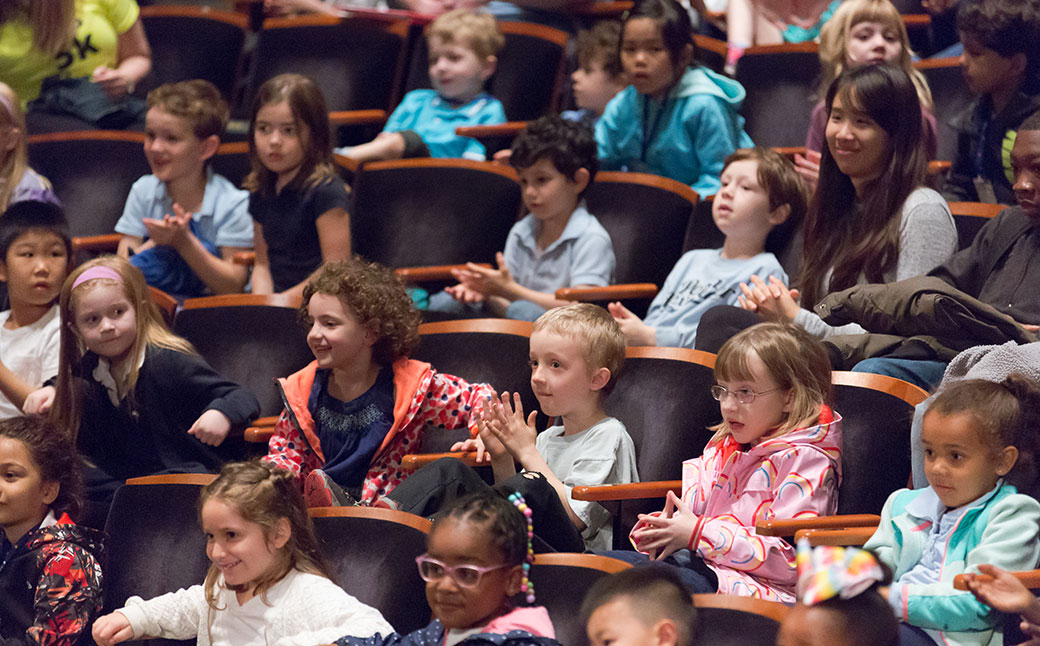 Even though we can't be together for our Philadelphia Children's Festival's 35th birthday, we're still celebrating from home with some of the best virtual content from this year's performers. We look forward to seeing you at the 2021 Children's Festival. Please enjoy!
Magic Shadows by CATAPULT
Four Seasons
CATAPULT's live shadow illusion show, Magic Shadows, as seen on season eight of America's Got Talent, was one of the performances we were most looking forward to this year. Fortunately for us, as part of its #stayathome presentations, CATAPULT's founder and director, Adam Battelstein, presents the full-length performance of the company's Four Seasons, set to the renowned music by Vivaldi. Dance audiences might recognize Battelstein from his 19 years with Pilobolus.
After the performance, get on your feet for a Play Along Shadow tutorial with Anjuli Bhattacharyya, rehearsal director for CATAPULT. Follow step-by-step as Bhattacharyya recreates one of the frogs you see during the spring section of Four Seasons.

Circa Contemporary Circus
Don't Don't Try This at Home
In 2018, we were so fortunate to present Circa's U.S. premiere of Humans, a remarkable work of strength and agility and a stirring, visual depiction of what it means to be human. So, there was no hesitation for us to bring Circa back with one of their all-ages programs to headline this year's Children's Festival. We hope to be able to enjoy Wolfgang's Magical Musical Circus together in the future. In the meantime, the Australian circus arts troupe has kept busy with its brand-new web series, Don't Don't Try This at Home, which premiered last month on YouTube. You won't not want to try these fun yet challenging acrobatic tricks. Make sure you have enough space at home first! Watch the first episode below before heading to Circa's YouTube channel for more.

Story Pirates Podcast
The Story Pirates began as a group of friends in a Harlem school auditorium who put on "absurdist sketch comedy shows" based on real stories written by kids. The shows became wildly popular and eventually began touring nationally as both a live, improvised show and an in-school workshop. Story Pirates has become so popular that it is now its own media company, producing a hit radio show, the number-one podcast for kids and families and an acclaimed middle-grade book series from Random House.
Mirroring its live production, the Story Pirates Podcast features stories by kids. Now in its third season, the podcast recently won the 2020 iHeartRadio Award for Best Kids and Family Podcast and received a 2020 Webby People's Voice Award nomination. Past celebrity guests on the show include notable names like Claire Danes, John Oliver, Patton Oswalt, Mandy Gonzalez and more. Listen below and visit the Story Pirates Podcast page to discover other past guests and read kids' original story submissions. In addition, take a look at the company's newly launched Story Pirates Creator Club, where kids, families and educators can find all kinds of activities centered on creativity and writing.
The Queen's Cartoonists
The Haunted Ship
The Queen's Cartoonists perform music from classic cartoons and contemporary animation in sync with video projections of the original films. The live performances they create are equal parts comedy, nostalgia and musical performance, featuring a band of world-class, professional musicians. You can read about their individual accomplishments on The Queen's Cartoonists' website.
The Haunted Ship is an animated short from 1930 by Van Beuren Studios. The story follows a cat named Waffles and a dog named Don whose plane enters a rainstorm and crashes into the ocean, driving the pair on an adventure in a sunken ship labeled "Davy Jones." In this recorded version of the live show, watch as The Queen's Cartoonists recreate the original score, vocals and sound effects right before your very eyes.

Charlotte Blake Alston
Like us, State Theatre New Jersey had hoped to welcome master storyteller Charlotte Blake Alston to the stage this spring, so we're thrilled that State Theatre has made this special, recorded session with Miss Charlotte available for all to enjoy at home. Grab the kids, some milk and some cookies, and watch below to find out what happens to a tortoise who just won't stop talking!
Charlotte Blake Alston has made a remarkable career in storytelling and narration. She has brought stories and songs to festivals, schools, universities, museums, libraries and performing arts centers across the nation, and has performed with major orchestras such as The Philadelphia Orchestra, The Orchestra of St. Luke's and The Cleveland Orchestra. Enjoy some of Miss Charlotte's past stories at charlotteblakealston.com.

Pilobolus @ Play
Pilobolus is without a doubt an Annenberg Center audience favorite. As one of the best dance workshop offerings for families, we're happy that the company has taken to a virtual Pilobolus @ Play format during the pandemic.
The whole family can participate in the company's all-ages classes on Facebook and Instagram Live. Classes begin at 3 PM every Monday, Wednesday and Friday if you want to follow along live, or you can watch past broadcasts in their video collection. Here's a fun one from last month you can do with or without a partner.