» View our health and safety policies
19/20 Season: Dance Subscriptions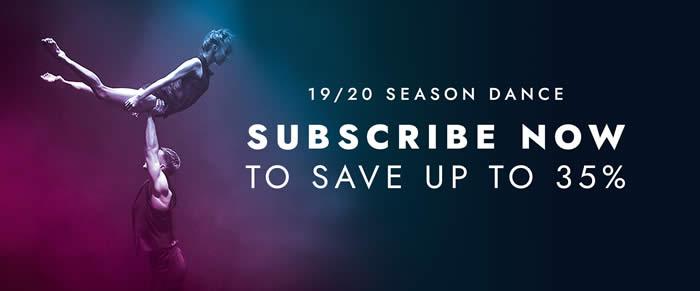 Celebrate the legacy of dance in Philadelphia
In the 19/20 season, the Annenberg Center and NextMove Dance create a special retrospective celebrating our exciting tradition of bringing the best in dance to our city. We showcase companies that have frequently graced our stage, including MOMIX, Pilobolus and Les Ballets Jazz de Montréal, all beloved audience favorites, and we honor the life and oeuvre of dance icon Paul Taylor in a tribute to some of his greatest masterpieces. PHILADANCO comes home for the holidays with an original Annenberg Center commission, one that's been a local favorite for generations. We welcome back troupes that haven't traveled to Philadelphia for far too long, including Tania Pérez-Salas Compañía de Danza and Trinity Irish Dance Company. And, we look to the future of dance in all its forms with the debuts of Stars of American Ballet and Ephrat Asherie Dance.
Join us as we celebrate and further our dance legacy.
View our dance season teaser video >>


Subscribe to the 19/20 Dance Season
Subscribing is the best way to join us for this exciting season. As a subscriber, you get the best seats and receive the lowest prices, now and throughout the season whenever you add on performances. Plus, you'll enjoy subscriber benefits such as free ticket exchanges, discounted drinks at our bar and much more. Order now, as seating is prioritized by package size and order date.
Subscribe by Day - Save 35%
FRIDAY EVENINGS
Enjoy all 9 shows on Fridays at 8 PM and save up to $219.80
SUBSCRIBE TO FRIDAYS @ 8 PM
SATURDAY MATINEES
Enjoy all 9 shows on Saturdays at 2 PM and save up to $202.65
SUBSCRIBE TO SATURDAYS @ 2 PM
SATURDAY EVENINGS
Enjoy all 9 shows on Saturdays at 8 PM and save up to $173.25
SUBSCRIBE TO SATURDAYS @ 8 PM
Create Your Own Series
DANCE PICK 8
Choose any 8 shows and save 35%.
SUBSCRIBE TO DANCE PICK 8
DANCE PICK 5
Choose any 5 shows and save 25%.
SUBSCRIBE TO DANCE PICK 5
DANCE PICK 3
Choose any 3 shows and save 15%.
SUBSCRIBE TO DANCE PICK 3
More 19/20 Season Subscription Information

The 19/20 dance series is presented by Annenberg Center Live and NextMove Dance.