» View our health and safety policies
Event Archives
Orphée et Eurydice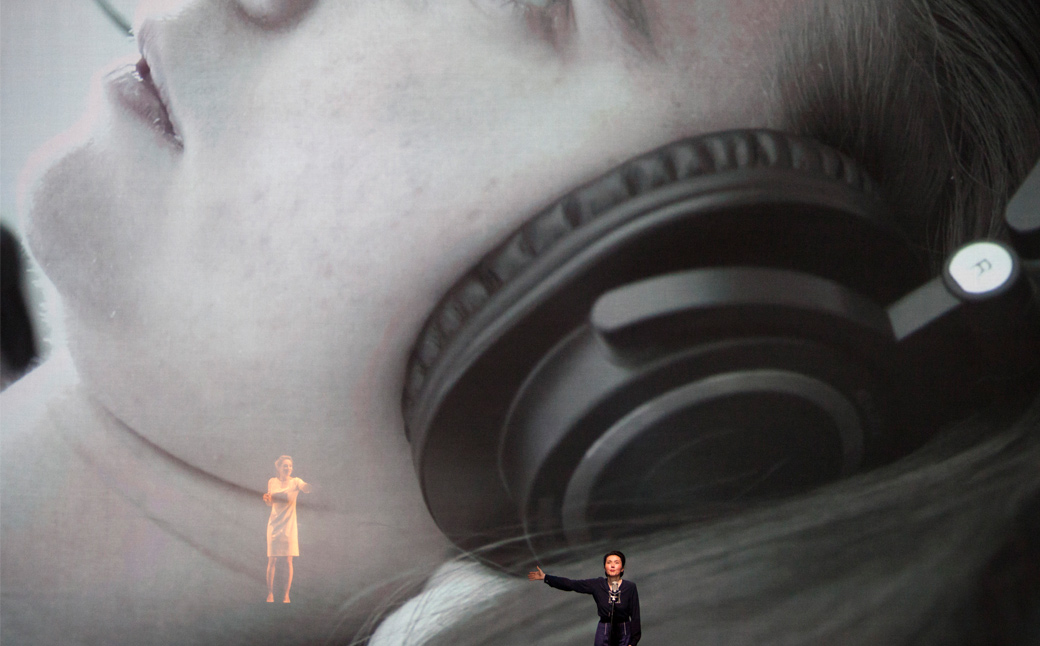 November 20, 2017
Harold Prince Theatre
PLA Presents
Runtime: 1 hour, 50 minutes
Presented by The Center for Italian Studies and the Annenberg Center for the Performing Arts at the University of Pennsylvania
Screening of the filmed performance of Orphée et Eurydice (North American Premiere)
Music by Christoph Willibald Gluck
Version by Hector Berlioz (1859)
The myth of Orpheus offers
Romeo Castellucci
(direction, sets, lighting, costumes) the opportunity to reflect on the unfathomable condition of being in a coma, with a dramaturgy that will unavoidably shape the way in which musical theatre is conceived today. The film version of
Orphée et Eurydice
allows the audience to re-live the exceptional experience of a unique dispositif capable of joining together the music played in the La Monnaie theatre and the room in the Inkendaal rehabilitation centre where Els, a young woman affected by Locked-in syndrome, listens in real time to music and singing through headphones. In the same way, the spectator, a new version of Orpheus, travels away from the theatre thanks to a steadycam that, at every performance, runs through the city streets and the hospital corridors to join Els and meet her eyes. Mythology and Christoph W. Gluck's music become mirrors through which human frailty is reflected, not in a voyeuristic manner, but to acknowledge art's "duty to reflect on the human condition, including the most extreme" (Romeo Castellucci).
The screening will be introduced by
Dr. Piersandra Di Matteo
(Fine Arts Academy, Bologna), who was dramaturg for the 2014 production.
Free admission.Direction, sets, lighting, costumes:
Romeo Castellucci
Conductor:
Hervé Niquet
Artistic collaboration:
Silvia Costa
Dramaturgy:
Piersandra Di Matteo and Christian Longchamp
Video/steadycam:
Vincent Pinckaers
Choir conductor:
Martino Faggiani
Choir conductor, La Choraline:
Benoît Giaux
Orpheus:
Stéphanie d'Oustrac
Eurydice:
Sabine Deiveilhe
Cupid:
Fanny Dupont
Orchestra and Choir of the Theater La Monnaie, Brussels
Members of the youth choir La Monnaie La Choraline
Principal violin:
Eugenia Ryabinina
Film director:
Myriam Hoyer
Production of the performance:
La Monnaie ¦ De Munt & Wiener Festwochen
A project in collaboration with Wiener Festwochen, promoted by La Monnaie
Production of the film:
La Monnaie ¦ De Munt© La Monnaie – De Munt, 2014
Performances
Monday, November 20 @ 6 PM
SUBSCRIBE AND SAVE
Also See
The event is organized in collaboration with the Program in Cinema Studies and the Departments of Music and Romance Languages (Italian Section) of the University of Pennsylvania.

The Center for Italian Studies at Penn warmly thanks: Piersandra Di Matteo, Nicola Gentili, Rebecca Goering, Christopher Gruits, David Konyk, Adam Riggar, Carrie Reynolds, Nick Stuccio and Bernd Uhlig.

Photo credit: Bernd Uhlig
Pictured: Sabine Devieilhe, left, as Eurydice; Stéphanie d'Oustrac, right, as Orphée; and an onscreen image of Els.